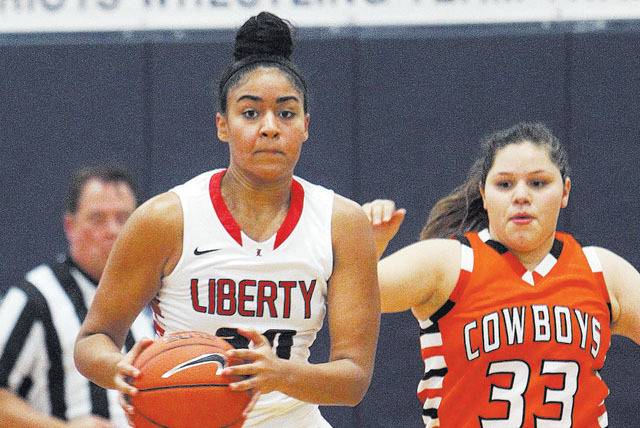 Liberty junior Paris Strawther was supposed to make an immediate impact with the Patriots as a freshman.
The 6-foot-2-inch center had made a name for herself during middle school, playing up a level on the AAU circuit for coach Wes Reed and the highly successful Henderson-based Lady Heat and was no secret among Southern Nevada high school coaches.
What so many didn't know was the difficulty she had been facing off the court.
Her mother, Lourdes — affectionately known as Cookie — had breast cancer and had taken a turn for the worse while Strawther was on tour with the Heat. Five days before Paris' first day of high school, on Aug. 24, 2011, Lourdes Strawther died at age 48.
Strawther, her father, Lee, sister Paige and brother Julian were devastated.
"I didn't know what to do; my mom wasn't going to be here with me anymore," Strawther said. "I wanted to be able to be strong enough for Julian and Paige and my dad. I didn't want to be selfish and just take it all in by myself … I wanted to make sure they were OK."
So Strawther put her high-tops away. She quit playing basketball for the Heat and put her high school career on hiatus.
"We kind of came to the conclusion there was guilt associated with basketball," Lee Strawther said. "Cook's health was steady deteriorating, and we all knew it … (but) we tried to keep (all of) their lives as normal as possible.
"When it was all said and done — when Cookie is gone — Paris was a little angry because she couldn't get that time back. She wasn't blaming basketball, but basketball was part of the result of her not having that time with Cook."
Thus, Strawther started questioning her priorities and began donning Nike flip-flops, rather than Nike Jordans, for the next seven months.
After the Patriots missed the playoffs without her, and the AAU season began in April 2012, she got the itch to play again. Sitting courtside during a Heat practice, she decided to help out and ended up running full court with her team — wearing her flip-flops.
"She got in the car dripping with sweat and said, 'Dad, that was so much fun,' " Lee Strawther said. "And I knew she was back."
Fast-forward to last year, when Strawther led the Patriots to the state semifinals as a sophomore. A three-point loss to Bishop Gorman still stings, and now Strawther has taken on the challenge of leading her team back to the state tournament.
"She spends more time in the gym than anybody that we have … she's always trying to get better," Liberty coach Rich Santigate said. "Even though she's not one of the older kids, she has those leadership qualities that we rely on. She's the ultimate team player, the ultimate teammate, she's the ultimate student. She just takes care of everything and takes care of everybody."
Through two games this season, she has taken care of business.
Strawther, who has received more than 300 letters from college recruiters, is averaging a double-double. She had 14 points and 11 rebounds in a 70-30 season-opening win over Chaparral and 18 points and 11 rebounds in a 70-29 victory over Las Vegas. The Patriots open play tonight against Clovis West (Calif.) in the three-day Las Vegas Invitational at Bishop Gorman.
With the big picture in mind, and her goal of winning state in focus, Strawther said she tends to get overwhelmed at times, whether it's school, basketball, dealing with recruiters, living up to everyone's expectations or random, daily thoughts of her mother.
But the one place she finds sanity is the basketball court. And while her No. 1 love is playing the game, she cherishes a pregame moment she still shares with her mother.
"Pregame, I talk to my mom and ask her to help me get through the game," Strawther said. "I ask her to help me play to my fullest potential and just be with me out there on the court."