Anderson, Force score emotional NHRA victories in Las Vegas
October 31, 2010 - 11:00 pm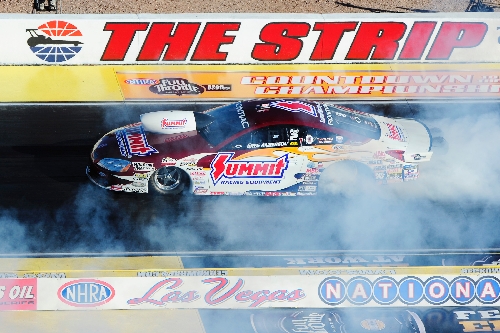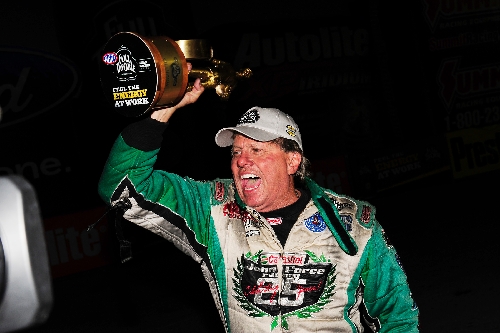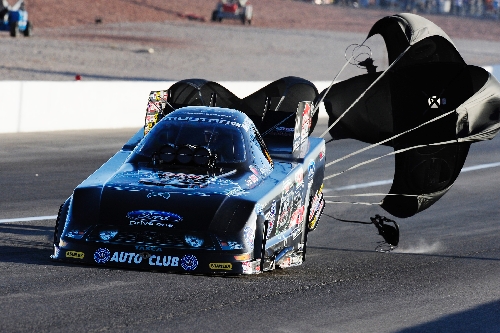 While no season championships were clinched on Sunday at the NHRA Las Vegas Nationals at Las Vegas Motor Speedway's drag strip, drama — and the emotions that go with it — certainly wasn't lacking.
Nothing could top the joy that Pro Stock winner Greg Anderson experienced, although the jubilance of Funny Car winner John Force's over-the-top personality came close.
But clearly the runaway winner in the emotional victory category was Anderson, who gave Las Vegas team owner Ken Black the Pro Stock title in the first race Black has been able to attend since suffering a major stroke last December.
Anderson did it by defeating KB Racing teammate Jason Line in the final. It moved Anderson closer to capturing his fourth series championship and first since 2004.
Anderson defeated Line for the title before an estimated crowd of 22,000. The victory lifted Anderson to a nearly insurmountable 115-point lead over reigning series champion Mike Edwards, who was upset in the first round.
"I couldn't have drawn up a better script for this weekend," Anderson said. "This is the best thing that ever happened to me at a racetrack. It was like fate."
Anderson was not considered a contender until the past four NHRA Full Throttle events, when he advanced to championship rounds and won three times.
A key for Anderson on Sunday was beating four-time champion Jeg Couglin Jr. earlier in eliminations by leaving the starting line first to overcome Coughlin's quicker car. Anderson had never won that way against Coughlin in 65 previous match-ups.
"I wouldn't bet a red cent on that happening," Anderson said. "Very seldom does anyone leave on Jeg.
"Just a lucky man today. It's like it was fate. Best day I've ever had at a racetrack. It's like the script was already written."
Force, the 14-time Funny Car champion, defeated points leader Matt Hagan in the final round when Hagan lost traction. Force gained 27 points over the weekend to pull within 37 heading into Pomona, Calif., in two weeks for the series finale.
"If he would have won that round, that would have been ugly. Then we would have needed a miracle," said Force, 61. The resident of Yorba Linda, Calif., won his fifth title of the year and 131st of his career.
Force, who last won the championship in 2006, had been the points leader after 19 of 21 events until Hagan passed him three weeks ago in a race near Reading, Pa.
"We went into Reading with the lead, and we committed the cardinal sin; we had a part fall off the racecar. I said I am not doing my job. I need to motivate (our team). They cannot make a mistake.
"Hagan went rounds and he killed us there. I had the lead all year and one mistake, one bolt and a clutch pedal. I said that is not happening again."
In Top Fuel, six-time reigning champ Tony Schumacher dominated the event by winning his sixth title of the year and setting an NHRA speed record. His performance, combined with an upset of points leader Larry Dixon in the second round, kept alive his slim hopes of winning an eighth championship.
Contact reporter Jeff Wolf at jwolf@reviewjournal.com or 702-383-0247.