Arenacross makes riders prove their mettle
April 30, 2015 - 11:39 pm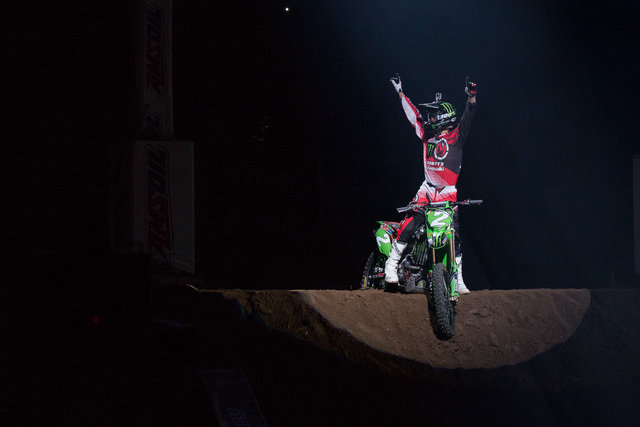 No formal system was in place, nothing to measure whether Arenacross riders were ready to make the leap to the big leagues of Supercross.
Some made the jump and went on to successful Supercross careers. Others quickly were forgotten.
Executives at Feld Motor Sports, which oversees competition in both forms of racing, knew a system needed to be put in place. This is the third year Arenacross has used a points system called Road to Supercross to determine whether riders are ready to make the transition.
"In the beginning we felt there were a lot of underprepared, underqualified riders making the transition thinking they were prepared," said Todd Jendro, Feld's two-wheel operation vice president. "We have seen better-prepared riders, and it's evident in the times in practice and the qualifying sessions throughout the first 16 rounds of Supercross in 2015. We're really pleased in the progress it's making.
"There are a lot of riders on track that are destined to become the next generation of superstars in our sport, whether it's Motocross or Supercross."
Both forms of racing are in Las Vegas beginning at 8 p.m. today with Arenacross at South Point Arena. Supercross concludes its season at Sam Boyd Stadium at 6:30 p.m. Saturday. An Arenacross amateur event is at 8 a.m. Sunday at South Point Arena.
Jacob Hayes of Liberty, N.C., and Kyle Regal of Grand Prairie, Texas, are tied atop the Arenacross standings with 140 points apiece. Matt Goerke of Temecula, Calif., is seven points behind heading into the season finale.
Ryan Dungey, who lives in Tallahassee, Fla., already has clinched this season's 450 Supercross championship.
Dungey knows what it's like to move from Arenacross to Supercross. The program wasn't around when he made the jump, but he also had a support system that eased his transition.
"Not everybody has that opportunity to learn like I did," Dungey said. "I was very fortunate for sure, but I think it's only better for the future of our sport just for the fact these guys have to qualify and get ready. Sometimes it can be dangerous for guys to be on the track, especially if it's their first time and they're nervous.
"So this kind of gets the nerves out and gets them prepared for what's to come instead of throwing them in and saying, 'Here you go. Go for it.' That can be dangerous, not just for them, but for a lot of riders."
Those riders must earn their way through the points system, which eliminates someone being able to compete in Supercross because he has the right connections. Subjectivity is removed from the equation.
"There's no picking and choosing," Jendro said. "The results pretty much speak for themselves."
The program addresses more than just the on-course competition, though, helping riders prepare for media interviews, autograph sessions and performing in stadiums in front of 40,000 fans.
It makes for a demanding program for those riders new to Arenacross.
"When they got to the Arenacross environment, they thought it would be a lot easier than it was," Jendro said. "They really struggled at first because they're not used to what they're not exposed to."
■ ALSO IN TOWN — The EnduroCross Series is at Orleans Arena at 8 p.m. today. The night includes the debut of the X Games Step-Up qualifier, which is a jump above a high bar. Among those racing: defending series champion Cody Webb, X Games gold medalist Mike Brown, female series champ Lexi Pechout and X Games medalists Chantelle Bykerk and Tarah Gieger.
Contact Mark Anderson at manderson@reviewjournal.com or 702-387-2914. Follow him on Twitter: @markanderson65.