As owner, Kyle Busch quickly runs into wall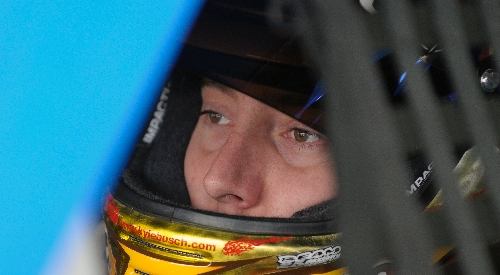 CONCORD, N.C. — It didn't take Kyle Busch long to become an elite NASCAR driver. That success hasn't carried over to life as a team owner.
Busch's first year owning two trucks in NASCAR's third-tier series has included a lost primary sponsorship, a driver leaving for a better job, a growing list of unpaid creditors and a rapid amount of money disappearing from his wallet.
"It's a tough business to be involved with, and unfortunately I picked the perfect get-wrong time to do it," Busch admitted Friday.
The No. 18 truck Busch sometimes drives is without a primary sponsor, and the No. 56 Toyota driven by Tayler Malsam is also scrambling for money. With the costs for running in the Camping World Truck Series estimated at several million dollars apiece, much of the funding is coming from Busch himself.
"I would say that majority is a fair word. I would say it's far above majority. It's pretty much everything," Busch said.
Busch, 25, has already won 18 times in the Sprint Cup, 34 Nationwide races and 17 more in the Truck Series. Armed with money from his career winnings and just before he signed a new deal with Joe Gibbs Racing, Busch announced in December he was becoming an owner.
He hoped to field three truck teams, but sponsorship issues limited him to two. Then just before the season-opening race at Daytona, Miccosukee Resort and Gaming in Florida dropped out as primary sponsor of the No. 18 Toyota after the Indian tribe got a new leader.
Busch has lined up some companies for single-race sponsorships and other smaller deals, but it hasn't been nearly enough to cover the costs, even as Busch's No. 18 team sits first in the owner's standings.
"Our trucks really run well. We're fast," Busch said.
It just hasn't paid the bills. The Charlotte Observer reported nearly a dozen companies involved in the construction of Busch's race headquarters in Mooresville, N.C., have filed liens or intend to file liens because they are collectively owed about $1 million
This week, Brian Ickler, who was driving the No. 18 truck when Busch could not because of Sprint Cup conflicts, took a job driving a car for Roush Fenway Racing in the Nationwide Series.
Busch will use Johnny Benson, whom he had hoped would drive the scrapped third truck he had planned, in Ickler's place starting in two weeks at Texas.
"I have no reason to hold Brian Ickler back. It's all for his best interest," Busch said. "I feel like I've done what I've needed to do to help him move up, so hopefully he can make a name for himself and a place for himself over there at Roush and do a good job."
But the satisfaction of helping Ickler — who has two top-five finishes in Busch's truck — doesn't ease the financial burden Busch is feeling. It has led him to question his decision to become a boss.
"Is it painful? Yeah, you work your whole life to make the money you make and do everything you do," Busch said. "I'm not saying I'm throwing it away, but to see it all go away, it's unfortunate.
"What it all boils down to is if I get hurt. If I get hurt I can't go forward. There's disability and there's this and that, but I don't need to put my family in that position. I think that's a bad idea. I've just got to stay healthy and keep going."
The financial hit Busch is taking comes as he prepares for another healthy expense: his upcoming wedding with girlfriend Samantha Sarcinella
"The truck team costs a lot more," Busch said. "She's on a good budget."