Black's return to track lifts Anderson
October 30, 2010 - 11:00 pm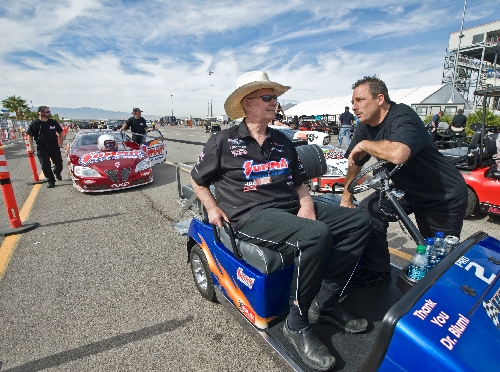 When Greg Anderson arrived in Las Vegas to race six months ago, he was a little lost and as low as he has been at a racetrack.
Anderson, the NHRA Pro Stock champion from 2002 to 2004, was coming off a season in which he was runner-up for the fourth consecutive year.
His home near Charlotte, N.C., was burned beyond repair in January. Some of the few items saved were his 60 NHRA Pro Stock "Wally" trophies.
The stretch of three dismal months began in December with the worst development of all when Ken Black, his close friend and team owner from Las Vegas, suffered a major stroke.
Anderson was able to save his trophies, but only local neurosurgeon Keith Blum could save the 64-year-old Black, a pillar in the Southern Nevada business and Church of Jesus Christ of Latter-day Saints communities for several decades.
"We were pretty beat up and down mentally the last time we raced here," Anderson said Saturday during a break in the NHRA Las Vegas Nationals at Las Vegas Motor Speedway.
"What a turnaround."
A dark cloud briefly hung over the speedway Saturday morning before the start of the event that concludes today. But it was all sunshine in the pit area for Anderson and the KB Racing team.
Black was with his team Friday and Saturday and will be there today when he serves as the event's grand marshal. This is the first race he has been able to attend since his stroke.
"We're getting back to life as much as we can," said Black, a former construction and lumber company owner who was a Mormon bishop 10 years ago.
"I'd love to be able to walk, but I can think and talk," he said, smiling. "Drag racing is a lot like church; they're family."
Anderson will begin today's championship eliminations at 11 a.m. as the Pro Stock points leader, a perch he hasn't held since September 2008, a stretch of 50 events.
One of the most intense competitors on the circuit, Anderson was beaming despite a disappointing 11th-place qualifying effort.
"I feel like we've already won," he said. "Having Ken here with us is more important than anything.
"At the beginning of the year, it looked like we might lose our team owner, I lost my house, and it looked like we wouldn't be able to win a race and end up with our worst season in 10 years.
"I should be worried to death, scared," Anderson said of the championship battle. "Having Ken back has been a great, great distraction. That's the most important thing that could have happened this weekend."
Anderson moved into the points lead at the last NHRA event three weeks ago in Mohnton, Pa., with his fourth victory of the year.
With two events left, he has a 35-point lead over Mike Edwards, the reigning series champion who has eight titles this year, including one in Las Vegas in April. Each of a possible four round wins in eliminations is worth 20 points.
"We almost don't care what happens the rest of the weekend," Anderson said. "But we want to win Sunday so bad for Ken."
Not having a victory as Anderson's top priority would have been blasphemy for him a year ago. "Ken being here with us is what's important."
Contact reporter Jeff Wolf at jwolf@reviewjournal.com or 702-383-0247.