Brad Keselowski's crew reprises Las Vegas pit road body slam — but gets called for it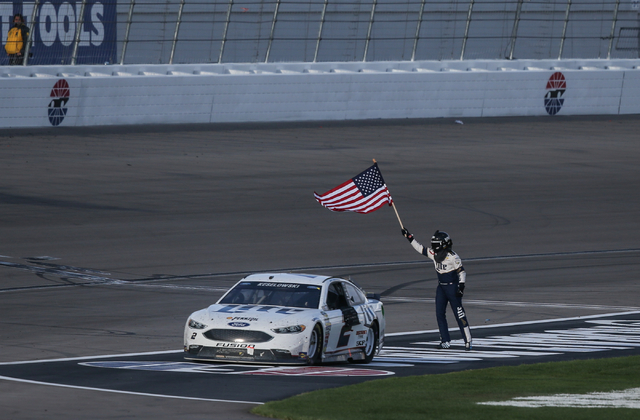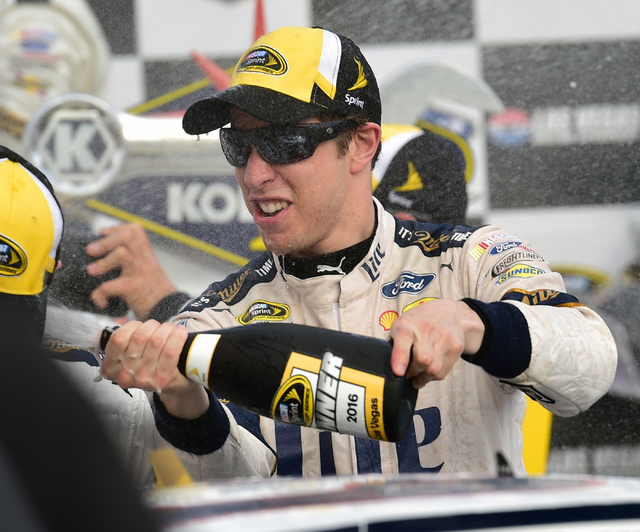 Sometimes what happens in Vegas, stays in Vegas. And sometimes it happens again in Long Pond, Pennsylvania. And when that happens, it can cause consternation and acrimony among famous stock car drivers.
Brad Keselowski, winner of the Kobalt 400 at Las Vegas Motor Speedway in March and pole sitter for Monday's rain-delayed race at Pocono Raceway, was called into the pits by the NASCAR gumshoes early in the race for "unapproved body modifications" on his car, the No. 2 Ford.
The unapproved body modification was rather low tech — a member of Keselowski's crew threw a hip and shoulder block into the side of the car, causing a sizable dent. Sizable dents in the side panels have been known to provide the cars with an aerodynamic edge, though you'd think just the opposite would be true.
The same thing apparently happened in Las Vegas in March.
"Do you guys remember the last time that this happened and the results? I think it was Las Vegas," Jeff Gordon said in the broadcast booth as replays were shown. "Same penalty. Here it comes … hip check. Bam."
Well, yes and no. Maybe the same hip check but not the same penalty. Keselowski was not called into the pits in Las Vegas. There was no penalty. He was allowed to pass go and collect much more than $200 for winning the race, without reprisal by the NASCAR gumshoes.
Keselowski must have DVR'd Monday's race. When he learned what Gordon said in the booth, he issued an oral hip check to the former four-time series champion.
"They need to get some people in the booth who aren't inbred to the sport and own teams and have internal knowledge, because that's pretty crappy," he said. "It's not that I don't like Jeff Gordon in the booth. It's that you need to have people who don't own teams or have commercial interests in the sport, because they say things that are very biased."
So that is this week's NASCAR controversy.
Gordon, who maintains a financial (and probably emotional) interest in Hendrick Motorsports, sort of apologized via Twitter.
Las Vegan Kurt Busch won Monday's race, on a fuel run. It was the first victory of his steady-as-she-goes season He's now second in points behind Kevin Harvick.
Little brother Kyle, who has never won at Pocono, didn't come close to winning this time, either, finishing 31st. Kyle Busch, who has a series-high three wins, fell one spot to fifth in points.
Danica Patrick finished 32nd. She's 26th in points. Her crew needs to start making hip checks on pit road.
GREEN-WHITE-CHECKERED
• Noah Gragson, the 17-year-old Las Vegan recently named to the prestigious NASCAR Next list identifying potential stock car racing superstars in the making, flew home after making his ARCA debut at Pocono Raceway — Gragson finished 30th after starting sixth — to win the second of two late model main events on Saturday on Chris Trickle Classic night at the Las Vegas Motor Speedway Bullring. "It's awesome coming back here, and this win is for Chris Trickle and the Trickle family," the youngster said after climbing the fence on the front straight to celebrate his 13th career Bullring win. "They had a hard loss years back, so this one's for them." Chris Trickle, an up-and-coming star is his own right, died in 1998 after being shot on the freeway near the Silverton. The crime was never solved. Scott Gafforini edged Jay Beasley for his record 64th track victory in the co-main event. After a three-week respite, The Bullring will host the popular Night of Fire on July 2.
• One of Las Vegan Jimmy Vasser's cars — the one with veteran driver Sebastian Bourdais inside — won the first of two IndyCar races on Belle Isle in the Detroit River last weekend. Bourdais started midpack and used alternate fuel strategy to climb past the faster cars in the first IndyCar race since the Indianapolis 500. Rookie Conor Daly, who also has a Las Vegas tie — his attorney, Marc Risman, is based here — finished second.
• Closing on a tragic note, three people — two motorcycle competitors and a young spectator — were killed at the 48th Baja 500 off-road race near Ensenada, Mexico. The victims were Sportsman Moto rider Noah Evermann, 34, of Alaska; Pro Moto Unlimited rider Travis Livingston, 34, of Palmdale, California; and an unidentified 8-year-boy who was struck by racer Todd Pederson of Orem, Utah, when Pederson's Trophy Truck failed to negotiate a turn near a spectator bridge just after the start. The boy's mother was hospitalized in stable condition with head and leg injuries. Based on the video, the spectators were standing much too close to the racecourse, though that always has been part and parcel of the Baja 500 and 1,000 and other off-road races.
Las Vegas Review-Journal sports columnist Ron Kantowski can be reached at rkantowski@reviewjournal.com or 702-383-0352. His motor sports notebook runs Friday. Follow him on Twitter: @ronkantowski