Busch 'all business' in pursuit of elusive title
September 27, 2013 - 10:18 pm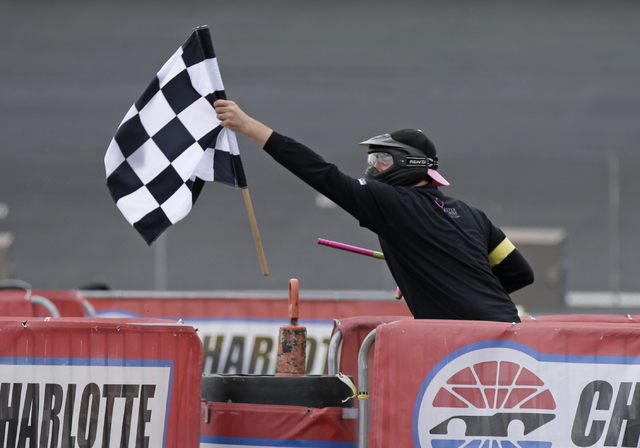 DOVER, Del. — Kyle Busch would take a winless Chase if it pays off with a championship.
At 28, Busch is on a mission to win the Cup championship that would stamp him as one of the sport's greats.
He already has a resume few in the garage can match. Busch wins races in all three national NASCAR series like no other driver, including 18 this season.
But all those checkered flags haven't helped him win a championship. Busch has finished higher than 10th once in the past five seasons, and he's never been better than fifth (2007) in the final standings. He lost out to Jeff Gordon for the final Chase spot last season at Richmond.
Busch has put those disappointments behind him with a sizzling start to this season's Chase for the Sprint Cup championship.
Busch is 2-for-2 in runner-up finishes at Chicagoland in the opener and last week at New Hampshire. While the Las Vegas native said he doesn't pay attention to the standings, he knows his two seconds are good enough to put him in second place.
Problem is, the driver in front of him hasn't been in the mood to lose.
Joe Gibbs Racing teammate Matt Kenseth leads the standings after storming to the Chase lead with wins the past two weeks to boost his series-best total to seven.
Busch and five-time champion Jimmie Johnson are the only drivers truly threatening Kenseth for the lead as the Chase shifts to Dover for Sunday's race.
Kenseth holds a 14-point lead over Busch and an 18-point edge over Johnson. While not out of it with eight races remaining, Carl Edwards is 36 points back of Kenseth in fourth.
Busch is proud he can be part of the 1-2 combination for JGR and Toyota. He just wouldn't mind flipping the order.
"It may take a couple of wins in this deal to win it," Busch said Friday. "I've also felt all along that if you finish second every Chase race, then you could have a really good shot at winning a championship that way. I would certainly take that over a Chase win and then following that up with a DNF."
Busch has four Cup wins this season, including two in the past seven. His last failure to finish came in May at Charlotte.
Tony Stewart in 2005 is the only driver to win a championship without winning a Chase race.
JGR, with Busch, in the past has dominated the regular season but dropped off considerably once the Chase began. Now Kenseth and Busch have carried their success into the Chase and are a 1-2 threat to give Toyota its first Sprint Cup title.
"I really feel like Matt and the relationship that he and his crew chief have and what they have been able to bring to the table has helped elevate Joe Gibbs to the next level," Johnson said. "The experience that Matt brings in, the smarts, the knowledge, the consistent driving that is a nice kind of rock within that organization that without a doubt has helped them."
Busch is nipping at Kenseth and said the 20 "lucked into one" at Chicagoland. He blamed a poor restart for costing him at New Hampshire.
Does Busch finally have the team that can put it all together and win the Cup?
"We want to," Busch said. "We need to."
Busch missed the Chase and declared 2012 "the absolute worst year of my career" after winning one race across NASCAR's three national series.
One knock against Busch has been his late-season swoon that usually derails his championship bid before it gets going. Busch never has won a Chase race the seasons he's qualified for NASCAR's version of the playoffs.
"We'll see if he can keep it together over the course of 10 weeks," Johnson said. "We all have something out there that media, fans and competitors hold against you and make you think about from time to time and they always bring up a question. His question is, can you hold it together for 10 weeks? And we'll see. I believe that he has the ability to do it."
In his first season at JGR after more than a decade working for Jack Roush, Kenseth said Busch was "all business" and as focused as a driver can get. Kenseth also doesn't care that Busch is lurking behind him. Teammate or not, Kenseth is concerned only with winning his second Cup championship.
"I'm glad he's got the star that he's gotten," Kenseth said, "and that we've got the start we've got for sure."