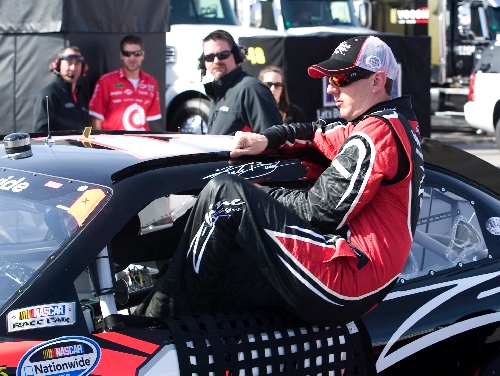 When Kyle Busch was putting together his team as the new owner of a NASCAR Nationwide Series team, he couldn't think of anyone better than his older brother, Kurt, to help drive his car.
The Las Vegans announced Thursday that Kurt Busch has joined Kyle Busch Motorsports and they will share driving duties for the No. 54 Toyota Camry.
"This is certainly a neat opportunity, and to be teamed with my brother is going to be extra special," Kyle Busch said during a news conference at Mooresville, N.C. "We're going after the Nationwide Series owners' championship together."
Kyle Busch will drive this year's first five races, including the Sam's Town 300 on March 10 at Las Vegas Motor Speedway, on what is essentially NASCAR's Triple-A circuit.
The brothers will split the rides the rest of the season, but how many races and which ones each will take is undecided. They plan to combine to appear in all 33 Nationwide events, and Kyle Busch said he would prefer to race at tracks where he has struggled most.
Kurt Busch apparently doesn't see many struggles ahead, no matter who's behind the wheel.
"We've got a shot of winning 33 races this year between Kyle and I," he said.
The last time the Las Vegas natives worked together was in 1999 when they raced Legends cars in their hometown.
"It's all about fun and me wanting to help Kyle get this program started here in Nationwide," Kurt Busch said. "This is the best way we could really find a way to make a solid foundation with this program."
Kyle Busch Motorsports also announced a multiyear agreement with Monster Energy as its chief sponsor.
It's a sponsor with an edgy reputation, which plays into the Busch brothers' bad-boy image. NASCAR suspended Kyle, 26, last year for intentionally crashing into Ron Hornaday Jr. during a Trucks race. Kurt, 33, left Penske Racing after creating national headlines by verbally laying into ESPN reporter Jerry Punch.
Aligning with Monster doesn't mean the brothers will "be able to showcase our bad side, but they're OK with it," Kyle Busch said.
The brothers certainly have made a major impact in NASCAR, all the way from the top-level Sprint Cup Series to the Trucks circuit, becoming known as much for making off-the-track news as for anything accomplished on an oval.
Because of how last season ended, Kurt Busch has found himself at nearly the bottom of the Cup series, driving for lightly regarded Phoenix Racing.
Kyle Busch was nearly let go by Joe Gibbs Racing following the Hornaday incident, but will continue to drive in Cup races for that team. He will compete against Joe Gibbs' Nationwide team.
"I kind of wanted to dwindle my schedule down a little bit, and JGR's been most supportive of this deal," Kyle Busch said. "We've been collaborating with them on this whole program. I wanted to run anywhere between 10 and 15 races, and this is an opportunity for me to be able to do that. … It's a good fit for everybody."
■ NASCAR WEEKEND — Las Vegas Motor Speedway announced the Sam's Town 300 will begin at 2 p.m. on March 10, and the Kobalt Tools 400 Sprint Cup race will start at noon on March 11.
Contact reporter Mark Anderson at manderson@reviewjournal.com or 702-387-2914. Follow him on Twitter: @markanderson65.