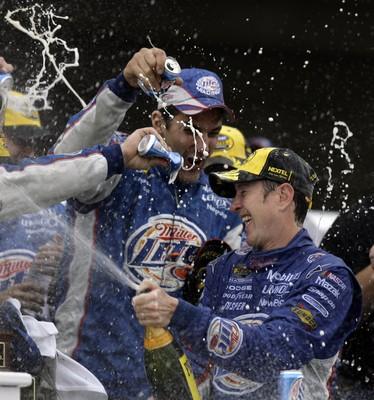 LONG POND, Pa. — Kurt Busch's winless drought is over. His absence from the Chase might not last much longer, either, not with the way crew chief Pat Tryson is calling all the right shots.
Busch dominated Pocono Raceway from the opening lap Sunday and raced his way back into championship contention, giving himself a perfect belated birthday gift: a trip to Victory Lane.
A day after he turned 29, Busch snapped a 51-race losing skid, lifting him into the 12th and final spot of the Chase for the Nextel Cup standings with five races left until the championship races start.
"It's been 50-something races, and that was a tough burden," the Las Vegas native said.
Busch, who missed the Chase last season after qualifying in 2004 and 2005, hadn't been in the top 12 in points since a 100-point penalty for reckless driving in June knocked him six spots down to 17th.
Now he's back and on his biggest roll of the season. He turned a 13-point deficit behind Dale Earnhardt Jr. into a seven-point edge.
"The big picture is we've got a few more races to go until Richmond," Busch said.
Busch, who had surged to 13th in the standings entering the Pennsylvania 500, led all but 25 laps and made his second career Pocono victory look easy. The 175 laps led was a Pocono record.
Not even a lug-nut problem on pit road under caution late in the race and a hard-charging Earnhardt affected him very much. His No. 2 Dodge was clearly the car to beat all day.
Busch fell to ninth on the restart on the 143rd lap but quickly made up ground and passed the revitalized Earnhardt for the lead with 47 laps left.
The 2004 series champion needs to keep his hot streak going — three top-10s in four races — if he wants to keep his spot for the 10-race Chase.
It was Busch's first win since March 26, 2006, at Bristol, and he was second in both Pocono races last year.
"You never for one instant think you have the race in the bag," Busch said. "The only time I really thought about it was coming to the checkered, lap 199 coming to 200."
Earnhardt was second, and Denny Hamlin, who swept both races at Pocono last year, finished third. Points leader Jeff Gordon and Jimmie Johnson rounded out the top five.
"We actually had a stronger car than the last time we were here," said Gordon, who won at Pocono in June. "If the No. 2 car didn't exist today, then maybe some of us had a chance to win this thing. But wow."
Tony Stewart had his two-race winning streak snapped and was sixth.
Drivers often complain that the 2 1/2-mile triangle track with the longest straightaway in NASCAR often leads to one of the most boring races of the season. This one was no exception as Busch led nearly the entire race except for a short stretch near the end, when Earnhardt shook off early trouble with the No. 8 Chevrolet and temporarily took the lead.
But Earnhardt, who failed to capitalize on his first pole since 2002, couldn't press him for very long.
"Kurt had the best car all day," Earnhardt said.
Busch is experiencing a resurgence since Tryson joined Penske Racing six races ago, the third crew chief the former champion has had this season. He would have already had the 12th spot in the standings had he not been docked 100 points for reckless driving and endangering one of Stewart's crew members on pit road at Dover.
Busch said after qualifying second on Friday that he hoped those 100 points wouldn't be a factor in making the Chase. With the way he's driving the No. 2 Dodge, they won't matter.
"We've thrown away quite a bit of points this year," Busch said, rattling off a list of blown races. "I'm not going to look back at those 100 points and think it's a deficit. It only made us into a stronger program."
So did adding Tryson, who was available when he was let go as Greg Biffle's crew chief earlier this season. Tryson, a Malvern, Pa., native, has given Penske Racing a needed boost and settled the crew chief position that was filled by Troy Raker and Roy McCauley.
"I'm lucky enough to come in and work for these guys," Tryson said. "They've accepted me and done everything I've asked."