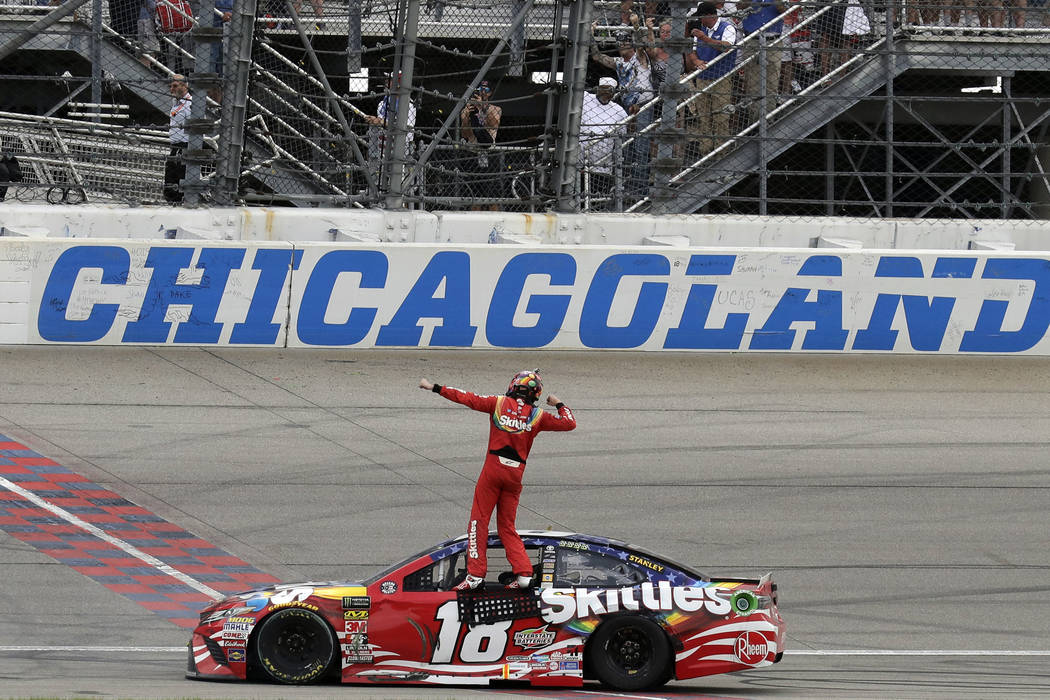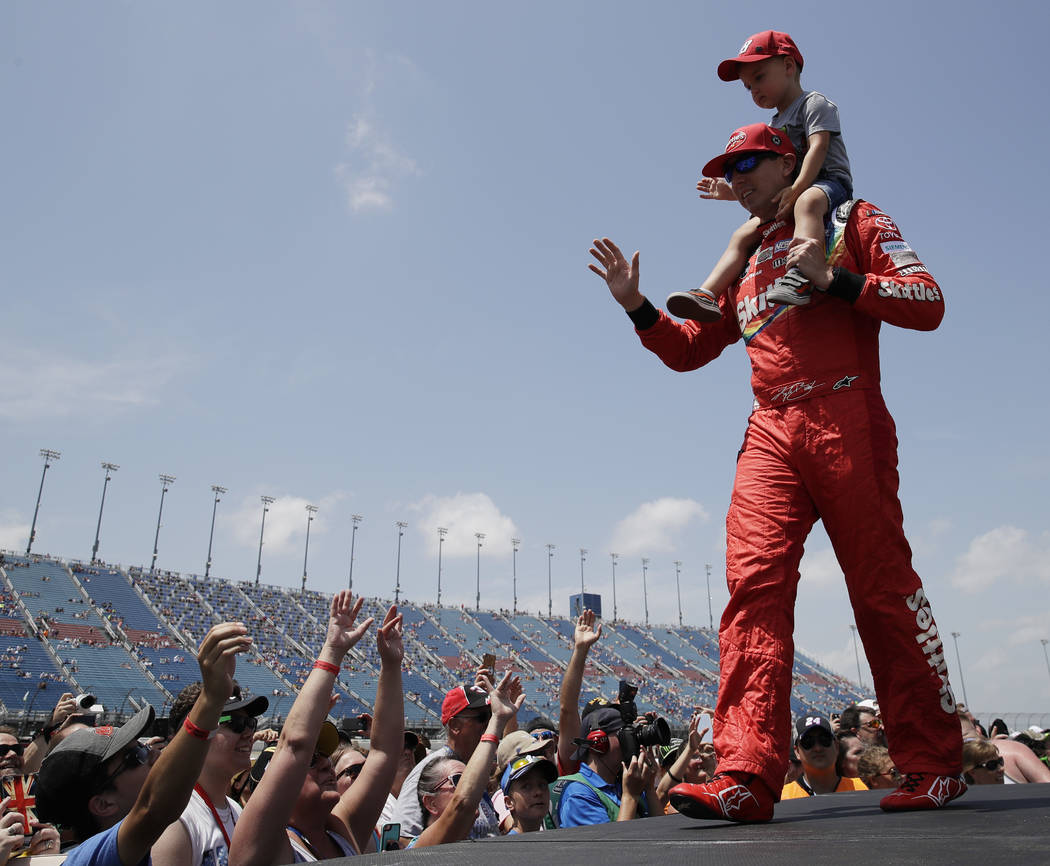 Almost lost in postrace histrionics that had Kyle Busch rubbing fake tears from his eyes after a slam-bang duel with Kyle Larson on the final lap of Sunday's NASCAR race near Chicago was that the slam-bang final lap happened on a 1.5-mile track.
Aren't slam-bang finishes on intermediate tracks supposed to be impossible?
Isn't that why NASCAR recently considered putting governors on the engines and aerodynamic revisions that would allow the cars to run closer together on the cookie-cutter tracks?
The race at Chicagoland Speedway produced a tollhouse morsel of which the Nestle company would have been proud. The two Kyles, Busch and Larson, ran into the side and back of each other on the final circuit before the one from Las Vegas prevailed for his fifth victory of the season.
While Busch was roundly booed, he and Larson congratulated each other on the slamming and banging. Just one of them racin' deals they said, shaking hands and embracing before addressing the media.
"I would have never imagined Chicagoland would put on such an entertaining and exciting race, but NASCAR sure needed a day like that," wrote NASCAR guru Jeff Gluck, whose website pretty much is to stock car racing what The Sporting News was to baseball.
"When you get a race with lead changes and passing and contact and drama on the final lap, that's thrilling enough. But when it happens on a 1.5-mile track, it's oddly even more of an adrenaline rush … because you don't really expect it."
With so many races on intermediate tracks yet to run — including the playoff opener at Las Vegas Motor Speedway on Sept. 16 — it raises the specter of more slam-bang finishes, or at least serves to remind a fickle fan base that when circumstances are right, tasty cookies still can be cut on the 1.5-mile tracks.
"I went from thinking this guy is hurting our sport, to knowing now that he helps the sport."

Every sport needs a villain, and @DaleJr says @KyleBusch fits that role perfectly for @NASCAR. pic.twitter.com/shU6CtwvXI

— NASCAR on NBC (@NASCARonNBC) July 3, 2018
Busch expected back
The SportsBusiness Journal has reported that Stewart-Haas Racing expects all four of its Cup Series drivers to return in 2018 — meaning that after Kurt Busch signed a one-year extension at the end of last season, he's expected to sign another one (at minimum) after this one.
The 2004 series champion from Las Vegas has yet to win in 2017, and last week vehemently complained on in his in-car radio about teammate Kevin Harvick passing him for a stage win at Chicago. But he's a solid seventh in season points and at 39, still is considered one of NASCAR's best drivers.
.@StewartHaasRcng tells @SBJSBD that it expects to have all four of its current drivers in the Monster Energy NASCAR Cup Series back with the team in 2019.

➖ @KurtBusch's extension last year was reportedly only for one year, so he would be extending again if indeed back in '19. pic.twitter.com/GZJzNF4osO

— Adam Stern (@A_S12) July 3, 2018
At The Bullring
Dustin Ash cruised to a victory in the 76-lap "Spirit of '76" NASCAR Super Late Models main event topping the Night of Fire at Las Vegas Motor Speedway on Tuesday.
Ash, a part-time racer who also won the season opener at The Bullring on March 11, breezed to a 5.222-second victory over Tyler Fabozzi. It was his 57th trip to the winner's circle, pulling him within a victory for second place all-time with Phil Goodwin.
Racing at The Bullring will take a seven-week hiatus from the heat before returning Aug. 25 with Back to School Night.
The Night of Fire lived up to its billing at The Bullring on Tuesday night, with a packed crowd enjoying a special evening at the LVMS short track. Recap & results: https://t.co/HwEgMldWyu pic.twitter.com/YOxvmVw3nU

— Las Vegas Motor Speedway (@LVMotorSpeedway) July 4, 2018
Contact Ron Kantowski at rkantowski@reviewjournal.com or 702-383-0352. Follow @ronkantowski on Twitter.
Pro schedules
NASCAR Monster Cup
What: Coke Zero Sugar 400
Where: Site: Daytona Beach, Florida; Daytona International Speedway (oval, 2.5 miles; 400 miles, 160 laps.).
When: Thursday, practice, 11:05 a.m., 1:05 p.m. (NBCSN); Friday, qualifying, 1:10 p.m. (NBCSN); Saturday, race, 4 p.m., NBCSN.
Last year: Ricky Stenhouse Jr. won after starting sixth.
Last race: Kyle Busch took the checkered flag at Chicagoland for the fifth time in 2018.
NASCAR Xfinity
What: Coca-Cola Firecracker 250
Where: Daytona Beach, Florida; Daytona International Speedway (250 miles, 100 laps).
When: Thursday, practice, 10:05 a.m. & 12:05 p.m. (NBCSN); Friday, qualifying, 2:10 p.m. (NBCSN), race, 4:30 p.m., NBCSN.
Last year: William Byron won at Daytona, his second straight victory.
Last race: Kyle Larson won at Chicagoland from the pole.
Verizon IndyCar
What: Iowa Corn 300
Where: Newton, Iowa; Iowa Speedway (oval, 0.894 miles; 268.2 miles, 300 laps).
When: Saturday, practice, 8:15 a.m., qualifying, 12:30 p.m. (NBCSN), practice, 3:45 p.m.; Sunday, race, 11 a.m., NBCSN.
Last year: Former series star Helio Castroneves took first at Iowa.
Last race: Josef Newgarden won for the third time in 2018 at Road America.
Formula One
What: British Grand Prix
Where: Silverstone, England (3.66 miles; 190.3 miles, 52 laps).
When: Friday, practice, 2, 6 a.m.; Saturday, practice, 3 a.m., qualifying, 6 a.m.; Sunday, race, 6:10 a.m.
Last year: Lewis Hamilton won from the pole on his home track.
Last race: Max Verstappen won his first race of the season in Austria.
NHRA Mello Yello Drag Racing
What: New England Nationals.
Where: Epping, New Hampshire; New England Dragway.
When: Friday, qualifying, 2 p.m., 4:30 p.m.; Saturday, qualifying, 11 a.m., 1:30 p.m.; Sunday, finals, 12:37 p.m.
Last year: Brittany Force won in New Hampshire in early June 2017.
Last race: Blake Alexander claimed his first career win in Top Fuel in Ohio.
— The Associated Press