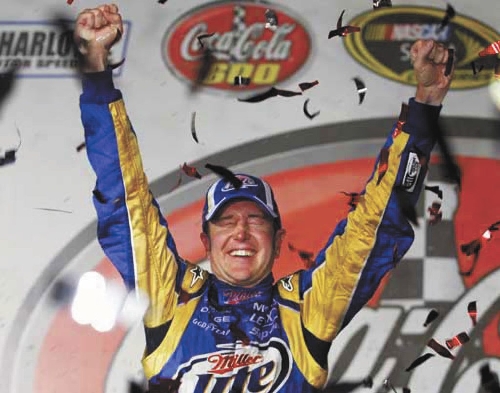 CONCORD, N.C. — Kurt Busch used a lightning fast final pit stop to chase down the leaders and give team owner Roger Penske a coveted Memorial Day weekend victory.
That the win came in the Coca-Cola 600 at Charlotte Motor Speedway, and not at his beloved Indianapolis Motor Speedway, probably didn't matter to Penske.
After all, it came at the expense of Chip Ganassi, Penske's top rival in open-wheel racing and the winning car owner of the Indianapolis 500 earlier Sunday.
"Roger, this one is for you," Busch said.
Busch and Ganassi driver Jamie McMurray were the class of the field at the end of NASCAR's longest race of the season, and McMurray was hoping to give Ganassi a sweep of the two prestigious Memorial Day weekend races. Earlier Sunday, Dario Franchitti won in Indianapolis and, after the celebration, Ganassi flew to North Carolina to catch the second half of the NASCAR race.
He arrived in time to see McMurray work his Chevrolet through the field and ultimately take over the lead from Busch.
But a late caution for a Marcos Ambrose crash with 24 laps to go took it out of McMurray's hands. He led most of the leaders down pit road, but was beat back onto the track by Busch and Matt Kenseth. Jeff Gordon was the first of three cars not to pit, and restarted as the leader with 19 laps remaining.
Busch blew past the three lead cars and steadily pulled away from the pack. McMurray quickly moved into second, but ran out of time to run down Busch, who held on to sweep the May races at Charlotte. Busch won the $1 million All-Star race last weekend.
"I thought about the Ganassi car behind me," Busch said in Victory Lane, "he wasn't getting by us."
Kyle Busch rallied from a mid-race crash on pit road to finish third in a Toyota for Joe Gibbs Racing. Mark Martin finished fourth – the highest finishing Hendrick Motorsports car – and defending race winner David Reutimann was fifth for Michael Waltrip Racing.
Gordon wound up sixth and was followed by Clint Bowyer and Paul Menard. Ryan Newman and Matt Kenseth, the highest finishing Ford, rounded out the top 10.
© 2010 The Associated Press. All rights reserved. This material may not be published, broadcast, rewritten or redistributed. Learn more about our Privacy Policy.