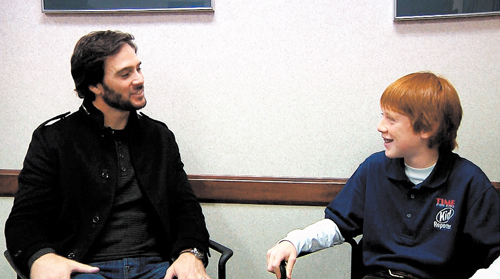 It came down to the final laps of the final race this year before Jimmie Johnson was able to claim his unprecedented fifth straight NASCAR Sprint Cup championship.
The crew chiefs for runner-up Denny Hamlin and third-place Chase finisher Kevin Harvick spent every waking hour trying to figure out how to thwart the phenomenal run of Johnson, crew chief Chad Knaus and the rest of the No. 48 Hendrick Motorsports team.
Teams growing accustomed to the view of Johnson's rear bumper strive to improve their cars' aerodynamics or tweak engine and suspension components trying to catch him.
The champ shared one of the secrets to his success this year, but trying to replicate it will take at least nine months.
Johnson credited his calm demeanor inside the cockpit to Genevieve Marie Johnson, who was born July 7 to Johnson and his wife, Chandra.
"I've found different ways to distract my mind (from racing) over the past five years," Johnson said during a media tour stop Tuesday afternoon at the Review-Journal. "It's been golf some years and (physical) training other years.
"But this year, attention was needed (for Genevieve), and time with an infant is great. I can overthink (racing); distractions have been good."
Knaus has known Johnson since 2002 when they began working together at Hendrick. Both share a steady demeanor that is reflected in how they race.
"It was a difficult Chase, for sure. It was more taxing on us," Knaus said of overcoming a 15-point deficit to Hamlin heading to the final race. "One thing about Jimmie is he's extremely consistent. His personality hasn't wavered at all since we met. But if you could see him with that girl … he loves her unconditionally and that's very apparent."
At the conclusion of the Nov. 21 Cup finale in Homestead, Fla., when Johnson finished second in the race and won the championship, he was greeted by Chandra holding Genevieve, who was wearing pink ear protectors, in Victory Lane.
"It's hard to explain the feeling, the emotions, of that moment," he said. "To have my daughter there was just off the charts, just awesome.
"I couldn't have won these championships without Chandra," he added. They met in 2002 and married two years later, the year he won his first championship.
Johnson's stop at the Review-Journal around noon was almost midway through a 12-hour day of media interviews.
The whirlwind resumes today when he is joined by the other top-12 Cup drivers at Las Vegas Motor Speedway for the Chaser's for Charity Fanfest, an event free to the public from 11 a.m. to 3:30 p.m. On Thursday, he leads a caravan of the 12 drivers in race cars for a Victory Lap on the Strip that begins at 3:30 p.m. in front of Planet Hollywood and ends about 30 minutes later at Hard Rock Hotel.
Contact reporter Jeff Wolf at jwolf@reviewjournal.com or 702-383-0247. Go to lvrj.com/motorsports for more on Champion's Week.