Busch brothers' sights on '15
December 5, 2014 - 11:18 am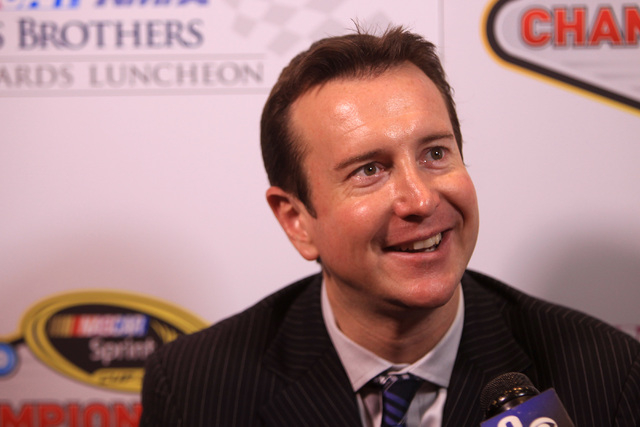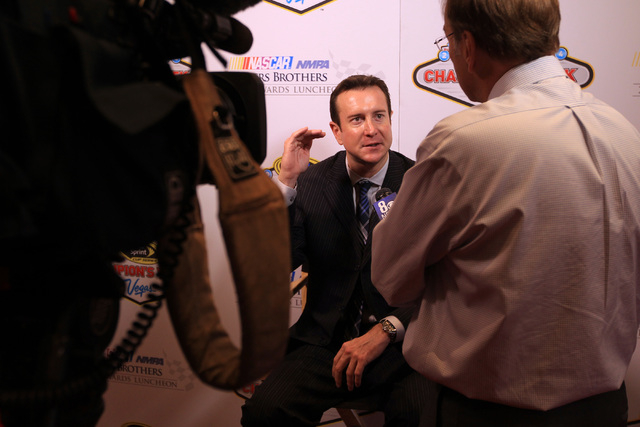 Kurt Busch was on one side of the Wynn Las Vegas ballroom on Thursday and brother Kyle on the other, but they are very much in the same spot.
They made the new Chase for the Sprint Cup playoff system, but didn't advance as far as either would have liked in an uneven season.
The Las Vegas natives, however, also have good reason to believe the next NASCAR season, which begins Feb. 22 at Daytona Beach, Fla., will be much better.
Kurt Busch finished eighth, seventh and 11th in his final three races under new leadership. Kurt Busch and Stewart-Haas Racing teammate Danica Patrick swapped crew chiefs in October, with Busch getting Tony Gibson and going on to finish 12th in the standings.
"Could we have made the change sooner? I would have loved to have capitalized on 2014," Kurt Busch said during a media event for NASCAR Champion's Week. "But it gives us so much motivation and inspiration for next year. I love his veteran leadership and his ability to build quality cars."
But Kurt Busch has more on his mind than trying to win his first Cup title since 2004. He has been accused of assault by former girlfriend Patricia Driscoll. Through his attorney, Rusty Hardin, Busch has denied the allegations but didn't comment at Thursday's event.
A hearing will take place Dec. 16.
Kurt Busch has kept busy in the meantime. He even accepted a sponsor's invitation to compete in the Monza Rally Show last weekend in Italy. He finished 32nd in the three-day event.
"The uniqueness of being in a different country and communicating with a different team from another country, just the whole atmosphere was a lot of fun," Kurt Busch said. "The physical side wasn't all that demanding, other than long, long days. Sometimes we were on the track from 9 a.m. all the way to 9 p.m. Just the fun side of it, of low pressure, experiencing something new was very different from running the Indianapolis 500."
As for the Indy 500, he is considering another double on Memorial Day weekend, running at the Brickyard in the morning and the Coca-Cola 600 in the evening at Charlotte Motor Speedway. Kurt Busch finished sixth at Indy, but blew an engine at Charlotte and came almost 200 miles short of completing the night race.
"I haven't gotten into any discussions or any negotiations with anybody yet," he said of possibly trying again. "It was a very successful adventure other than not completing the full 1,100 miles. That's what I would be after next is to complete the 1,100. That would, to me, be the final exclamation point on trying to do the double."
Like his brother, Kyle Busch has a new crew chief, with Joe Gibbs Racing deciding after the season to promote Adam Stevens from the driver's Nationwide Series team. They combined for seven Nationwide victories this season and 25 top-five finishes.
"The team and everything he's put together on the Nationwide Series, everyone respects him," Kyle Busch said. "They love him, and they think he's smart, and of course I do as well. But the relationship we've had over the last year has gone very well. We've won lots of races and been competitive."
Maybe the combination will lead to better results after Busch finished 10th in the Cup this season, a year after taking fourth.
But more than that, he hopes an emerging partnership between Joe Gibbs and Michael Waltrip Racing will produce better results. Stewart-Haas and Hendrick Motorsports have a similar arrangement.
"It's interesting to see how it's all going to play out," Kyle Busch said. "We all need to figure out how to make that relationship work, and the sooner is only going to be better for all of us."
He has more than racing to look forward to next year. His wife, Samantha, is pregnant with a boy who is due in May.
The couple have been working on getting their son's room in order.
"It's been entertaining and yet challenging," Kyle Busch said. "I think I'm more comfortable with a boy than I would be a girl. I'm sure he'll be spoiled to death. Whether he's a racecar driver or not, that's a long time to be seen."
■ AWARDS SHOW — The NASCAR Sprint Cup Series Awards show is at 5 p.m. today at Wynn Las Vegas. The show will be televised on Fox Sports 1 (Cox Cable 329) at 6.
Contact Mark Anderson at manderson@reviewjournal.com or 702-387-2914. Follow @markanderson65 on Twitter.