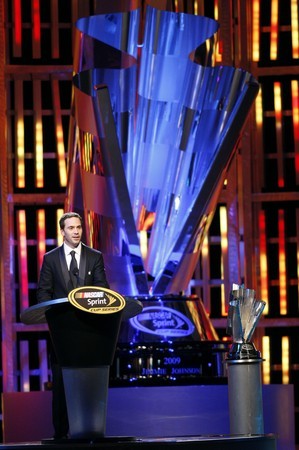 The first NASCAR Sprint Cup Champion's Week in Las Vegas came to a close Friday night.
The night lauded the 10 top drivers in the stock-car series and was a coronation for Jimmie Johnson, who picked up a $6.6 million bonus check for winning a record fourth consecutive series championship.
But a bigger winner was Las Vegas, according to Rossi Ralenkotter, president and chief executive of the Las Vegas Convention and Visitors Authority, which lured the event to town after it had been held in New York City since 1981.
"This has been a big winner for our city, and it couldn't have come at a better time," said Ralenkotter, who began negotiating with NASCAR chairman Brian France four years ago to bring racing's biggest banquet and celebration to Las Vegas.
Ralenkotter said Las Vegas Motor Speedway president Chris Powell and Bruton Smith, the founder and chairman of Speedway Motorsports Inc., which owns the track, convinced him to pursue the event.
France said Friday he was pleased with the banquet, which set a record with about 1,500 attendees, including 200 fans (this was the first time fans could attend the event).
"Our first year in Las Vegas was a remarkable success for NASCAR, our fans and the city. We were welcomed with open arms and made to feel right at home," France said.
The LVCVA has a three-year contract with NASCAR to host the three-day celebration at a cost of $800,000 a year. But Ralenkotter thinks the return will be far greater than the investment.
"We wanted to create more synergy and access for the (NASCAR) fan base, and we did that," he said. "We're looking for a long-term relationship, and the event will get even bigger and more NASCAR fans will travel here to enjoy it."
Even Johnson, who owns an apartment in New York City, thinks Las Vegas is the perfect venue.
"Vegas has been a great host," the native of El Cajon, Calif., said. "We weren't rushing around, and we had a lot more free time. We all work together all year but really don't just get a chance to hang out like we did here."
Although race-car displays were staged along the Strip and at the Fremont Street Experience beginning Monday, the first major event was the Chasers for Charity Fanfest and roast hosted by the speedway, which raised about $50,000 for charity.
Although drivers reveled in the opportunity to interact with fans and take verbal jabs at each other in jest, it was Thursday's Victory Lap parade along a 2-mile route on the Strip — punctuated by a minute-long, smoky burnout by Johnson at Spring Mountain Road — that set the Las Vegas event apart from the ones in New York City, where considerable limitations were placed on drivers.
"It was a real coup for us to take the cars down the Strip," Ralenkotter said. "That couldn't have happened without the help of (police) and our hotel properties."
The 12 drivers participating in Champion's Week agreed this year's celebration was more fun and offered more diverse entertainment options than New York.
"I loved how the fans were involved," said Jeff Gordon, the four-time champion who finished this season third. Ryan Newman, ninth in points, added, "any time you can involve fans it's important."
No driver was prouder of the event than Las Vegas native and 2004 Cup champion Kurt Busch, who was calm before his speech as the fourth-place finisher. Unlike his first time in the top 10 in 2002 when he finished third.
"Man, I was so nervous," he said. "I remember one hand was hot and the other one was cold.
"It was just so cool to have it this time in my hometown. It will be even better next year."
Contact reporter Jeff Wolf at jwolf@reviewjournal.com or 702-383-0247.
Watch the slide show