Kurt Busch plots title campaign after watching brother Kyle win Sprint Cup crown
December 4, 2015 - 12:27 am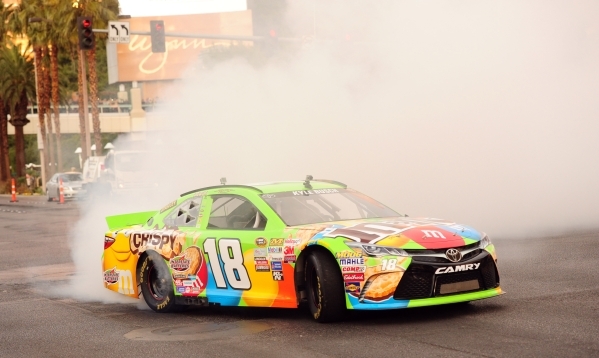 Little brother Kyle Busch sat 20 feet away, and this was his moment to be the center of attention.
He is the newly crowned NASCAR Sprint Cup champion, and the national reporters wanted to know when the surgery on his right leg and left foot would take place (it will be Dec. 17).
Twenty feet in a hotel ballroom isn't much distance, but it's enough room to be the difference between champion and contender, and Kurt Busch very much wants to be No. 1 again.
But on Thursday at Wynn Las Vegas, he was going to let his little brother have the spotlight in the return to their hometown.
"I'm just so very proud of him," Kurt Busch said. "To give my dad a hug and Kyle when he won down in Homestead, you go through this tunnel of images in your mind and all the hard work that it took to get there. I'm just so happy for him and to celebrate with him this week."
But there is another season next year, and few in NASCAR are as competitive as the Busch brothers. Kurt, in fact, sounded as if he was ready to start the new season even though the old one just ended.
He has reason to be excited.
Busch, 37, finished eighth in the standings, his highest since ending the 2009 season fourth. He also won two races, had 21 top-10 finishes and a career-best average finish of 11th.
"Three races out of 33 for me were a rough spot, but at the end of the day, there were 30 beautiful races we put together as a team," Busch said.
One of those finishes, however, occurred Nov. 1 when he took 34th at Martinsville, Va. A penalty for jumping the start two weeks later at Avondale, Ariz., led to a seventh-place finish and ensured Busch wouldn't make the final four at Homestead-Miami.
It was a disappointing way to close the season, but the fact Busch was so close also was a reason to be optimistic for 2016.
"We feel even stronger about our situation going into next year because everybody's returning," Busch said. "Everybody went through it together this year. We don't have any kind of side distractions or anything. It's all full steam ahead. That's the best part about all of this."
He overcame those "side distractions" to become a contender.
Busch was suspended by NASCAR for the first three races because of allegations of domestic violence. He was reinstated when charges were not filed.
Now Busch, who is engaged to Ashley Van Metre, is all too happy to talk about the positive events taking place, such as new sponsor Monster Energy coming onboard.
"I would define (2015) as a very successful season, and there's nothing but up ahead of us with 2016," he said.
About 20 feet away sat Kyle Busch.
They are both from Las Vegas, and they are both champions.
Kyle won his this year, Kurt in 2004.
And Kyle knows Kurt wants another one.
"Kurt don't give a crap," Kyle said of big brother being happy for him. "None of these guys do. They want their own championship their own way however they're going to get it."
— Contact Mark Anderson at manderson@reviewjournal.com or 702-387-2914. Follow him on Twitter: @markanderson65