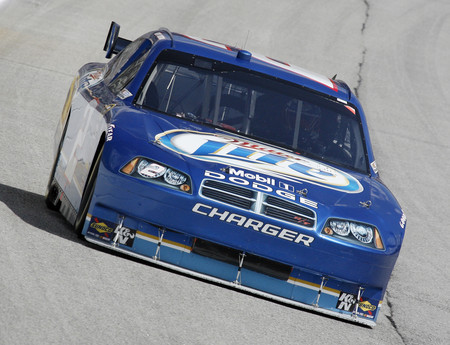 The NASCAR Sprint Cup season is over, but Kurt Busch is back in town ready to drive and run another race.
The Las Vegas native will play in the inaugural Golden Gaming/Kurt Busch Foundation golf tournament today at DragonRidge Country Club to raise money for his foundation, which supports youth organizations such as the Victory Junction Gang Camps.
The tournament kicks off NASCAR Champion's Week in Las Vegas. It is the first time since 1981 that the season-ending festivities, including Friday night's banquet, will be held outside New York City.
"My mindset was that no one was thinking about golf when the banquet was in New York," Busch said. "I wanted to bring something different to Vegas."
Busch, 31, finished fourth in the Cup season point standings in Penske Racing's No. 2 Dodge. The top 12 drivers will be feted throughout the week, highlighted by Friday's awards ceremony at Wynn Las Vegas, an event not open to the public.
While most Cup drivers will be heading out of town Saturday, Busch will serve as grand marshal for the Las Vegas Great Santa Run at Town Square that morning.
"I wouldn't give myself a high grade in either golf or running, but I'm ready to participate in both," he said.
Busch certainly was ready to participate on the racetrack this season. The only drivers who were better than him — champion Jimmie Johnson, Mark Martin and Jeff Gordon — all drove Hendrick Motorsports Chevrolets.
"I've been saying we finished best in class," Busch joked of the Hendrick team's dominance. "They've had a lethal combination of drivers, motors, handling. You name it."
Busch, a Durango High School graduate, won two races, including one of the 10 Chase events, although his crew chief, Pat Tryson, announced before the Chase that he would leave the team at the end of the year to join Michael Waltrip Racing.
"I just focused on 2009 until after the last race," Busch said, adding that a decision on his next crew chief could come this week.
But Busch has other things to keep him busy this week, including the Chasers for Charity Fanfest and a roast of Johnson on Wednesday at Las Vegas Motor Speedway.
"We all need to jump on him and put him on some hot coals," Busch said of the reigning four-time series champion. "Hopefully it will be like a bunch of frat guys hanging out and making fun of each other."
On Thursday, the 12 Cup drivers will take a victory lap along Las Vegas Boulevard from Tropicana Avenue to Spring Mountain Road. Busch warmly recalls leading the procession around Times Square after his 2004 Cup championship.
"That was one of the most phenomenal experiences I've ever had — the crowd, the noise from the cars."
Unlike the drive in New York City, Thursday's lap is expected to feature a burnout by Johnson.
"Doing this in my hometown is very special," Busch said. "This is the first year for it, so we might do some things that could create new rules for next year. We'll see how cool we can make it."
Contact reporter Jeff Wolf at jwolf@reviewjournal.com or 702-383-0247. Go to lvrj.com/motorsports for details about Champion's Week.
JOHNSON AWARDS EDUCATION GRANTS
CHARLOTTE, N.C. — NASCAR champion Jimmie Johnson on Monday awarded nearly $1 million in education grants to school districts in California, North Carolina and Oklahoma.
Johnson, who wrapped up his record fourth consecutive Cup championship in the Nov.•22 season finale, received more than 80 applications from schools in districts both he and his wife, Chandra, attended, as well as the greater Charlotte area, where they live.
The grants from the Jimmie Johnson Foundation totaled $922,000. The awards included $347,000 toward science and technology needs, $357,000 for outdoor classrooms, playgrounds and athletic facilities and $27,000 for accelerated reading programs.
THE ASSOCIATED PRESS