NASCAR champ Martin Truex Jr. visits children's cancer ward
November 28, 2017 - 5:27 pm
Updated November 29, 2017 - 6:21 am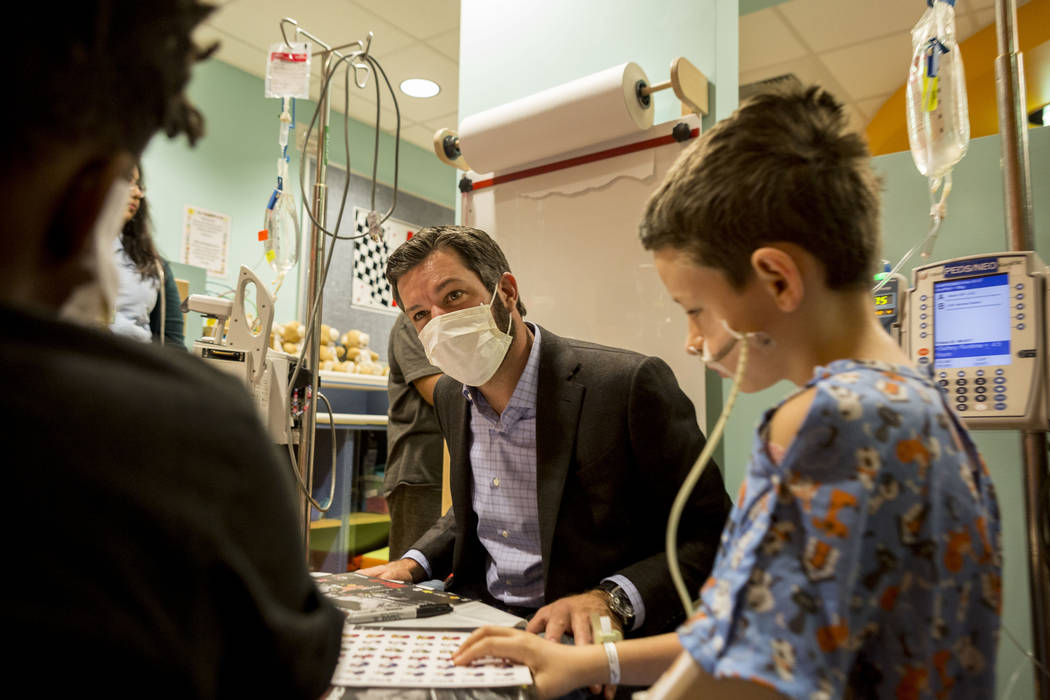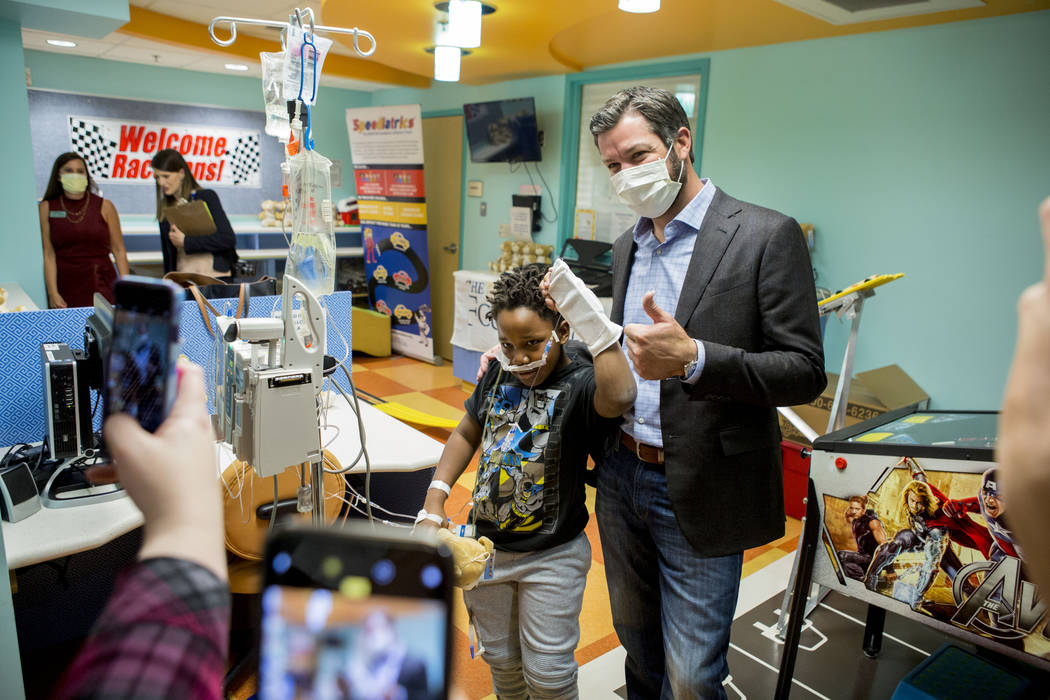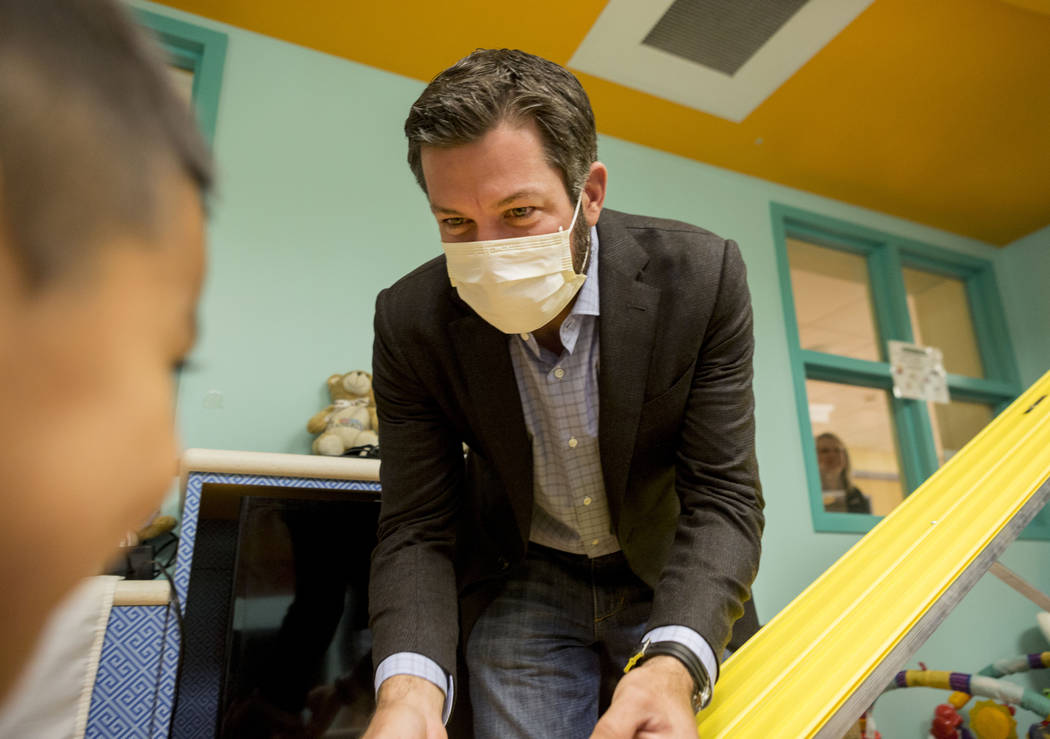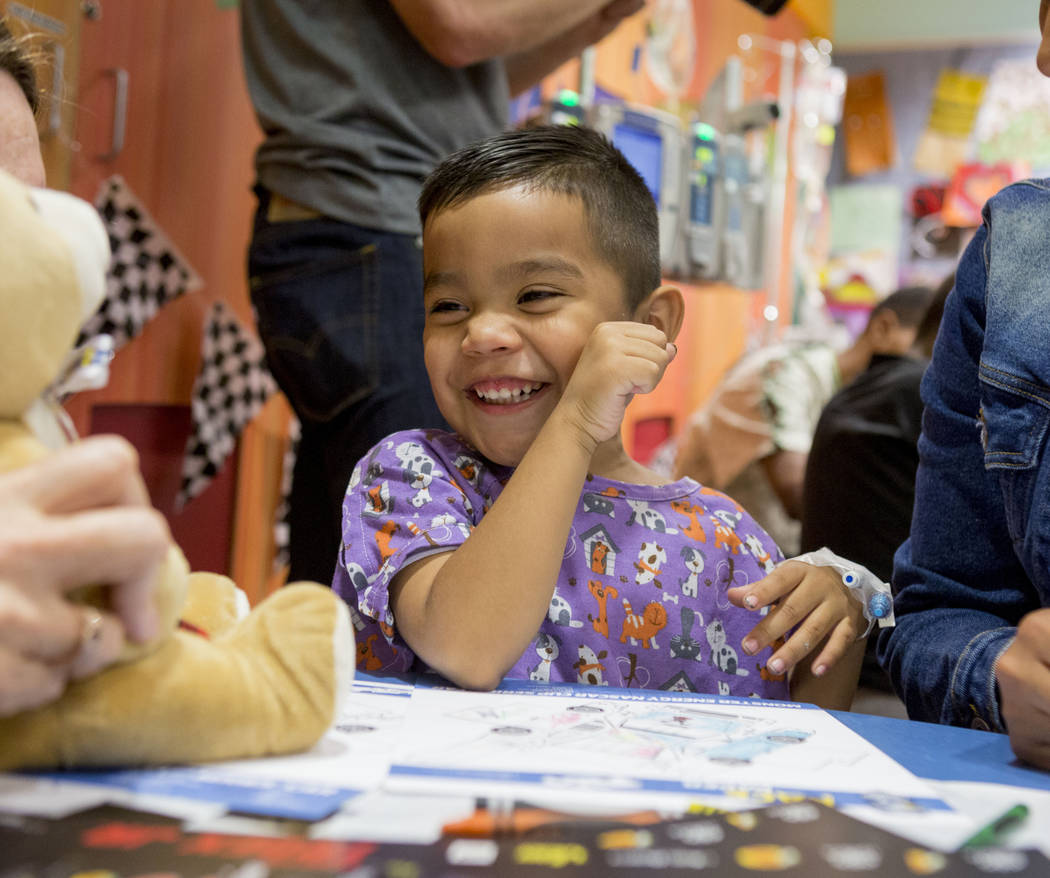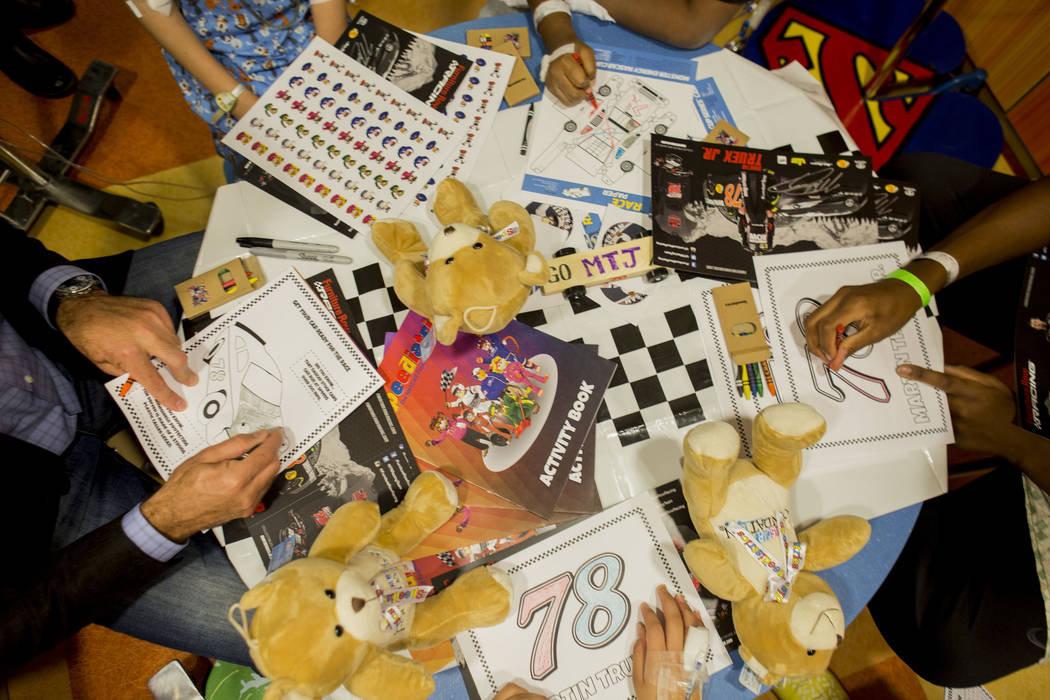 NASCAR Champion's Week was only in the first stage when the guy it honors this year, 37-year-old Martin Truex Jr. of New Jersey, spoke of a "grounding process."
It had nothing to do with coming off the cloud since he doggedly held off Kyle Busch of Las Vegas to win the Cup Series championship at Homestead-Miami Speedway on Nov. 19.
It was about dropping by Sunrise Children's Hospital on Tuesday afternoon to spend time in the cancer ward.
"It's such a grounding process when you go in there," said the driver of the No. 78 Toyota for the upstart Furniture Row Racing team, a combination that produced a season-high eight victories, including one at Las Vegas Motor Speedway. "It's a constant reminder when you see those kids how lucky we are to do what we do and, not only that, just to wake up and be healthy."
Truex colored with the youngsters in a small playroom and challenged them to races on a Pinewood Derby track. You couldn't see the smiles when the kids won, because there were surgical masks covering them. But you could tell from the twinkle in the champ's eye, and those in the playroom, that he had been successful in bringing a brief moment of joy to the cancer ward.
"It breaks my heart to sit there and talk to 'em and see the pain they are in and how tired they are," Truex told a small group of reporters on the hospital curb. "It's definitely a humbling thing to come here."
He has a spot in his heart for these kids that is softer than a set of Goodyears after a long fuel run. Truex talked about his foundation, which he and longtime girlfriend Sherry Pollex founded in 2007 — before Sherry was diagnosed with Stage III ovarian cancer.
She has been able to ward off the virulent disease through two bouts of chemotherapy. But every day is a battle, and the season never really ends when one is fighting cancer.
After the surgical masks came off, NASCAR's new champion talked about racing cars for a bit and mentioned being on the cloud. It wasn't long before he brought the conversation back to the kids on the fourth floor.
"I can't imagine what they're going through, what they must feel and think," Martin Truex Jr. said just nine days after people were saying much the same about him as confetti fell and Gatorade was sprayed in Florida.
Reflection had lapped the field.
Martin Truex Jr. had a special day winning #NASCAR championship; his girlfriend, Sherry Pollex, made it extra special with her brave fight against cancer. https://t.co/yWnrZQGk8V pic.twitter.com/oFO2emXG0T

— Jim Roberts (@nycjim) November 20, 2017
Bud Moore mourned
Before the NASCAR community began raising glasses to Truex, it paused to pay homage and respect to a self-described "country mechanic who loved to make 'em run fast."
Walter "Bud" Moore Jr., who won the 1957 NASCAR title turning wrenches for Buck Baker and owned the car Joe Weatherly drove to series championships in 1962 and '63, has died at age 92.
Bud Moore also was a decorated war hero. He was assigned to the 90th Infantry Division that landed on Utah Beach on D-Day, and his unit was attached to Gen. George S. Patton's "Third Army" that helped liberate Europe. Bud Moore was decorated with five Purple Hearts and two Bronze Stars.
Like Truex visiting kids in the cancer ward, that sort of puts winning stock car races on 1.5-mile paved ovals into perspective.
Bud Moore shares how he'd want to be remembered https://t.co/0ub28GFHIc pic.twitter.com/Zpe5mkLcuM

— Nascar World (@NascarWorldNews) November 29, 2017
Kyle Busch early favorite
Provided he doesn't retire between now and the Daytona 500 in February — as he mockingly said he might after losing the Cup Series title in a taut duel to the finish at Homestead-Miami Speedway — Kyle Busch is the favorite to win the 2018 Cup Series championship,
Westgate has the Las Vegas driver at 9-2 odds to win his second Cup crown. Truex, Kyle Larson and Kevin Harvick are 5-1, with Chase Elliott at 6-1 and Joey Logano at 8-1.
Busch, Truex and Harvick accounted for three of the Championship 4 berths in 2017. The fourth went to Brad Keselowski, who is 10-1 to win the 2018 title according to Westgate, and even money to complain about the unfair advantage enjoyed by Toyota drivers.
Kyle Busch laments championship loss, blames 'good buddy' Joey Logano https://t.co/UTXzoIIb7v pic.twitter.com/NST8aLzbZm

— All Turns No Brakes (@turnsnobrakes) November 28, 2017
Contact Ron Kantowski at rkantowski@reviewjournal.com or 702-383-0352. Follow @ronkantowski on Twitter.
Champion's Week schedule
Wednesday
— NASCAR Fan HQ at The Park, 11 a.m.-8 p.m.
— NASCAR Fan Lounge at Beerhaus, The Park, 11 a.m.-8 p.m.
— NASCAR Autograph Session (Xfinity and Truck Series champions), NASCAR Fan HQ, The Park, 1 p.m.
— NASCAR NMPA Myers Brothers Awards, Encore Theatre at Wynn Las Vegas, 10:30 a.m.-noon.
— Victory Lap Fueled by Sunoco, the Strip/Toshiba Plaza at T-Mobile Arena, 2:30-5 p.m.
— NASCAR After the Lap (Supporting Vegas Strong), The Chelsea at the Cosmopolitan of Las Vegas, 8-11 p.m.
Thursday
— NASCAR Fan HQ at The Park, 11 a.m-8 p.m. (Appearances by Leonard Wood, Dale Jarrett and the Sunoco Rookie of the Year at 12:30, 1 and 1:30 p.m.)
— NASCAR Fan Lounge at Beerhaus, The Park, 11 a.m.-8 p.m.
— NASCAR Drivers Autograph Session (Kurt Busch, Jimmie Johnson, Matt Kenseth, Jamie McMurray, Kyle Busch, Denny Hamlin, Brad Keselowski, Ryan Newman), NASCAR Fan HQ, The Park, 11:30 a.m.-1 p.m.
— Monster Energy NASCAR Cup Series Awards Red Carpet, Wynn Las Vegas, 4:30-5:30 p.m.
— Monster Energy NASCAR Cup Series Awards, Wynn Las Vegas, 5:30 p.m.
Information: NASCAR.com