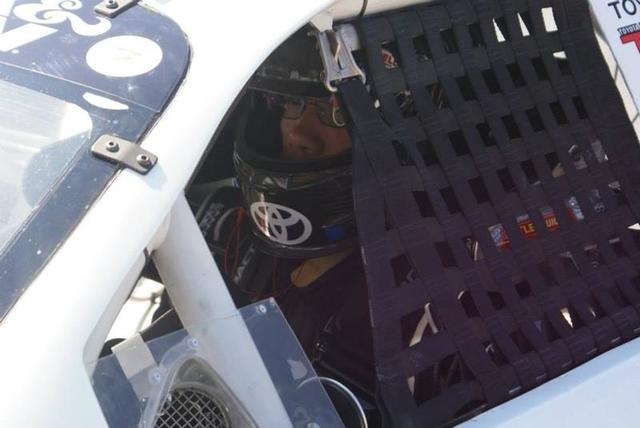 Everything was new.
New circuit.
New part of the country.
New competitors.
New tracks.
And new cars.
Jay Beasley knew he had a lot to take in this season, especially the early part of it, and he was right. But now he comes off his best finish, a fourth-place showing Saturday in the Casey's General Stores 150 at Newton, Iowa.
So maybe the Las Vegan is beginning to show real promise in his rookie season in the NASCAR K&N Pro Series East circuit.
"I felt like this season was going to be a big learning curve, but I wasn't worried about it," said Beasley, who now lives in North Carolina. "I felt that I would learn pretty quickly. It was just a matter of time when we were going to really progress."
Beasley, 22, is considered the next Las Vegas driver to watch as he attempts to move up the NASCAR ranks. He won the Super Late Model title last season at the Las Vegas Motor Speedway Bullring, a place that also produced brothers Kurt and Kyle Busch and Dylan Kwasniewski.
That success at the Bulling helped earn Beasley a shot at the K&N series and a seat with the five-member Rev Racing team, which is part of NASCAR's Drive for Diversity program.
Any success by Beasley, an African-American, is good news for NASCAR, which is trying to expand its demographic reach.
Beasley, though, wants to earn his way into the sport's highest levels, and he is constantly pushing himself to get better. He knew the K&N series would present the toughest competition he has seen.
Beasley is 18th in the standings, with his recent performance in Iowa his first top-10 finish.
His previous high was 15th on March 15 at Bristol, Tenn.
Even though the results weren't what Beasley was accustomed to, his driving skills still were evident. He finished better than his qualifying position in four of his six starts, including at Bristol, where Beasley started 32nd.
"Every time I get on the track, I believe I get every ounce I can out of the car," he said.
Iowa was the first track at which he qualified in the top 10, starting out of the ninth position, and that was the third consecutive improvement in qualifying in his Toyota.
"The cars have been getting better," Beasley said. "So for me, learning what adjustments do what and what the car's supposed to feel like now, that's coming along a lot better now. I think that's going to be really big for myself."
Ten races remain in the season, with the next one the NASCAR Hall of Fame 150 on May 31 in Winston-Salem, N.C. The season concludes Sept. 26 at Dover, Del.
Maybe by then, what happened in Iowa will be considered the beginning of a strong finish and perhaps momentum into next season.
"Finishing fourth this weekend was a big relief," Beasley said. "It really helped me a lot on my confidence level, and now I feel that every time we hit the track, we should fight to be a top-five car. If we can be a top-five car every week, the wins will come, but the team and me need to keep working hard and keep on doing what we're doing."
Contact reporter Mark Anderson at manderson@reviewjournal.com or 702-387-2914. Follow him on Twitter: @markanderson65.