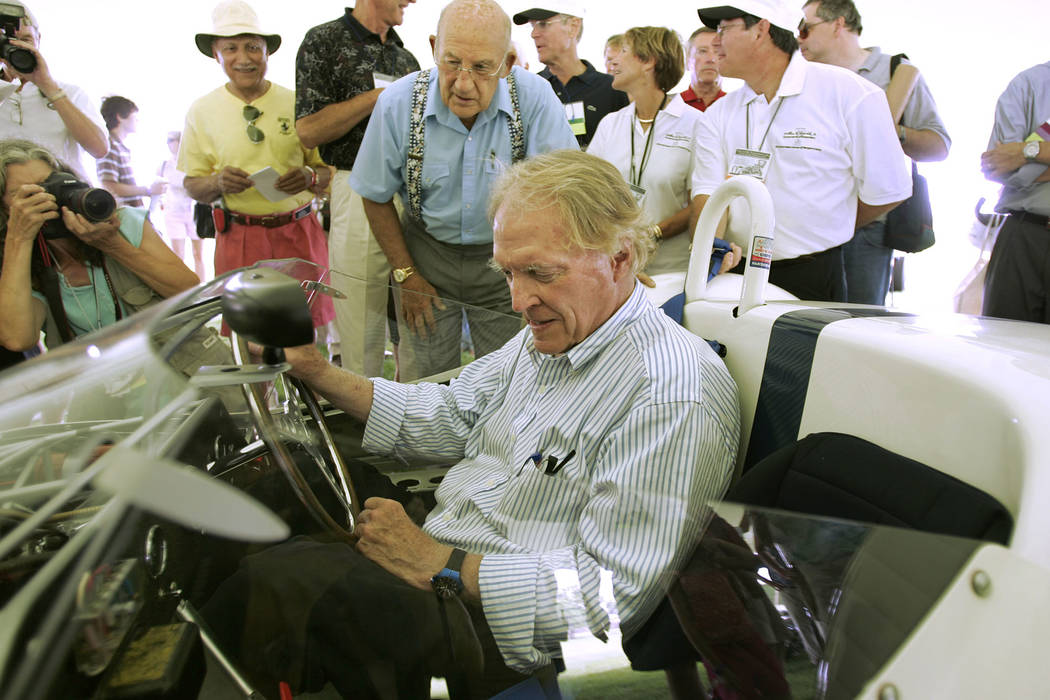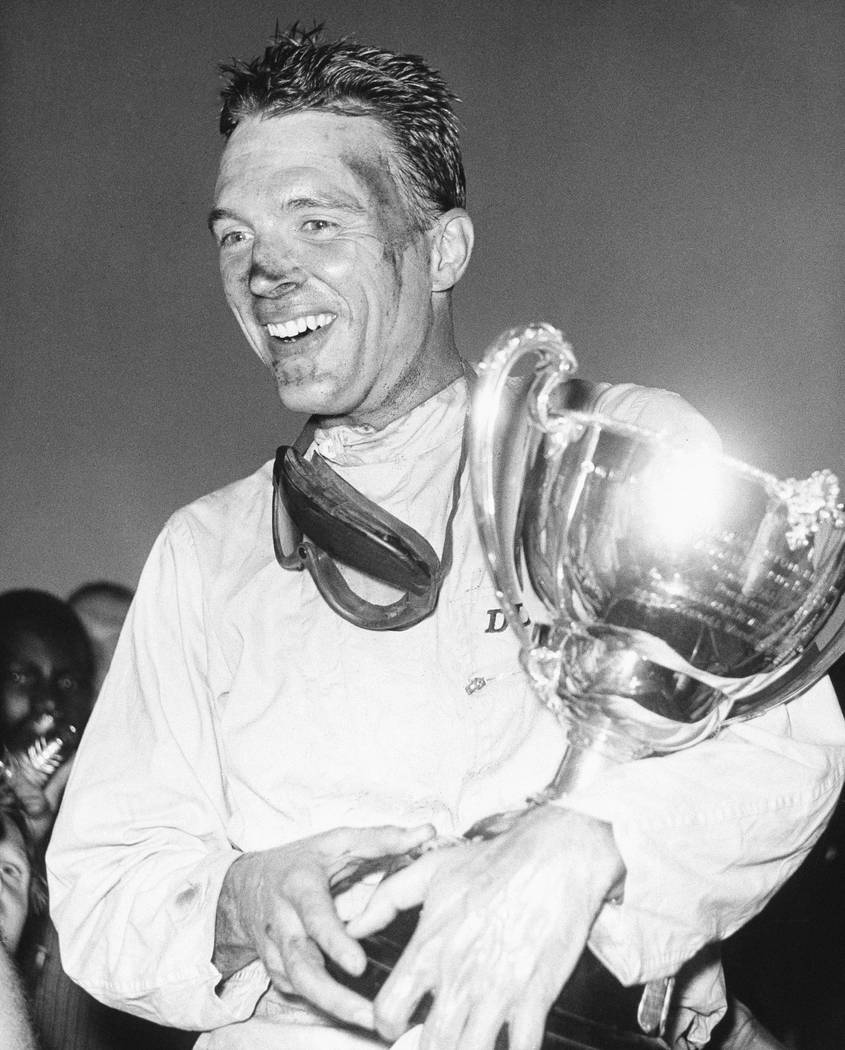 You know that famous tradition in auto racing, the one in which winning drivers shake a giant bottle of bubbly and spray it over their crews and photographers and other people bearing pit passes who stand too close to the victory podium?
Dan Gurney, who died Sunday at age 86 from complications from pneumonia, was the one who started that.
It happened in 1967, when Gurney teamed with fellow American racing legend A.J. Foyt to win the 24 Hours of Le Mans. Gurney was a teetotaler. After co-driving an iconic Ford GT to an iconic victory with "Super Tex," dapper Dan shook the champagne like a can of whipped topping and hosed down everything this side of the Mulsanne Straight.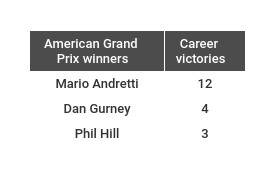 During that halcyon era, Dan Gurney, who was always "the coolest man in the room," competed in the lone Indy car event at defunct Stardust International Raceway in Las Vegas, and in the venerable Can-Am sports car series at the dusty three-mile, 13-turn road course before it was leveled by real estate developers.
When I wrote a retrospective about Stardust getting in everybody's eyes — or, to be more specific, desert sand from its run-off areas getting into everybody's eyes — Dan Gurney returned a phone call to chat about it.
"I'd say it was pretty good," the California driver and innovator said about racing at Stardust. "I don't know if you'd call the ground surrounding the track beach, sand, gravel or whatever. I know if somebody starting cutting corners, the next thing you know you had a bunch of marbles."
Gurney started the Indy car event at the Stardust from the pole position, but his race ended before the first lap when he spun out in gravel spewed by Bobby Unser's car.
"But I don't blame the track," said Gurney, the only American to win a Formula One race in an American-built car (his own immaculate Eagle design). "Maybe today's drivers are a little pampered, but back then, we were just glad to have a track like that to run on."
The man who invented champagne-spraying celebrations on the podium.

Formula 1 legend Dan Gurney has died aged 86: https://t.co/KRJzqcrCCe pic.twitter.com/nCPkCKTp9s

— BBC Sport (@BBCSport) January 15, 2018
Dan Gurney, the first driver ever to win races in @F1, @NASCAR and @IndyCar, has died at the age of 86. https://t.co/AzrECuspPm pic.twitter.com/gm1for3pyC

— RACER (@RACERmag) January 14, 2018
RIP Dan Gurney. I was first inspired by him when I was in midgets dreaming of being like him. I was last inspired by him yesterday. Yes, I mean forever. He understood me better than anyone else, which is why he wrote the foreword for my book in 2001 #DanGurneyHasFinishedTheRace pic.twitter.com/twMkM2Mn0U

— Mario Andretti (@MarioAndretti) January 14, 2018
Green, white, checkered
— Noah Gragson's primary sponsor for the 2018 NASCAR Truck Series will be Safelite AutoGlass, which replaces Switch, a Las Vegas global technology company. "This year is already off to a great start knowing that I'll be back at Kyle Busch Motorsports to compete for a Truck Series championship with Safelite as the primary sponsor on my No. 18 Tundra," the Las Vegas youngster said in a news release.
A Twitter video announcing the news was much less predictable.
Welcome to the team, @safelite. We see you've already put @NoahGragson to work. 😀 pic.twitter.com/vm6aGkc1uy

— Kyle Busch Motorsports (@KBMteam) January 12, 2018
— Kyle Busch has confirmed a five-race Truck Series schedule for 2018, per new NASCAR rules limiting established Cup Series drivers to only that many. These are the places Kyle B. will go truckin': Atlanta, Feb. 24; Las Vegas, March 2; Kansas, May 11; Charlotte, May 18; Pocono, July 28. "Two of my races will be in the No. 4 Tundra, which was the number on my first Legends car back at the Bullring, and I'll also be racing a truck at Las Vegas for the first time since 2001," Busch said.
.@TextronAviation back with @KyleBusch for five @NASCAR_Trucks races this season. https://t.co/g6kyFJnxKU

— Kyle Busch Motorsports (@KBMteam) January 11, 2018
— Schmidt Peterson Motorsports, headed by car owner Sam Schmidt of Henderson, has hired Leena Gade as chief engineer on the No. 5 Indy car driven by former Indianapolis 500 pole position winner James Hinchcliffe. She becomes the first female to serve in that capacity in IndyCar history.
We're very excited to welcome @Leena_Gade to SPM! She becomes the first female lead race engineer in #INDYCAR! #WomenInSport #Engineering

READ more 👀👇🏼https://t.co/3jz3K2yMbD pic.twitter.com/yLTtG5McBd

— Schmidt Peterson (@SPMIndyCar) January 16, 2018
Contact Ron Kantowski at rkantowski@reviewjournal.com or 702-383-0352. Follow @ronkantowski on Twitter.