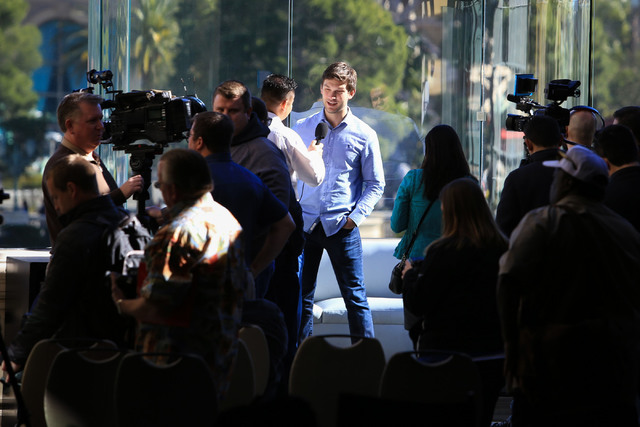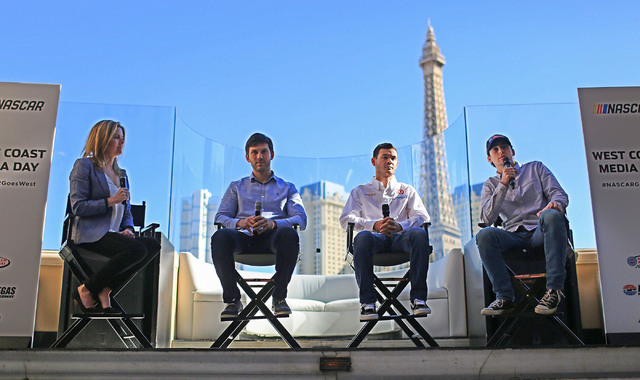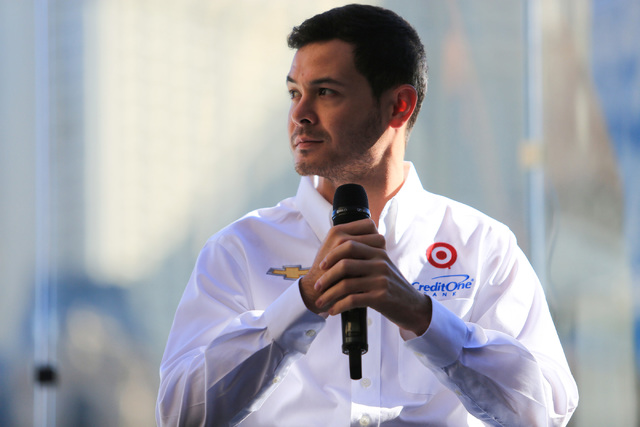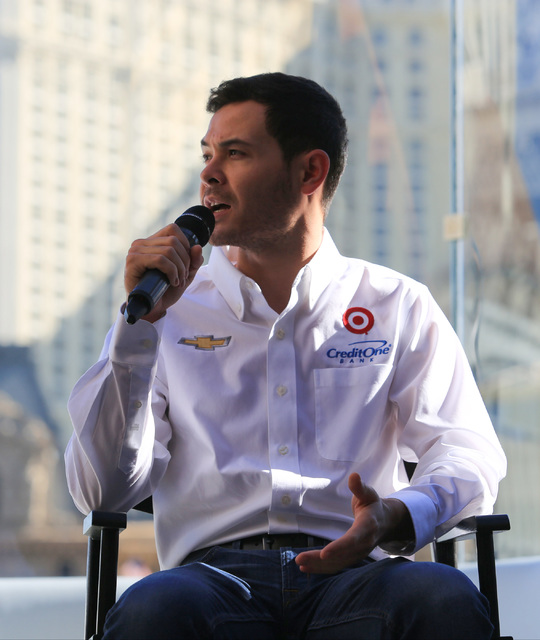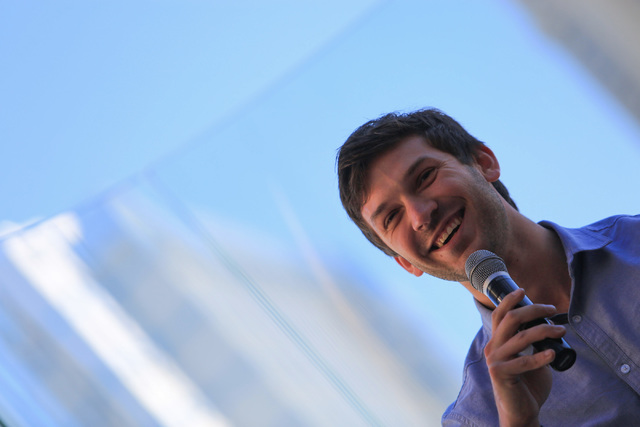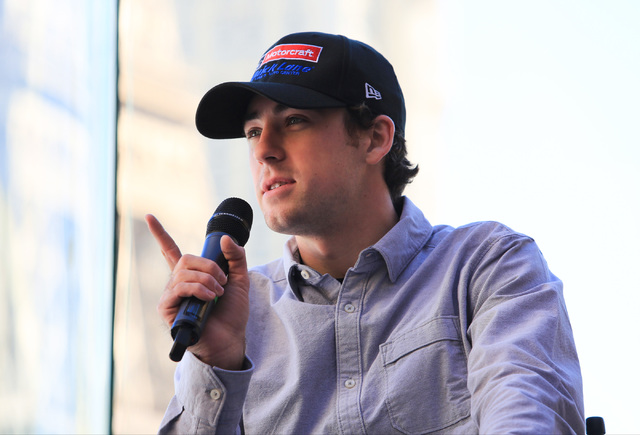 It was a little before noon Thursday at stylish Hyde nightclub fronting the moat at Bellagio when the water cannons went off, forming a halo of rivulets around Daniel Alejandro Suarez Garza as he chatted about racing stock cars.
Daniel Suarez was born in Monterrey, Nuevo Leon, Mexico. This season he will drive the No. 19 Toyota Camry for Joe Gibbs Racing, the only Mexican-born driver in the NASCAR Cup Series. Were it not for Carl Edwards' stunning retirement announcement three weeks ago, Suarez would be preparing to defend his just-as-stunning championship in the steppingstone Xfinity Series.
Suarez said Las Vegan Kyle Busch deserves credit, too. When Suarez made the jump to Xfinity from the Truck Series, he said he didn't know the characteristics of the car, many of the racetracks, the aerodynamic package.
"Coach (Joe Gibbs) said go to Kyle," said the 25-year-old import, who joined fellow young lions Kyle Larson and Ryan Blaney in promoting NASCAR Goes West, three early-season races at Las Vegas Motor Speedway (March 12), Phoenix International Raceway (March 19) and Auto Club Speedway in Fontana, California (March 26).
So before the second race of the year, at Atlanta, Suarez gave his teammate a call. Busch explained the characteristics of the car, the racetrack, the aero package. Suarez said it really helped.
"I said, 'Can I call you next week for the next race?'
"He said, 'Yeah, sure.'
"That was a big mistake (on his part). I kept calling him every week."
Both drivers said a week didn't go by when Suarez didn't call for pointers. He kept calling during the second half of the season before races at tracks about which Busch already had given Suarez pointers during the first half.
Did Suarez call during the rare off weeks? No. But it seemed like he did.
"He came to me pretty much every Thursday," Busch said during this week's NASCAR media tour in North Carolina. "It was pretty much set on the calendar: 3 o'clock, Daniel Suarez, phone call."
Busch did an impression of Suarez that made the media laugh. Suarez laughed himself about that Thursday before the water cannons made a halo of rivulets around his head.
'He was a super cool guy, I'm grateful, I'm proud to call him a friend right now," Daniel Alejandro Suarez Garza of Monterrey, Nuevo Leon, Mexico, said.
Stuff from yesterday:

— Quick recap of the Media Tour: https://t.co/H8yboLL9yw

— KyBu drops a Suarez imitation: https://t.co/EDAEFgPCoh

— Jeff Gluck (@jeff_gluck) January 26, 2017
LVMS
Former Super Late Models Bullring champion Jay Beasley is one of six drivers selected for NASCAR's Drive for Diversity in 2017 — the third time the 24-year-old African-American has been so nominated. Beasley will drive for Rev Racing in the NASCAR K&N Pro Series East and NASCAR Whelen All-American Series.
NASCAR
■ Kurt Busch, about a highlight of his Caribbean wedding to girlfriend Ashley Van Metre: "We wanted it as a surprise to everybody … when the curtain dropped, everybody's like 'that's an awesome tribute band.' Halfway through the first song, it turned into an all-out rock concert …" The special guest was Steven Tyler. Busch's relationship with sponsor Monster Energy helped him and Ashley land the Aerosmith front man, who was a much better wedding singer than Adam Sandler.
■ Switch, a Las Vegas-based global technology solutions company, will be Noah Gragson's primary sponsor in the Truck Series this year as the Las Vegas teenager moves up to drive for Kyle Busch Motorsports, making this an all-Las Vegas entry. "When two great companies join forces, great things are bound to happen," the 18-year-old Gragson said.
ELSEWHERE
Las Vegan Jason Reichert finished 10th among 14 drivers in the Pacific F2000 season opener for aspiring open-wheel drivers at Auto Club Speedway in California. Reichert is moving up in class after winning two Formula Ford series championships in 2016. Pacific F2000 is a steppingstone to IndyCar and other top-flight series, counting drivers such as Indy 500 winners Dan Wheldon, Sam Hornish Jr. and Buddy Rice among its alumni.
Contact Ron Kantowski at rkantowski@reviewjournal.com or 702-383-0352. Follow @ronkantowski on Twitter.