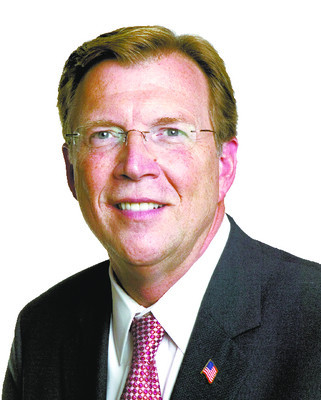 WASHINGTON — Clark County Chief Deputy District Attorney Robert Daskas raised $146,350 in the first three weeks of his campaign against Rep. Jon Porter, R-Nev., who will be seeking a fourth term in 2008.
Daskas, a Democrat, filed his candidacy on Sept. 10. Late Monday, he reported his initial fundraising through the end of September.
Porter raised $284,445 during the quarter that ran from July through September, bringing his total to nearly $980,000.
Daskas, 40, trailed Porter, 52, in cash on hand by more than $622,000.
The treasurer for Daskas' campaign is Tom Gallagher of Henderson, a former casino executive who ran against Porter in 2004 and lost by 14 points.
Gallagher made two contributions of $2,300 each to Daskas.
Senate Majority Leader Harry Reid, D-Nev., who has recruited candidates to run against Porter in previous elections, donated $5,000 to Daskas through his political action committee, the Searchlight Leadership Fund.
Reid's longtime friend Jay Brown, a Las Vegas attorney, made two contributions to Daskas — one for $2,300 and another for $1,700.
Heather Urban, who is Daskas' campaign manager, was also the campaign manager for Tessa Hafen, Reid's former press secretary who lost to Porter in 2006 by less than two points.
Other notable contributors to Daskas included:
• Rep. Shelley Berkley, D-Nev., contributed $2,000 from her campaign fund. Berkley's chief of staff, Richard Urey, also contributed $400.
• Brendan Gaughan, the Las Vegas truck racer, made two donations of $2,300 each.
• Brian Greenspun, editor of the Las Vegas Sun, contributed $2,300.
• Rachakonda Prahbu, a Las Vegas physician, made two donations of $2,300 each.
• Mike Sloan, a Las Vegas consultant and former casino executive, contributed $1,000.
Las Vegas accountant Andrew Martin, who is challenging Daskas for the Democratic nomination in the race against Porter, received contributions totaling $11,825. Because of loans he has made to his campaign, Martin reported $88,280 in cash on hand.
Meanwhile, Rep. Dean Heller, R-Nev., who will be seeking a second term next year, raised more than $161,000 in the last three months.
Heller, who is a member of the House Resources Committee, which oversees Indian gaming, received contributions of $2,250 from the Viejas Tribe of Alpine, Calif., and $4,000 from the Chickasaw Nation of Ada, Okla.
Both tribes operate casinos.
Heller also received contributions from 11 fellow Republicans in the House totaling $11,000. Heller, who does not have a Democratic opponent yet, reported $596,572 in cash on hand.