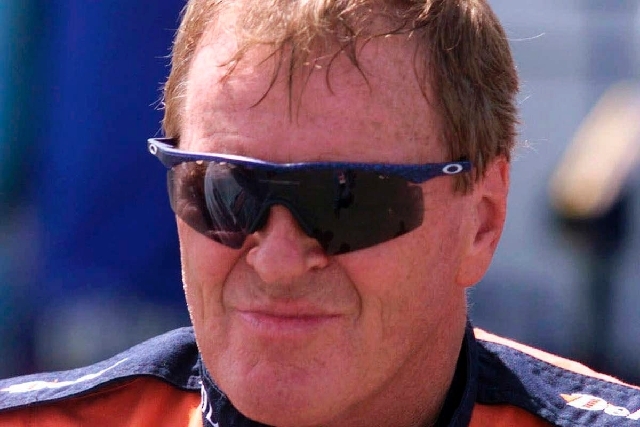 Chuck Trickle knew his brother was hurting, the pain under his left breast never going away.
Dick Trickle went to doctors twice a day, his brother said, to try to get rid of the problem. But the cause of his pain never was determined.
On Thursday, the popular former NASCAR driver died of an apparent self-inflicted gunshot wound in Boger City, N.C., authorities said. Dick Trickle was 71.
"It's a shock to me," said Chuck Trickle, who lives in Las Vegas and used to race at the Las Vegas Motor Speedway Bullring. "It's real hard to think about. He was my brother, my friend and my hero, in that order."
Chuck Trickle said his brother was healthy, except for the pain under his breast. The brothers spoke a week ago, and Chuck Trickle knew it was serious when he heard Dick Trickle curse for the first time that he could remember.
"He was very down," Chuck Trickle said. "He more or less said he didn't know how much longer he could take the pain."
This isn't the first tragedy to hit the Trickle family.
Chuck's son, Chris, was shot in 1997 while driving over the Blue Diamond Road overpass. He died the following year, and the case never was solved.
"To lose (Dick) and to lose my son takes a lot out of me," Chuck Trickle said. "This is not easy."
Dick Trickle earned his reputation as a successful short-track driver before joining the Winston Cup Series and earning rookie of the year in 1989 at age 48.
He competed in more than 300 Cup races. Although he never won a Cup race and won just two Busch Series races, Trickle earned cult status. Former ESPN anchor Keith Olbermann regularly would mention where Trickle finished after each NASCAR race.
Former NASCAR driver Geoff Bodine said there was only one way to describe Trickle, a native of Wisconsin Rapids, Wis.
"Fun," Bodine told The Associated Press. "Just plain fun."
Trickle never was one to be told how to live his life. He was known for cutting a hole in his racing helmet so he could have a cigarette during cautions.
"He always kept a cigarette lighter in his car," Bodine said.
Chuck Trickle said his brother was so beloved that "he could've run for president and won."
"He was there for everybody," Chuck Trickle said. "He left a very large footprint on this earth."
Dick Trickle's body was found near his truck at Forest Lawn Cemetery in Boger City, about 40 miles northwest of Charlotte. A Lincoln County sheriff's lieutenant said foul play was not suspected.
The sheriff's office said authorities received a call believed to be from Trickle, who said "there would be a dead body and it would be his." Authorities tried to call the number back, but no one answered.
Trickle lived in Iron Station, N.C., for more than 20 years. Bodine said Trickle was full of stories and popular because of it.
"People everywhere knew his name," Bodine said. "That's why they used his likeness in that movie 'Days of Thunder.' He was such a character."
The main character in that popular niche racing movie, played by Tom Cruise, was named Cole Trickle.
Bodine said that a few years ago he had to back out of a celebrity cruise for patients who were on kidney dialysis. He asked Trickle to fill in.
"He made such an impression on people on that ship that everyone wanted to know when Dick was coming back," Bodine said. "They loved him. They tell me he was the last man to leave most of the bars on the ship, and I believe it."
The Associated Press contributed to this report. Contact reporter Mark Anderson at manderson@reviewjournal.com or 702-387-2914. Follow him on Twitter: @markanderson65.