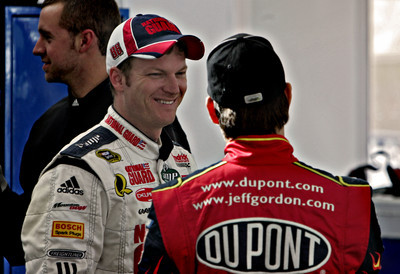 Dale Earnhardt Jr. cut a fresh, new look Monday — clean shaven, with sideburns trimmed to military standards that complemented his National Guard driver's suit and hat.
The change was fitting, considering America's most popular racer also has a new sponsor, new team and new car number.
Still, it was strange to see no references to longtime sponsor Budweiser on Earnhardt's car or driver's suit during NASCAR Sprint Cup testing at Las Vegas Motor Speedway.
And watching Earnhardt, 33, climb into his No. 88 Chevrolet was a big change from the days he raced the old No. 8.
But the biggest change couldn't be seen. This is the first time his full-time employer is not the company founded by his late father, Dale Earnhardt Sr., and run by his stepmother, Teresa Earnhardt.
As the newest member of the Hendrick Motorsports juggernaut, Earnhardt Jr. finally can be just a driver. No more worries about perceptions that he was receiving special treatment because he was the team owner's son.
"Those things aren't a factor anymore — those kind of concerns or curiosities about what perks come along with being the son of the boss," Earnhardt said.
His new boss is Rick Hendrick, whose teams combined to win 17 of 36 Cup points races last year. Earnhardt believes he will be treated no better or worse than new teammates Jeff Gordon, Jimmie Johnson and Casey Mears.
"It's nice being on kind of the same playing field," said Earnhardt, who was eighth-fastest during the morning and afternoon sessions on the first of two days of testing on the 11/2-mile tri-oval.
Earnhardt announced in May he would not return to Dale Earnhardt Inc. for 2008, and he signed with Hendrick a month later.
Once Earnhardt drove his last race for the company his father founded in 1980, it seemed the final chapter of the saga had been written.
But during last week's media tour of major race teams headquartered near Charlotte, N.C., a stop at DEI exposed the removal of nearly all photos and trophies from races he had won.
"I got to thinking about it, and it sort of hurt my feelings," he said.
Earnhardt is irritated because current DEI employees who helped him win Cup races and Busch series championships have had those accomplishments hidden in a closet.
His compassion for friends and teammates — past and present — is a virtue that endears him to fans.
"When I first started racing, I worried that you could lose the fans on a bonehead move in any race," said Earnhardt, whose last of 17 Cup victories came in May 2006.
"You get the e-mails, you get the letters from people that are with you no matter what. They enjoy who you are and what you do. They have fun pulling for you. What I like about it is there's a lot of 'em."
That's one reason Earnhardt has a weekly program on XM satellite radio and produced the upcoming five-part series on ESPN2 entitled "Dale Jr. — Shifting Gears," which chronicles his move to Hendrick. It begins airing Feb. 8.
Earnhardt's focus now is on earning acceptance at Hendrick.
"I ain't had any problem just standing over there being myself," he said. "They don't seem to have a problem with that, either. Seems to be going pretty good."
• NOTES — Denny Hamlin was fastest in the morning session in a Joe Gibbs Racing Toyota while teammate Kyle Busch was fastest in the afternoon. … Cup testing continues today, while Nationwide series teams move in Wednesday and Thursday. All sessions are free to the public.
Contact reporter Jeff Wolf at jwolf@reviewjournal.com or (702) 383-0247.