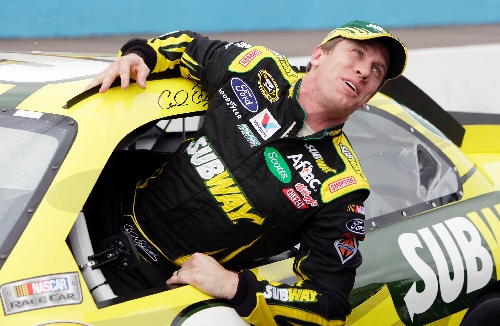 AVONDALE, Ariz. — Phoenix International Raceway is full of bumps and cracks, and has patches on top of patches trying to hold it together for one last race.
It's falling apart, but one thing it has never lost is speed.
Carl Edwards had the fastest lap on one of the fastest days ever at Phoenix, setting the last in a slew of track records Saturday during the final qualifying session before the surface undergoes a makeover.
"This track is great," Edwards said. "I talked to (track president Bryan) Sperber and I think the question I asked him that a lot of people have asked was: 'Why would you even mess with this?' "
Raceway officials don't have a lot of choice with the track nearly crumbling.
At least it's going out with flourish.
On a cloudy, relatively cool day in the desert, 15 drivers eclipsed the old qualifying record of 136.389 mph, set by Edwards on his way to winning at Phoenix last fall.
Coming off a second-place finish at the Daytona 500, Edwards had the fastest lap of all, running 137.279 mph to edge Las Vegan Kurt Busch on the final qualifying session before the track's $10 million repaving project begins.
Kasey Kahne qualified third and Kyle Busch will start next to him for today's 500-mile race around the crack-filled mile oval. Kyle Busch will be seeking a 3-for-3 weekend after winning the trucks race Friday and going wire to wire in the Nationwide Series event Saturday.
"It's the same track I've been coming to since 1995," said Kevin Harvick, who qualified 17th. "It makes me almost want to cry that they're going to tear it all up."
The repaving project, days away, is supposed to be completed in time for the fall NASCAR Chase race.
Maybe they should leave it alone with all the records falling this weekend.
Clint Bowyer got it started in the trucks Friday, setting a record in qualifying, and Kyle Busch did the same thing in Nationwide on Saturday morning.
Denny Hamlin didn't take long to set the record for Sprint Cup cars, knocking off the mark before the session was a quarter of the way through.
A few drivers later, Brad Keselowski knocked off Hamlin, bettering his record by two-tenths of a second. Kahne took that mark down a few drivers later, lopping nearly seventh-tenths off Keselowski's record. Edwards had the record-topping run late in the session, finishing 0.167 ahead of Kurt Busch, one of the last drivers to qualify.
"I was expecting ninth or 10th just with the way the lap felt, but I came over and they said we were second place," said Busch, who had the fastest time in Friday's practice. "I was relieved to hear that."
Daytona 500 winner Trevor Bayne was one of the few drivers who couldn't generate much speed on the record-setting day. The 20-year-old wrecked after his brakes locked up on the first lap of Friday's opening practice and ended up qualifying 33rd in his backup car.
"I know I needed more," Bayne said. "I just didn't have enough grip. I couldn't get much more out of the tire out there. I think it's going to be good on the long run, but for qualifying it just wasn't there."
Edwards had a breakthrough his last time at Phoenix in November, ending a 70-race winless streak by saving just enough fuel to cross the checkers and circle back for his patented celebratory backflip in front of the grandstand.
Edwards said at the time he hoped the win would jump-start his career again. He won at Homestead the following week, opened this season with a second at Daytona — he was unable to get around Bayne at the end — and will start up front again this weekend for one last go-round before PIR gets its makeover.
"I love this race track," Edwards said. "I know all the drivers love to drive on it. It's really fun to drive."