September 24, 2007 - 9:00 pm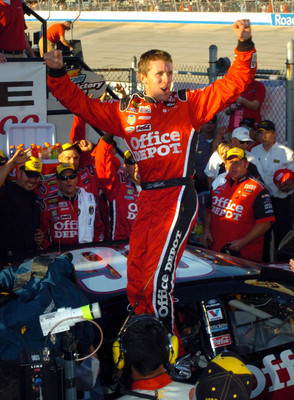 DOVER, Del. — His car parked on the track because of a late-race red flag, Carl Edwards had time to catch replays on the big screen of the crash that wiped out other Chase drivers.
Edwards could only think about how lucky he was that he would get away from Dover unscathed.
"This place has great potential for disaster," he said.
Edwards avoided trouble on the track Sunday to win at Dover International Speedway, but he found it in the garage. The No. 99 Ford failed the post-race inspection because the right rear fender was too low, and NASCAR this week will likely hit Edwards with a fine and dock him crucial points.
NASCAR spokesman Ramsey Potson said there was no evidence of intentional tampering.
"This is a height violation. It is not one where we believe the structure of the body has been manipulated," he said.
Edwards had dodged the smoke, the skids and the wrecks to win his first Chase race in two seasons and vault five spots to third in the Chase for the Cup standings.
Now it's all in doubt.
The probable penalty will only further jumble a points race that has the top six drivers separated by a mere 18 points. Jeff Gordon seized the points lead, with Tony Stewart second. Jimmie Johnson, who led the standings entering the day, fell to fourth.
"It was a crazy day at Dover and somehow we came out of it with the points lead," Gordon said.
It sure was crazy. All he has to do is ask Kurt Busch, Matt Kenseth or Denny Hamlin. Smoked or smashed cars derailed their pursuit for a Nextel Cup title and the race was a disaster for most of the championship field.
Edwards' surge late at Dover helped him avoid a massive wreck with 14 laps left that affected Chase contenders Martin Truex Jr., Busch, Johnson and a few other drivers in the 400-mile race on the concrete track.
Busch's car hit the wall on the straightaway and ricocheted back on the track and into Reed Sorenson. The big crash left Truex's crumpled car on the track while the race was red-flagged for nearly 12 minutes.
The cars can be repaired. The damage done in the points race in the pursuit for the Nextel Cup title might be too much to overcome for some of the drivers.
"It's tough when everybody puts a lot of hard work into building these cars, and to just have one little problem like that took out a lot of cars," Busch said.
Busch was far from the only driver who ran into trouble.
Kenseth's car was smoking and Hamlin was fuming. Johnson and Kevin Harvick had tire woes. One by one, drivers in the Chase dropped back and dropped out.
That left Edwards as about the only Chase driver left standing in the race that had 13 caution periods. Only four Chase drivers finished in the top 10 after they filled the first seven spots last week at New Hampshire.
"I think right now this Chase is turning into what people predicted," Edwards said. "The depth is such that I think you're going to have to win races."
Greg Biffle was second and Dale Earnhardt Jr. was third. Mark Martin and Kyle Busch rounded out the top five in a Car of Tomorrow race.
Once the second race in the 10-race Chase was over, the points differential among the top six drivers was minuscule, guaranteeing heated jostling for positions down the stretch.
Gordon holds a two-point lead over Stewart and leads Clint Bowyer in sixth by 18 points.
"There were a lot of good cars today that are in the Chase that had a bad day, and not having a bad day is what you've got to do," said Stewart, who was ninth.
Edwards, who also leads the Busch Series, won the 100th career race for owner Jack Roush.
"There's going to be a lot of twists and turns in what remains, but today we're going to celebrate," Roush said.
Kenseth, Edward's Roush Fenway Racing teammate, had the car to beat all race and was absolutely dominating, even with an alternator problem early on. He was running up front until a busted valve cooked his car and his shot at victory. Kenseth went from running for a victory to just hoping he could salvage a top-10 finish.
But seconds after the race went back to green with 27 laps left, smoke blew out the back of the car and he was forced out of the race, finishing a woeful 35th.
Kenseth, the 2003 champ, still has never won a Chase race.
"We were in a good spot to win the race and we were in a good spot to gain some points for the championship," he said.
It just wasn't to be. He was added to the list of top Chase drivers who had their title hopes all but finished.
Hamlin wrecked with Kyle Petty and the two drivers got into a brief skirmish in the garage. Petty slapped Hamlin's helmet as he walked away from the driver.
"You smack me in the helmet and I'm going to punch you in the face," Hamlin said. "So I'd like for him to call me sometime this week."
Hamlin placed 38th — the worst of all Chase drivers — and is stuck in 12th place in the standings, effectively ending his bid for a championship.
CHASE STANDINGS 1. Jeff Gordon 5,340 2. Tony Stewart 5,338 3. Carl Edwards 5,337 4. Jimmie Johnson 5,336 5. Kyle Busch 5,330 6. Clint Bowyer 5,322 7. Martin Truex Jr. 5,294 8. Jeff Burton 5,265 10. Matt Kenseth 5,224 11. Kurt Busch 5,189 12. Denny Hamlin 5,182