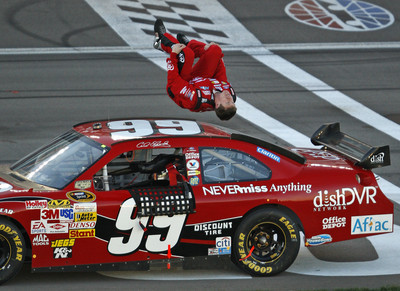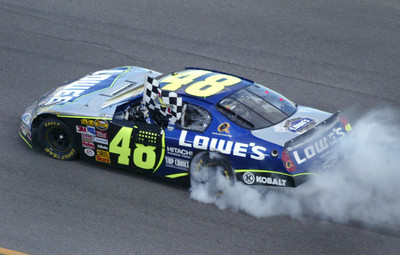 Carl Edwards and his No. 99 Roush Fenway Racing team might want to tread lightly around the NASCAR inspection garage at Las Vegas Motor Speedway before Sunday's NASCAR Sprint Cup race.
And Jeff Gordon might get chills when he drives past the improved guardwalls on the backstretch of the 1.5-mile tri-oval.
Though Edwards won the 400-mile race in 2008, his memories of the feat are not uniformly fond, and Gordon's surely are negative.
After Edwards gave Roush Fenway its second consecutive Cup victory of the young season, a postrace inspection revealed the cover for the oil tank located behind his seat wasn't attached. NASCAR penalized Edwards and car owner Roush 100 points apiece, and fined crew chief Bob Osborne $100,000 and suspended him for six Cup races.
Gordon's incident, however, hurt more than a fine or points deduction.
With four laps remaining, Dale Earnhardt Jr. lost traction on a restart following a track-record 11th caution flag. Gordon drove to Earnhardt's left, and Matt Kenseth went to the right. They raced three abreast through the first and second turns before Gordon nipped the left-rear of Kenseth's car.
Kenseth spun, and Gordon ran head-on into an abutment at an opening along the inside guardwall. The impact sent his radiator flying onto the track. Gordon walked away sore but uninjured.
His wreck brought out a red-flag stoppage that lasted 17 minutes, 57 seconds.
The race ended with a two-lap overtime shootout. Earnhardt finished second and Greg Biffle, Edwards' teammate, was third before a crowd estimated at 150,000.
During a break in activities at the speedway last summer, about 1,700 feet of energy-absorbing SAFER barriers were added to the inside backstretch, which includes the area where Gordon crashed.
Following is a look back at the Cup Series' 11-year run in Las Vegas:
MARCH 11, 2007
Jimmie Johnson quickly adjusted to the new racing surface, higher banking in the turns and a new pit-road entrance, earning his third straight Las Vegas Cup win on the 1.5-mile tri-oval. He went on to win the second of three consecutive Cup season championships.
Johnson and his No. 48 Hendrick Motorsports team seem to thrive on adversity, and that was apparent when he won the 10th annual Las Vegas Cup race. The team overcame a near-disastrous pit stop early in the race and a brief lapse when Johnson's car grazed the guardwall.
He was able to get around teammate Jeff Gordon late in the race and survived a caution period with 16 laps left to win before a sun-soaked crowd estimated at 155,000.
MARCH 12, 2006
Johnson got his second consecutive LVMS win when he passed Kenseth on the last turn of overtime to win by a razor-thin 0.045 seconds.
Johnson, who started the race third, was 1.5 seconds behind Kenseth with 13 laps left in what was supposed to be a 267-lap race. Kenseth had led a race-record 146 laps.
The drama began to build in front of a crowd of 154,000 when Kenseth felt the engine losing power in his No. 17 Roush Racing Ford. Johnson began chipping away at the gap, but said he doubted he had time to catch Kenseth.
MARCH 13, 2005
Johnson won, but the hometown Busch brothers stole the show. Rookie Kyle Busch finished second behind his Hendrick Motorsports teammate, with reigning Cup series champion Kurt Busch third in front of a record crowd of 156,000.
But postrace celebrations in the Hendrick garages were short-lived. NASCAR inspectors determined the cars of Johnson and Kyle Busch cars did not meet specifications. The roof of Johnson's No. 48 Chevrolet was too low, as was the rear of Busch's No. 5 Chevrolet.
NASCAR policy is never to reverse the outcome of a race, but penalties issued two days later included the loss of 25 championship points for Johnson and Busch. Johnson's crew chief, Chad Knaus, was fined $35,000 and suspended for two races, but the suspension later was reduced to 90 days' probation.
MARCH 7, 2004
Kenseth gained his second consecutive Las Vegas win in dominant fashion, beating late-charging rookie Kasey Kahne by 3.426 seconds in front of a crowd estimated at 142,000.
MARCH 2, 2003
Kenseth ran away with the race, beating Earnhardt to the finish line by 9.1 seconds for his only victory of the year.
Kenseth, who started 17th, took advantage of a great pit stop to give Roush Racing and Ford their fourth Cup title in Las Vegas.
Kenseth went on to win the season championship.
MARCH 3, 2002
A pit stop also played a role in Sterling Marlin's win in the UAW-DaimlerChrysler 400.
With 121 of 267 laps completed, Marlin prepared to turn down pit road before entering the fourth turn when Jerry Nadeau's car tapped the rear of his No. 40 Dodge Intrepid. Marlin's car slid sideways and, in what might have been the best driving of the day, Marlin averted a potentially major crash.
With 55 laps left, it looked like Tony Stewart would win, but moments after he passed Shawna Robinson, who was several laps down, he hit the guardwall to bring out a caution.
Marlin held on to beat Jeremy Mayfield by 1.163 seconds.
MARCH 4, 2001
A month after Dale Earnhardt died in a last-lap crash in the Daytona 500, Jeff Gordon won at LVMS to earn a $1 million bonus as one of five cars designated to participate in the Winston No Bull 5 bonus program.
Gordon, who started 24th, took the lead with 20 laps to go and finished 1.477 seconds ahead of Dale Jarrett.
Gordon's Chevy snapped a streak of three wins by Ford and Roush Racing.
MARCH 5, 2000
Jeff Burton won a rain-shortened race in which only 148 of 267 laps were completed.
Burton, who won the Busch (now Nationwide) Series race the day before, also earned the $1 million No Bull bonus. It was his second straight Cup victory in Las Vegas.
Burton started 11th, but was second by the time of the first caution on the 19th lap, with rain falling 16 minutes into the race. The race was stopped 22 laps later and delayed for 26 minutes.
Racing resumed for another 107 laps before rain finally ended the day with Burton in the lead.
MARCH 7, 1999
Burton won a side-by-side battle with older brother Ward Burton to win the checkered.
Jeff Burton had the dominant car throughout, leading 111 of 267 laps.
The Burtons finished first and second in a 1993 Busch Series race in Virginia. Little brother won that one, too.
MARCH 1, 1998
Mark Martin won the first Las Vegas Cup race, during which 225 of the 400 miles run were under green. Roush teammate Jeff Burton was second.
Martin led 70 of the final 170 laps, giving up the lead only for pit stops. He led 82 laps, the most of any driver.
Contact reporter Jeff Wolf at jwolf@reviewjournal.com or 702-383-0247.