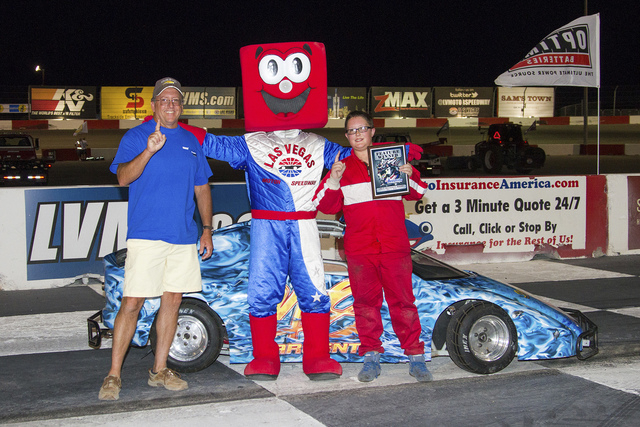 Don Sargent's family will take him out for a Father's Day dinner Sunday, but the real celebration comes the night before.
Or what the family considers a typical Saturday.
Don Sargent prefers to be nowhere other than Las Vegas Motor Speedway's Bullring, making a charge at the NASCAR Bomber title. What makes the weekend get-togethers even more special is watching his 11-year-old son, Mason, go for the Bandolero Bandits championship.
Both lead those classes as the Bullring season edges close to the midpoint, and they will try to add to those advantages in Saturday's Chris Trickle Father's Day Weekend Special.
"It's pretty cool going out there with me and my dad," Mason said. "I like to do this over anything else."
Don, 48, grew up loving racing, and his family makes the Bullring their second home, but he never forced his passion on his children.
If Mason was going to compete in the sport, it would be his choice. It's still his choice, and Don said Mason could walk away any time he wanted.
"He's been around it since the day he was born," Don said. "He was so used to racing, he would fall asleep at the track."
Don also has hopes his 7-year-old daughter, Kaitlyn, will find her way into racing. Don's wife, Tami, raced in the Bomber class before giving birth to their daughter, finishing ninth in 2006.
As for the father-son duo, Don and Mason not only are racing but they're also winning. Don leads the Bomber division by 46 points, and Mason is atop of the Bandolero Bandits by 12.
"There's no pressure," Don said. "We go out and do the best we can. If we come up a little short and not win, it's OK. I love spending time with him, and I love that he loves it and it's a blast."
This season has been especially refreshing for Mason.
"It's pretty important for me because the last three years, I was always slow," Mason said. "So it hasn't been that much fun for me the last three years, but now it's really fun."
Don has experienced his share of success at the Bullring, finishing second in NASCAR Chargers in 2011 and eighth in Bombers last season, with two victories.
This season, Don has compiled three victories. Mason has won five races on Saturday nights and one on Sunday, igniting a bit of a rivalry. The son doesn't have a problem needling the father by letting him know who owns the most trophies, and the dad reminds Mason who owns the cars.
Mason will compete in his current class until he's 14, when he is eligible to move up. Eventually he could make it to Super Late Model, setting up the possibility of being the next to launch his professional career from the Bullring.
But that would be a consideration for the future.
Don didn't push racing on his son, and now the father and son share a passion for the sport that is mutual.
"There have been nights where it's so hot, and I tell him, 'Let's just stay home tonight,'" Don said. "He would not do it. He just wants to go out and race."
Contact reporter Mark Anderson at manderson@reviewjournal.com or 702-387-2914. Follow him on Twitter: @markanderson65.