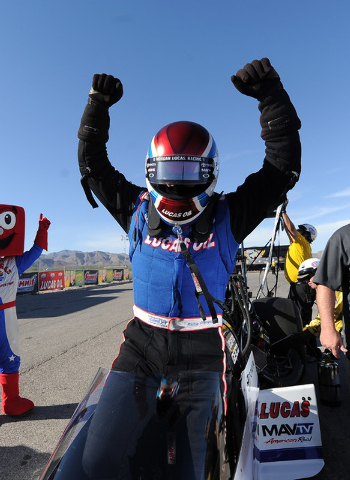 This has not been a typical John Force season, and it wasn't looking like John Force's day as the Funny Car semifinals approached.
His team discovered the motor needed to be replaced, and the crew had only 30 minutes to do it.
They put in the motor, pushed the Chevrolet to the staging line after the tow strap broke twice, and then won the semifinal over Alexis DeJoria.
Then in the final, Force lined up next to son-in-law and John Force Racing teammate Robert Hight, and beat him by .006 seconds to win the SummitRacing.com Nationals on Sunday at The Strip at Las Vegas Motor Speedway. Force hit the finish line in 4.148 seconds (312.35 mph), edging Hight's time of 4.154 seconds (306.05 mph).
It was the first time this NHRA season a Don Schumacher Racing team didn't win the Funny Car event.
"We're not fast like Schumacher," Force said. "We're not there. We were lucky today, and that's with people smoking their tires against me. We'll take luck any time. It buys us time to learn."
Force, 65, is working with a young team after an offseason shakeup when longtime sponsorships with Castrol Oil and Ford ended. He also lost crew chiefs Jimmy Prock and John Medlen to Schumacher and had to rebuild his team.
That team got tested when the crew discovered during final inspection before the semifinal against DeJoria the motor needed to be replaced.
"Those kids … got it done," Force said. "I call them 'The Replacements,' like that football team. The first day I met them, I thought, '16-time champ, you're in big trouble with these kids.' But the heart is so good. They love me. They don't care how old I am."
This victory couldn't have come at a much better time for Force, who got off to a slow start this season. He rose from 13th to sixth in the standings in claiming his fifth victory in Las Vegas.
"Today really took the cloud off of me," Force said. "I've had a big cloud over me, and I've been in there every day fighting, so we'll be OK."
Force fought to beat Hight, prevailing in a close race. But Hight moved from fifth to third in the standings.
"We have definitely turned the corner," Hight said. "This was a get-well weekend. Still, we shot a spark plug out down there, and if it hadn't have done that, we would have won. I made it a close race. I was so ready to get that win. It was a great team effort.
"If I have to lose, at least I had to lose to a teammate."
In Pro Stock, Erica Enders-Stevens, 31, continued her domination in Las Vegas, using outstanding holeshots to win the semifinal and the final. She ran her winning streak at the track to 18 consecutive rounds, and became the first driver to win the final race and the K&N Horsepower Challenge bonus event two years in a row since Bob Glidden in 1987 and 1988 in Indianapolis.
Enders-Stevens, the defending Pro Stock series champion, won the semifinal and final races because of her burst off the line. She got off the starting line in an almost perfect .001 seconds to beat Greg Anderson in the semi, overcoming Anderson's advantages in time (6.671 seconds to 6.673) and speed (208.71 mph to 207.53).
She then gunned her Elite Motorsports Chevy off the line in .024 seconds to beat Vincent Nobile in the final. Both finished in 6.674 seconds, and Nobile was a little faster at 207.91 mph to Enders-Stevens' 207.24.
Not a bad day for someone who woke up the day not feeling well with flu-like symptoms and was twice given IVs.
"I really had to focus on the mental side of it," Enders-Stevens said. "Anybody can relate to not feeling well and feeling so bad you don't even want to get out of bed or get off the couch. To get in a racecar on a 130-degree racetrack in a (multi)-layer firesuit, certainly it tests you."
Richie Crampton, 34, claimed the Top Fuel title, beating three-time series champion Larry Dixon. Crampton ran 3.902 seconds (301.33 mph) to Dixon's 4.466 seconds (201.73 mph). Crampton, who drives a Toyota for Morgan Lucas Racing, is fifth in the standings.
"It's a huge boost for the entire team," Crampton said. "We've got a great hot-track racecar. I'm extremely lucky to get to drive such great equipment in my second year."
Contact Mark Anderson at manderson@reviewjournal.com or 702-387-2914. Follow him on Twitter: @markanderson65.