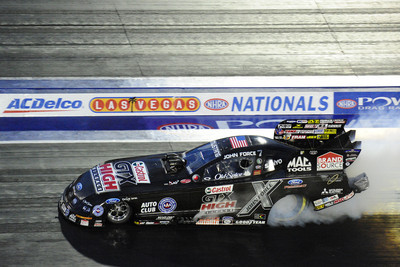 Thrilled to see him at the starting line a year ago at Las Vegas Motor Speedway, John Force's legion of fans jumped to their feet and cheered as he was helped out of a truck.
A standing ovation for a drag racing great who could hardly stand.
Force needed a special walker just to stay upright for short periods of time. He'd suffered major injuries in a crash at an NHRA national event near Dallas about a month earlier.
"It hurt for him to even get out of the truck to watch us run. I remember all of that vividly," said Robert Hight, Force's son-in-law and one of three Funny Car drivers with John Force Racing.
A year later, Force continues to make strides in his comeback.
He won the ninth race of the year in June at Topeka, Kan., and came within 0.019 seconds of winning the Funny Car pole for today's elimination rounds in the ACDelco Las Vegas NHRA Nationals.
Force was knocked from the top spot Saturday night by Hight before a crowd of about 20,000, after holding the provisional pole for three rounds of qualifying.
"You never realize how much something means to you until it's taken away," said Force, a 14-time NHRA season champion.
He was able to walk the stairs Friday night to reach the second-floor dragstrip press room. Last year he met with reporters while lying in pain in a hospital bed installed in his motor home in the pit area.
"When you get on top like we did, we used to get tired of doing the winner's circles. (Crew chief Austin) Coil and I were guilty of that. It got old week after week when we were winning a lot. But when I ended up in the hospital in Dallas, I knew it had been taken away from me."
Today, Force will race for a Las Vegas title for the first time in two years. He missed the event last year because of his injuries and failed to qualify at the last two April events.
Force sustained a broken left ankle, a dislocated left wrist, a severe abrasion on his right knee and abrasions and fractures to several fingers on his right hand in the Dallas wreck.
He now works out religiously — and also strengthened his religious convictions — and has not had a beer since the night before the Dallas crash.
"I'm in the gym every day," he said. "I'm building muscle. I'm building a lot of muscle in the gym."
Nothing's holding him back now, but Coil — his longtime friend — remains cautious when loading up the 8,000 horsepower for Force's Ford Mustang.
"The doctor already said I couldn't take another hit like the one in Dallas because I'm too old," said Force, 59. "I think that holds (Coil) back at crunch time, but he's starting to loosen up. I told him (Friday night) I wanted to go for it or we might as well go home.
"He asked me, 'What if I hurt you?' I told him then we ought to quit now."
It paid off on Friday's final run when Force completed a 1,000-foot pass in 4.062 seconds at 307.37 mph. That held up until Hight — one of the last three cars with chance to top Force — powered to a 4.043.
Force was happy for him, Hight said, because while Force is a long shot to win the championship this year, Hight is fourth (87 points behind leader Tim Wilkerson) with one event left after today.
And losing the pole is one of the least painful experiences Force has endured the past year.
Slideshow