Format change irksome to driver
October 26, 2007 - 9:00 pm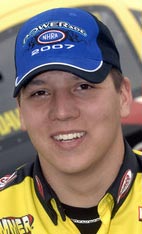 Greg Anderson admits he wasn't gracious when he had to surrender his 172-point lead over Dave Connolly in the Pro Stock standings after 17 races.
It was a cold introduction for Anderson, the three-time reigning NHRA Pro Stock champion, to NHRA's new format for determining its season champions in four professional categories.
The inaugural season of drag racing's new playoff format cut the field of contenders to the top eight and reset their points at 10-point increments.
"I can like it or I can hate it, it isn't going to change," Anderson said of the Countdown to the Championship.
Dave Connolly, however, erased the possible asterisk to this year's championship over the past two months.
He has won the past five titles and can set a Pro Stock single-season record by being the last man standing Sunday at Las Vegas Motor Speedway.
"I'm with Greg on how he felt about losing a big lead like that," Connolly said of the adjusted points. "It helped us a lot when they cut to the top eight and that put us only 10 points behind Greg. A world champion should be decided by who works the hardest and does the best all year long."
After the last four events, the list of contenders was trimmed to four and standings in the NHRA Powerade Drag Racing Series and points altered again with drivers separated by 10 points.
Connolly's recent dominance, however, would have pulled him to within 28 points of Anderson with the old format. Each round win in eliminations is worth 20 points.
"We're down to a two-race shootout," said Anderson, who drives for team owner Ken Black of Las Vegas.
Points earned in this weekend's ACDelco Las Vegas NHRA Nationals and the season finale next week in Pomona, Calif., will determine the champions.
Through 21 events, Connolly has won eight times and Anderson seven.
Also contending in the Countdown to One when qualifying begins today are Jeg Coughlin, who is Connolly's teammate at Cagnazzi Racing. Allen Johnson is fourth.
Coughlin trails Connolly by 20 points but would have been 318 behind in the old system, according to statistics compiled by DragRacingOnLine.com. Johnson would be 551 points back. Coughlin and Johnson would have been eliminated from contention by now but instead are only 20 and 30 points, respectively, behind Connolly.
"I just hope the championship goes to a deserving team and no one gets a bad break," said Connolly, who beat Anderson for the Las Vegas title in April 2005.
Anderson, who has won four times at Las Vegas, including last April, hasn't lost sight of the other 12 teams that will advance to Sunday's elimination rounds.
"Those other 12 guys would like nothing better than to knock the four of us out," Anderson said. "They're not getting any glory, any press or any recognition."
Connolly certainly wants to win his first championship and still can't comprehend winning five titles in a row, especially because none of the 12 he won before the streak came back to back.
"If a championship comes, great," he said. "But it's already been an incredible year."
The native and resident of Elyria in northern Ohio won this year's inaugural NHRA event at a track in Norwalk, Ohio, which is 36 miles from his home. It's where he became a third-generation racer at the age of 15. He also won the prestigious U.S. Nationals on Labor Day in the Chevrolet Cobalt owned by Evan Knoll and managed by Victor Cagnazzi.
Contact reporter Jeff Wolf at jwolf@ reviewjournal.com or (702) 383-0247.
Auto Racing in Las VegasMore Information
NHRA NATIONALS WHAT: ACDelco Las Vegas NHRA Nationals, 21st of 23 events in the NHRA Powerade Drag Racing Series WHERE: Las Vegas Motor Speedway dragstrip WHEN: Today-Sunday INFO: 702-644-4444, LVMS.com, NHRA.com TODAY: Sportsman qualifying, 8 a.m.-5 p.m. NHRA Fanfest, Fremont Street Experience, 5-7 p.m.