'A rush': Fans soak up Las Vegas Grand Prix practice, qualifying — PHOTOS
November 17, 2023 - 11:18 am
Updated November 18, 2023 - 7:35 am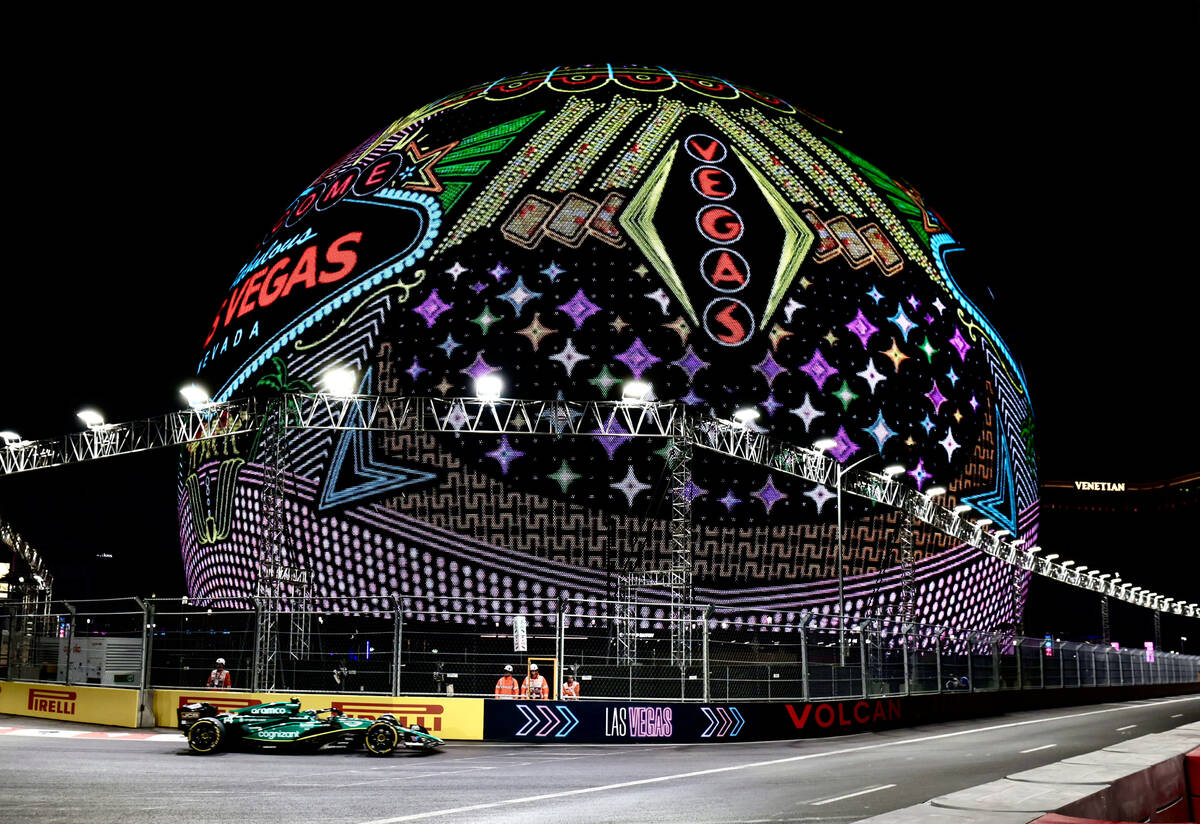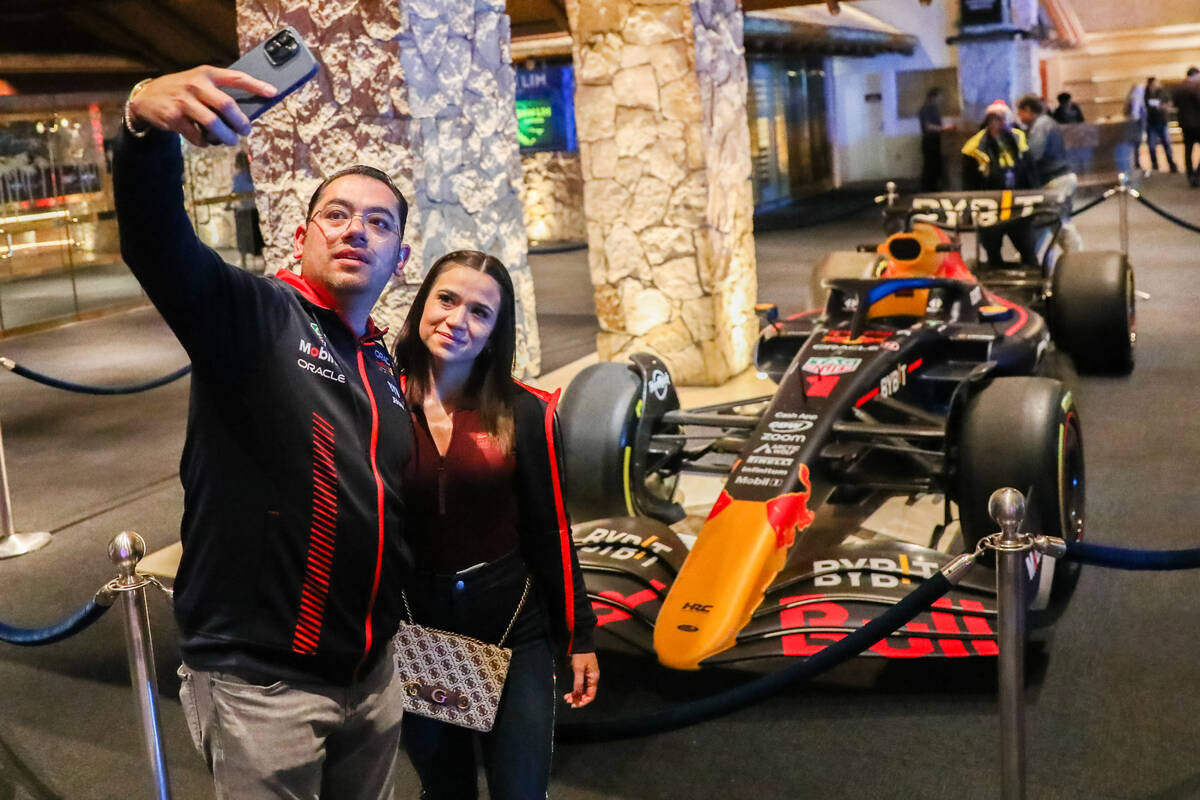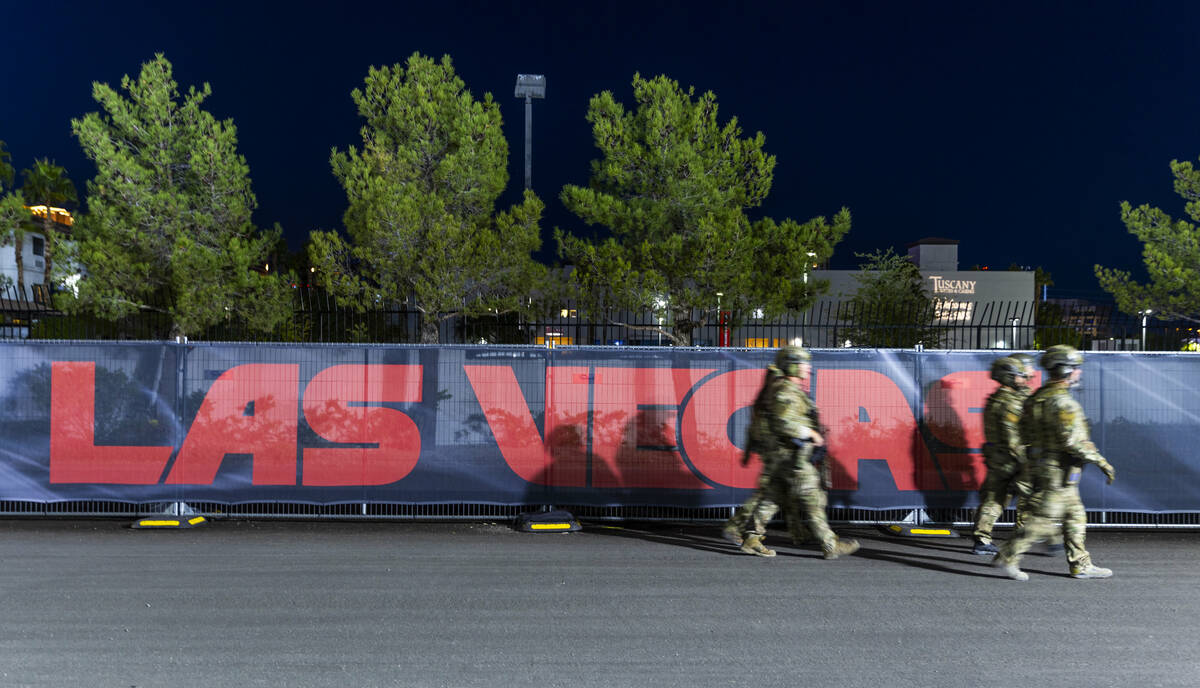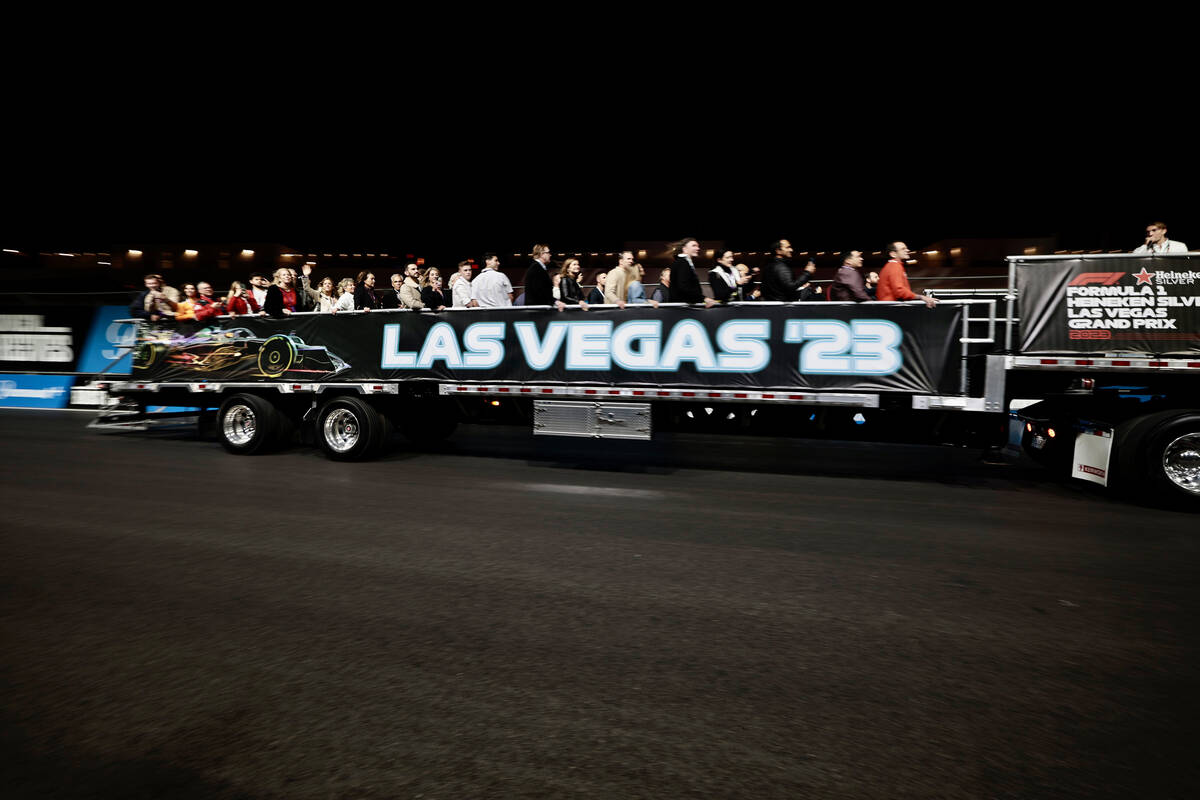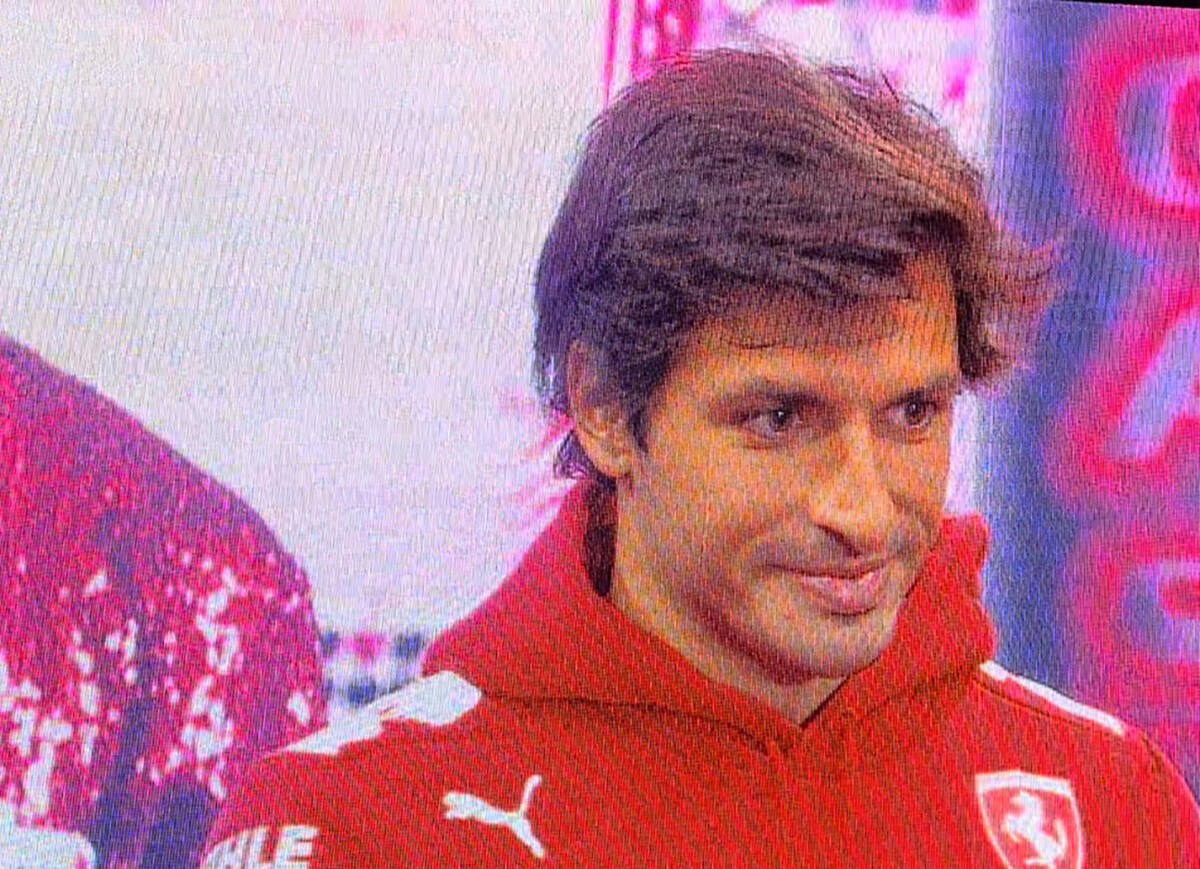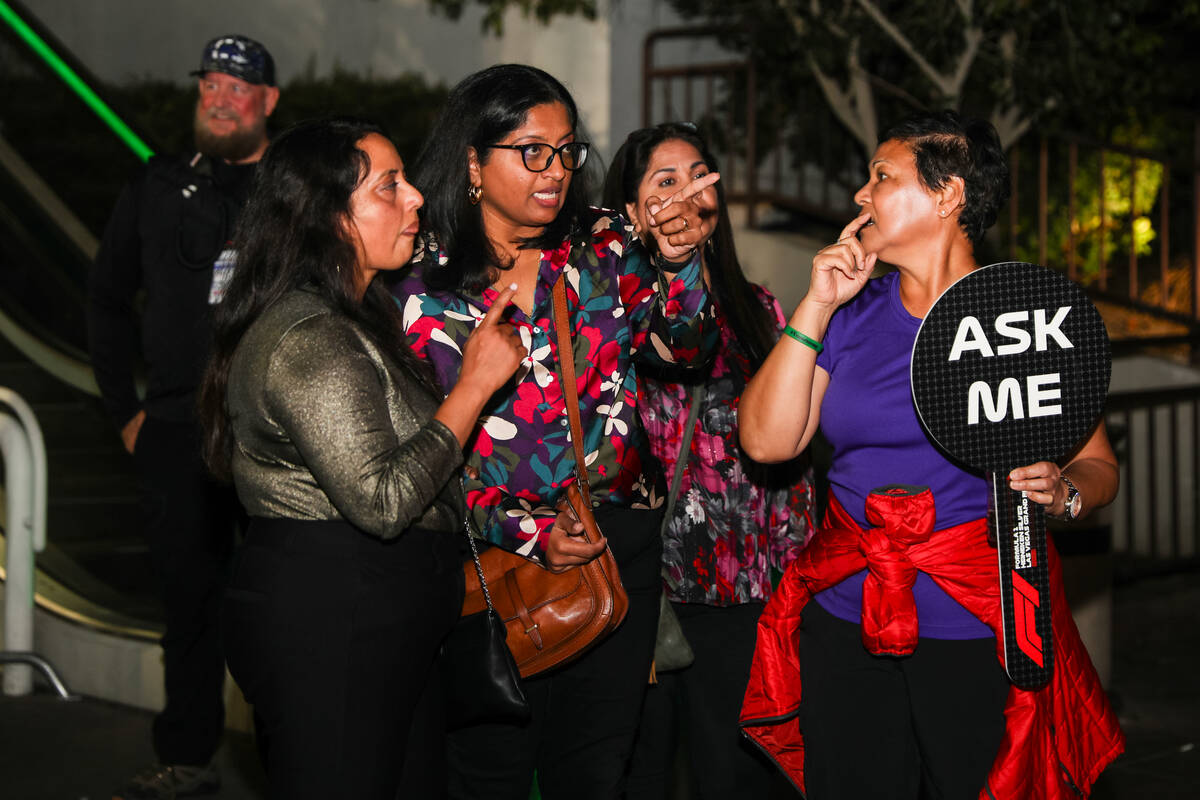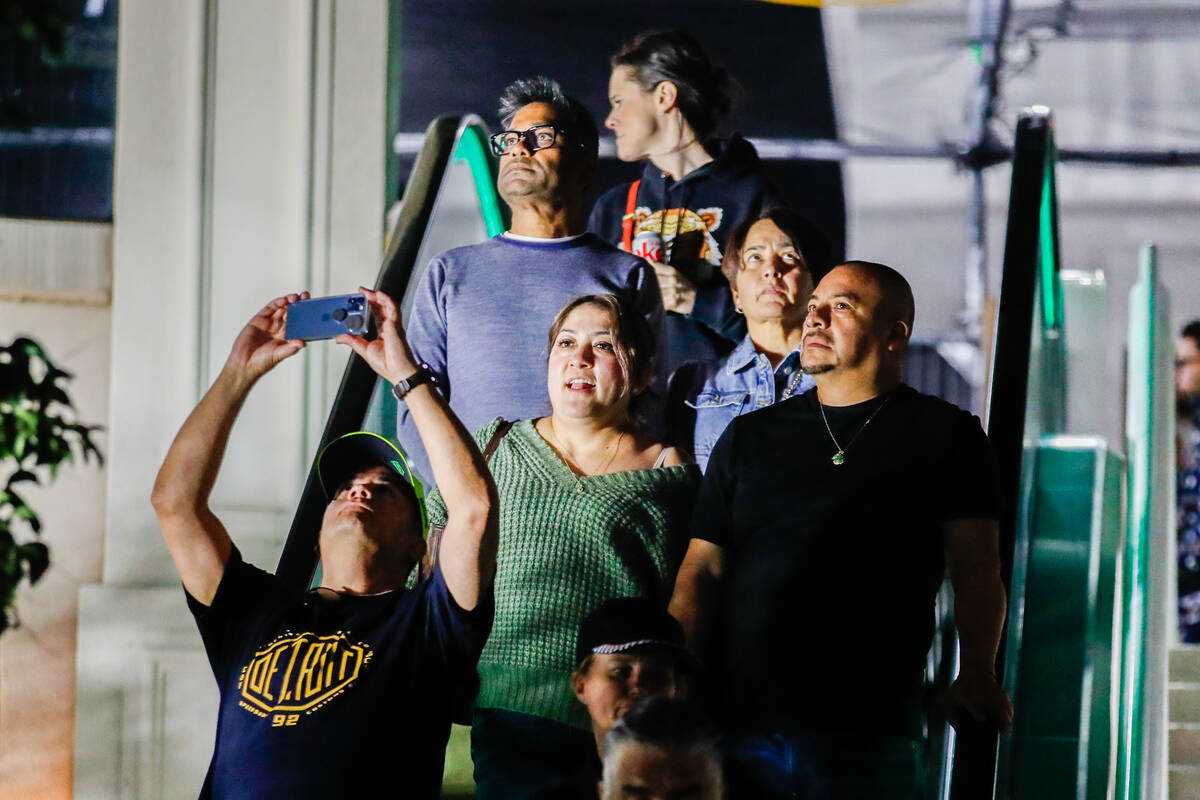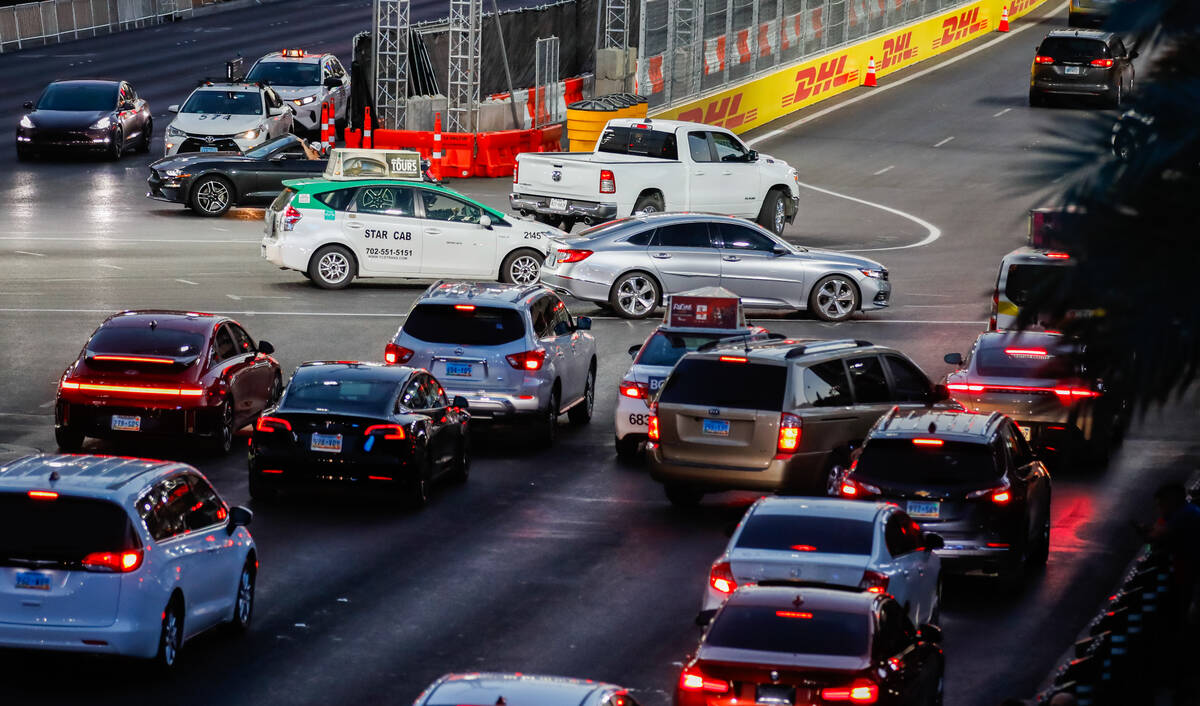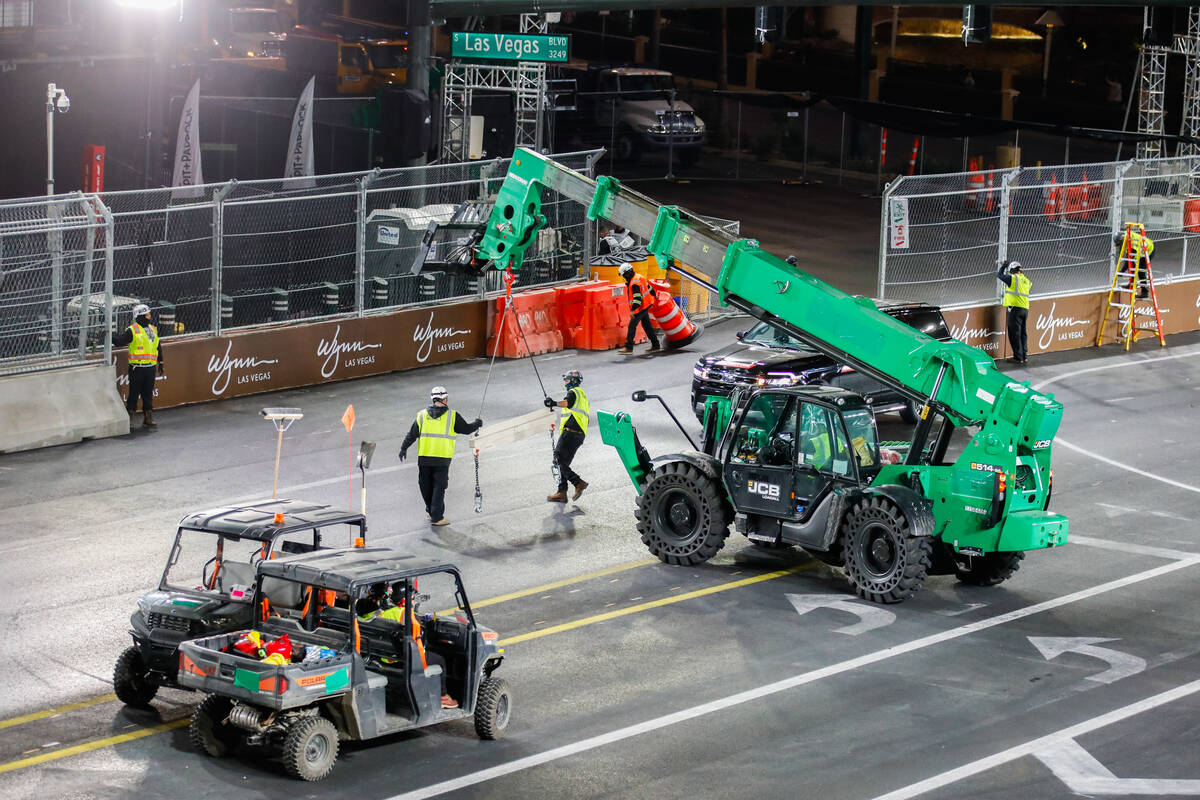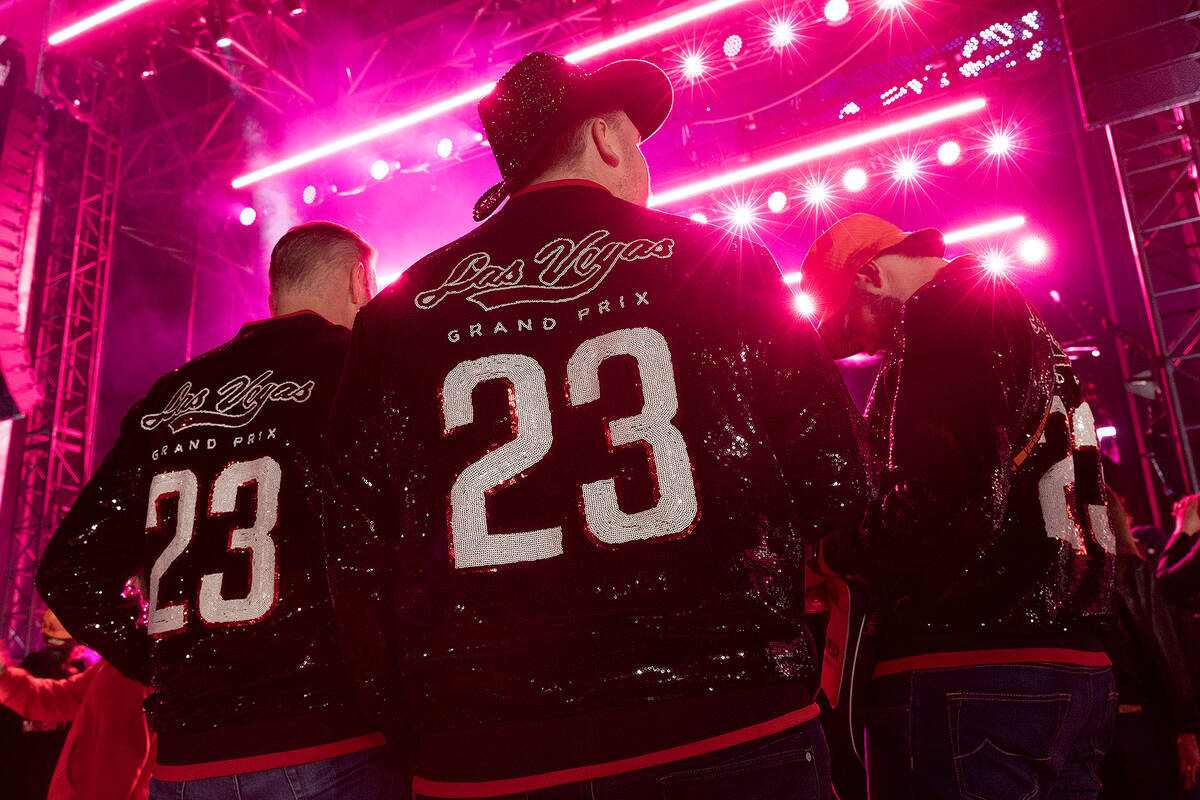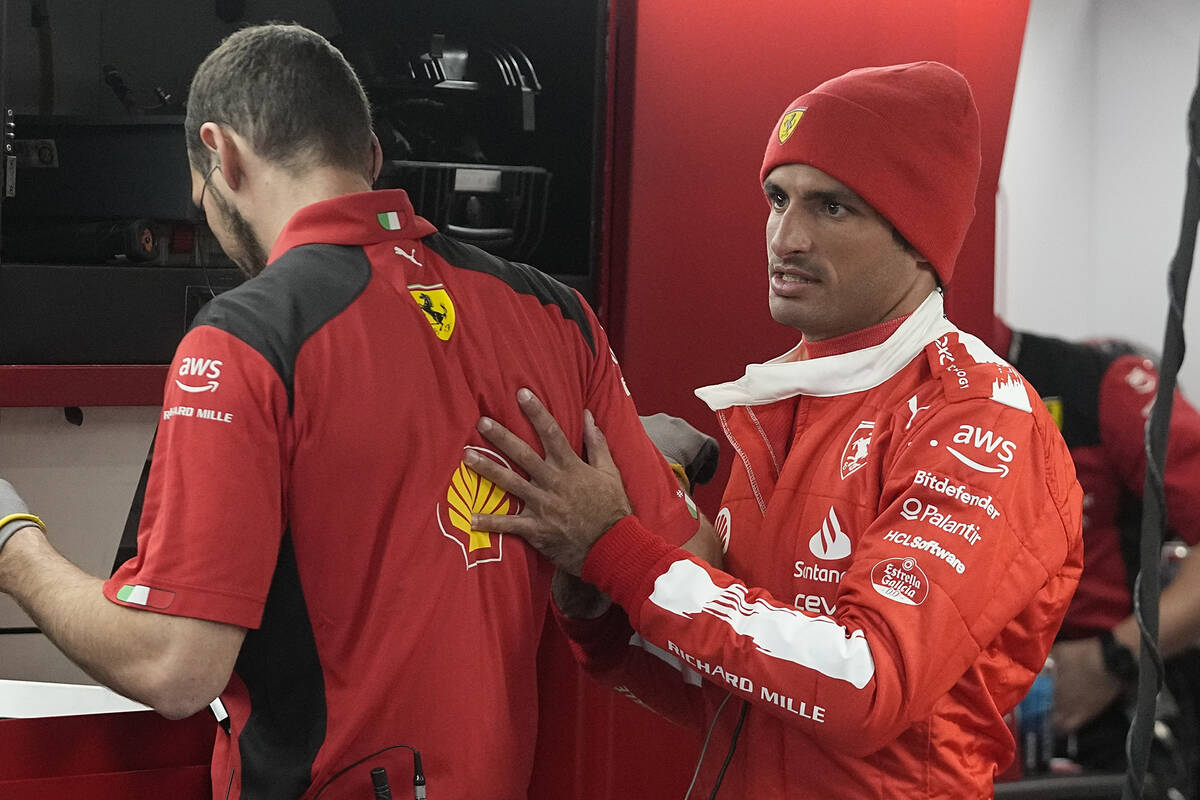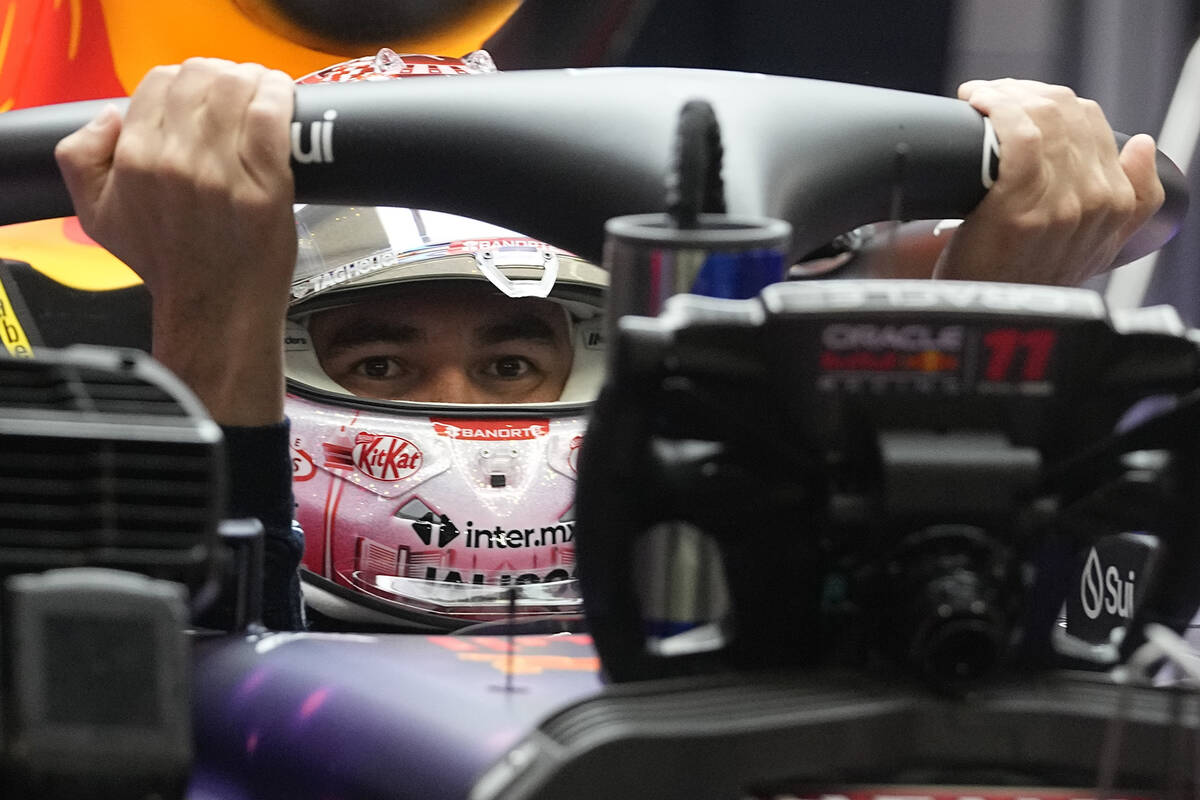 After a rough first night, Formula One returned to the Strip on Friday night for more practice and qualifying.
Charles Leclerc of Ferrari claimed the pole position for the Grand Prix in qualifying.
Find out what else happened Friday:
1:45 a.m. Monorail now packed
Crowds migrated away from the track after the qualifying races finished.
The Monorail was packed—no seats available, standing room only—heading north from the Linq.
— Mark Credico
1:24 a.m. Streets are flooded with departing fans
Monorail heading north from Caesars is quiet and not too many passengers. Most of the people getting on are hospitality workers heading home after what looks like a long shift. No race fans here.
A sea of people is leaving The Sphere area right now. It's a mad dash everywhere to get home now as streets are flooded across the entire Strip area with people and vehicles.
— Patrick Blennerhassett
1:10 a.m. After the third and final round of qualifying
Ferrari's Charles Leclerc took the 23rd pole position of his career with a 1:32.775 lap time to cap off the final session of qualifying.
Teammate Carlos Sainz took second but will face a 10-place grid penalty for taking on extra power unit parts. Red Bull's Max Verstappen was third, and Mercedes' George Russell was fourth.
Williams duo Alex Albon and Logan Sargeant made the third qualifying session together for just the second time this season, and finished sixth and seventh, respectively.
Valtteri Bottas of Alfa Romeo was eighth, Kevin Magnussen of Haas was ninth, and Fernando Alonso of Aston Martin was 10th.
The grid will be finalized later after penalties are set.
Qualifying order (before penalties)
1. Leclerc
2. Sainz
3. Verstappen
4. Russell
5. Gasly
6. Albon
7. Sargeant
8. Bottas
9. Magnussen
10. Alonso
11. Hamilton
12. Perez
13. Hulkenberg
14. Stroll
15. Ricciardo
16. Norris
17. Ocon
18. Zhou
19. Piastri
20. Tsunoda
— Andy Yamashita
12:59 a.m. Noise 'gives you a rush'
A crowd gathered to watch the qualifying race around the open space in the fence in front of Treasure Island, where the obscuring tarp ends. Many people held up their phones to get a clear view of the racers as they sped past.
At the front of that crowd, Ryan Tede stood up against the casino wall.
Tede said he waited in that spot for about an hour for the race to start.
"It was worth it," Tede said. "It was a pretty awesome experience…the noises the cars make as they pass by, it gives you a rush."
— Mark Credico
12:47 a.m. After second round of qualifying
Lewis Hamilton of Mercedes and Sergio Perez of Red Bull are out in the second qualifying session.
Hamilton, Perez, Haas' Nico Hulkenberg, Aston Martin's Lance Stroll and AlphaTauri's Daniel Ricciardo failed to make the cut.
Stroll may be facing a further grid penalty for overtaking under yellow flags.
Preliminary qualifying order
11. Hamilton
12. Perez
13. Hulkenberg
14. Stroll
15. Ricciardo
16. Norris
17. Ocon
18. Zhou
19. Piastri
20. Tsunoda
— Andy Yamashita
12:26 a.m. – After first round of qualifying
Both McLarens are out after the first qualifying session, as Lando Norris and Oscar Piastri finished in the bottom five along with AlphaTauri's Yuki Tsunoda, Alfa Romeo's Zhou Guanyu and Alpine's Esteban Ocon.
Ferrari's Charles Leclerc posted the fastest time in the session, a 1:33.617 lap just 0.234 seconds ahead of teammate Carlos Sainz.
Qualifying is held in three sessions, with the second to begin shortly.
Qualifying order so far
16. Norris
17. Ocon
18. Zhou
19. Piastri
20. Tsunoda
— Andy Yamashita
12:18 a.m. Big screen attracts attention
The big screen TV right across from the Wynn is attracting lots of viewers. You can watch the race and also hear the drivers zoom by and even smell some burnt rubber for good measure. It's unclear, though, why the TV is there on a sidewalk and creating lots of foot traffic congestion.
— Patrick Blennerhassett
12:12 a.m. Climbing to get better views
Soon after the qualifying races started, dozens lined the fences between Treasure Island and the Mirage.
People looking for photos climbed on top of the concrete bases for light fixtures to see and take photos over the tarp-lined fence.
Jack Warner, who came from Los Angeles to watch the race, said the view was too good to pass up.
"I saw that cement block and I was like, 'I don't care if I'm only up there for a minute, I'm still getting a better view than people who paid thousands for seats,'" Warner said.
— Mark Credico
12:05 a.m. Bar at Caesars Palace seeing 'good crowd'
Mikey Robinson, a bartender at Terraza by Cafe Americano, said he was worried about making his shift Friday night so he left an hour and a half early from his home in Summerlin. He's working Friday and Saturday from 6 p.m. to 2 a.m. and said the foot traffic tonight was equatable to New Year's Eve. The outdoor patio bar is fairly close to the track and he said lots of race fans are coming and "this is a good crowd so far."
— Patrick Blennerhassett
11:35 p.m. Escalators aren't going up
Many escalators across the Strip late tonight that are supposed to be heading up aren't working, with the escalators heading down remaining operational. It's unclear if they are broken or have been turned off.
— Patrick Blennerhassett
11:12 p.m. Vegas' biggest critic is coming around
Formula One powerhouse Max Verstappen's view on the Las Vegas Grand Prix appears to be coming around.
Verstappen earlier this week said he "looked like a clown," after taking part in the over-the-top opening ceremony.
That tune changed a bit when he and his Red Bull Racing teammate, Sergio Perez, made a fan appearance Friday night in the East Harmon Zone following the final round of practice.
Despite calling the schedule "interesting" after Thursday's fractured practice rounds, getting more time on the track seemed to warm Verstappen up to the race.
"It's quite impressive,the whole scenery of course is amazing," Verstappen said of the Las Vegas Grand Prix layout. "The track is also finally rubbering in a little bit. I think it will only get better for qualifying and I think definitely tomorrow for racing the layout is going to be very interesting."
-Mick Akers
11:03 p.m. Decent views with a catch
There's decent views of a corner turn on the second floor outside the Aria and in front of the Museum of Illusions. People have stopped to watch the cars take the corner, but there's a catch: the view is obstructed by police tape keeping people back a few feet, and a fine black mesh, a common sight around the entire track. You can watch, but photos or videos are basically useless.
— Patrick Blennerhassett
10:34 p.m. Free concert
A cover band played in front of the entrance to The Mirage. Anyone could attend the concert and buy from the Hotdog On A Stick cart next to it. The casino held an event next to the concert, but you would need a ticket to enter.
— Mark Credico
10:33 p.m. Keep moving
F1 fans can catch a view of the track off the escalator by the Tex Mex Tequila Bar and Grill at East Harmon Avenue and Las Vegas Boulevard but security won't let you stand there for long. They tell you to keep moving.
Police also are telling fans not to stand on the overpass and watch either.
— Patrick Blennerhassett
10:25 p.m. Fewer people, unobstructed views near Treasure Island
The stretch of sidewalk in front of Treasure Island and between that property and the Mirage is closest to the track with some of the clearest views.
The sidewalk has a fence running along its edge and the fence is cloaked with a tarp.
But a small crowd gathered near one area next to the Treasure Island entrance that isn't covered by the tarp, with a direct view of one of the curves in the track.
There are also multiple openings in the tarp along this stretch of sidewalk, but only a handful of people stopped to watch the race.
Even counting foot traffic passing through, the crowd is significantly smaller here than it was earlier in front of the Linq and Venetian.
— Mark Credico
9:54 p.m. Security cracking down
Security is cracking down on people using escalators or pedestrian bridges to watch the races.
Event security posted one guard at the top of the escalator leading to the pedestrian bridge between the Fashion Show Mall and Treasure Island. She loudly warned people not to repeatedly use the escalators or stand at the top of the stairs and escalators to get a good view.
Arthur Head, another event security guard, patrolled the pedestrian bridge while telling people not to block foot traffic and keep moving.
Head said working security for the event has been a positive experience overall. The pedestrian bridge is a popular area due to its view of the track, but everyone he told to keep moving has been compliant.
"I understand everybody wants to look, just keep the flow of traffic, keep it moving," Head said. "So far there hasn't been any resistance. Everybody has been positive and just enjoying the show, which is a beautiful thing."
— Mark Credico
9:57 p.m. Shops closed
It's almost 10 p.m. and foot traffic on the Strip has dropped considerably. Many shops have closed and it looks like a lot of people are heading home for an early night.
— Patrick Blennerhassett
9:45 p.m. F1 merch is selling despite less busy bars
While some bars and shops don't seem overly busy, the F1 shops are crawling with customers at each pop-up location on the Strip. Christina Herrero, who is at the shop outside the Linq said the biggest sale tonight has been $700. She said sales have been steady the past few hours and the biggest seller is the Mercedes-Benz jersey followed by Red Bull. And hats are flying off the shelves.
— Patrick Blennerhassett
Healthy crowd at the Sphere spectator zone making their way from the grandstand to the entertainment stage post practice. #vegas #f1 #lasvegasgp pic.twitter.com/XZT0q0yuLM

— Mick Akers (@mickakers) November 18, 2023
9:40 p.m. Strip feels safer
People lined railings on the balcony on the front of the Venetian to watch the cars drive past.
Steve and Kathleen Garbutt said they initially watched from the bridge that leads directly into the casino's shops, but security kicked them out and closed the bridge when driving began.
The couple said they came from Edmonton, Canada, to watch the race after the prices to stay in Las Vegas dropped about a month ago. They came to town for Formula 1's event last year and that was more expensive than this year's stay.
Kathleen Garbutt said not much changed in Las Vegas this time from other times they have visited before.
"The first thing we noticed was a lot more security," she said. "But not much else has changed."
She said the Strip feels much safer on this trip than before.
Steve Garbutt said he's been a fan of the sport for about 20 years, and this weekend has been similar to other F1 experiences the couple has had.
Kathleen Garbutt said the crowd is generally nicer for Formula 1 events, and that has been true of Las Vegas as well.
— Mark Credico
9:33 p.m. Albon clips wall
Red flags ended the final free practice session with just under five minutes remaining after team Williams' Alex Albon clipped the wall in sector three and lost his back left wheel.
George Russell of Mercedes led the session with a 1:34.093 lap. McLaren's Oscar Piastri and Williams' Logan Sargeant were second and third, respectively.
Qualifying starts at midnight.
— Andy Yamashita
8:50 p.m. Watching the track or the TV's
Two crowds gathered in front of the Linq: One near the street watched the cars fly past and the other grouped in front of the open bar to watch the practice road on the TV's.
People needed to form nearly into single-file lines to get by.
— Mark Credico
The FP3 scene high above the Strip. Good view of cars racing over the repaired drainage-ditch cover … #F1 #LasVegasGrandPrix @reviewjournal @DraisLV pic.twitter.com/4geNMtV6i4

— John Katsilometes (@johnnykats) November 18, 2023
8:38 p.m. Air smelled like burnt rubber
Police blocked off the entrance to the Caesars Palace pedestrian bridge, so the foot traffic only goes in one direction before the practice round started.
Racers zoomed by on the tracks as the crowd waited to go onto the bridge. Several heads turned when the engine roared past, and the air smelled like burnt rubber.
— Mark Credico
#vegas #f1 #lasvegasgp pic.twitter.com/r8tTo9Q1wK

— Mick Akers (@mickakers) November 18, 2023
8:29 p.m. Visitors find partial views of track
The second floor pedestrian walkway at The Venetian is packed as there are partial free views of the track just ahead of tonight's practice run. Sightseers said they've been waiting in their spots for hours for what should be a one-second view of the racers from across the street. The actual grandstands across the road are only about three quarters full but its standing room only out here.
— Patrick Blennerhassett
8:20 p.m. Race has hurt the community
Johnny and Fulvia Buscema stood with their daughters, Giovanna and Rayna, in front of the Paris Casino, facing the track as they waited for a table for a birthday dinner.
The family is looking forward to hearing the cars fly by a sGiovanna and Rayna have been fans of the sport for a while.
But Johnny and Fulvia Buscema said they feel like the race has hurt the community.
"We feel like the city has been hurting," Fulvia Buscema said. "I hope they take some of the money they make from the race and give it back to the community."
The family lives near the Strip, and watched Las Vegas Boulevard change into the track.
"I look forward to when they take this all down and put it back to normal," Fulvia Buscema said. "Hopefully they replant the trees."
-Mark Credico
8:09 p.m. Getting to work has been a 'challenge'
Brynn Aguillard, who has worked as a cocktail waitress at The Venetian for four years, said F1 construction and traffic has made it a "challenge" to get to work for her shifts from the southwest portion of the valley, but she said she's hoping some big tips this weekend will make up for it. She's been using the Monorail to get to work after parking and said that's been helpful.
— Patrick Blennerhassett
8:02 p.m.: Not the best weekend
Team Ferrari driver Carlos Sainz was blunt when asked how he was doing on stage Friday night in front of droves of screaming fans at the East Harmon spectator zone.
"Not great, honestly, Sainz said. "I haven't had the best of weekends."
Sainz was of course the driver most affected by the loose valve cover which caused Thursday's first practice session to be canceled and the second session to be delayed until 2:30 a.m. Friday.
The incident led to fans who stuck it though the 2 1/2 hour delay being forced by Formula 1 officials to leave their respective spectator zones before practice resumed.
— Mick Akers
7:48 p.m. Wanting to hear the roar of the engines
In front of Planet Hollywood, the primary view is of the empty side of Las Vegas Boulevard, with the track on the other side of the street.
Facing the road stood Grant Sullivan, who is visiting Las Vegas on business during F1 weekend. He plans to be on the street for tonight's practice.
"I don't even want to see them, I just want to hear the engines drive by," Sullivan said. "That's something you can't get from your TV or an app."
Sullivan said he would have bought a ticket for the stands, but they were too expensive for him. He wished Formula 1 offered "more reasonable prices for people or average means" for some of their seats.
While he said he enjoys the event being here, Sullivan also looks forward to when the track is taken down and the street returned to normal.
"I know it's an inconvenience for a lot of people working here," Sullivan said.
Sullivan said he talked to drivers and workers during his stay and they told him about how the event has inconvenienced their daily lives.
— Mark Credico
7:09 p.m. Working F1 is 'exciting'
Tracey Henderson, who lives in Henderson, and works outside the East Harmon Zone by Virgin Hotels Las Vegas helping guests find their way, said the whole experience has been "exciting" so far. She follows F1 and says at this point with a new track "it's anyone's race".
— Patrick Blennerhassett
7:02 p.m. Views of track obscured
The views in front of the Aria are obscured by a fence and thin, black tarp made of fabric. A handful of people stood at the fence, looking through the fabric at the converted road.
Two of them, Alexis Blake and Joshua Hubbard from New Mexico, said they booked their trip to Las Vegas last week when they heard prices were not too high.
"It's an exciting opportunity we didn't think we would have," Hubbard said.
The pair said that prices for their flight and hotel were "pretty normal" for a stay in Las Vegas, and their experience so far has been much less crowded and crazy than expected.
"My brother said it would be mayhem," Blake said, "but it's been pretty chill."
— Mark Credico
6:39 p.m. 'Friendly' mood at Harrah's
Arthur Blair, a bartender at Harrah's, said he can serve up to a 1,000 people a night on a busy night like F1. He's been in Las Vegas since 2005 and said so far the mood is "friendly". He lives close to Blue Diamond and had to leave a bit early for his shift due to traffic. He expects tomorrow to be the busiest night.
— Patrick Blennerhassett
6:24 p.m. Drinking from shoes at Bellagio
The only way to view the Bellagio Fountains from the ground was in front of the casino's hotel registration entrance.
There the Shoey Bar set up shop, where Reno native Lauren Johnson took photos alongside her boyfriend, David Cabrera, and her parents, Brittni and Kevin Johnson, with their drinks housed in small shoes.
Lauren Johnson said they booked their tickets to watch the race as soon as they could.
Johnson is "excited, thrilled, happy" to watch the first Formula One race in town. She said her and Cabrera were fans of the sport since they watched the Netflix show "Formula 1: Drive to Survive."
Johnson and Cabrera have been to Las Vegas many times before and the race did change the experience a little.
"It's harder to get on the Strip," Johnson said, "but you're fine once you're here."
— Mark Credico
6:04 p.m. Monorail cars full
Monorail cars heading south from Westgate toward the track were full. Almost no seats were open and standing room was getting tight as the stops got closer to the event.
As the car passed the track, some people stood up from their seats to sneak a peek.
Robyn Joly, from Wisconsin, is in town with a friend for her birthday. She enjoys being in Las Vegas at the same time as Formula One.
"I like excitement," Joly said.
Though Joly and her friend said the event caused taxis to add a $15 surcharge onto their standard flat rates.
— Mark Credico
6:02 p.m. Vouchers offered to some fans
Race officials extended an olive branch late Friday afternoon to fans who were forced to leave the spectator zones before the second practice session early Friday morning, sending out emails with $200 voucher codes to the Las Vegas Grand Prix official shop.
Among the spectators Thursday and early Friday were Nevada residents who purchased specially priced $200 tickets that were only made available to locals.
The vouchers were made available to all attendees of the practice session, regardless of what they paid, a person with knowledge of the situation confirmed.
— Mick Akers
5:47 p.m. Riding the Monorail
Got on the Monorail at Westgate Station. Not too crowded, with some F1 fans wearing race jackets. Windows are tinted so its tough to see the race track and the Sphere. Only a three-second view of one corner of the track. No free views here.
— Patrick Blennerhassett
5:42 p.m. Frustrations over pedestrian traffic flow
Frustration with the pedestrian flow of traffic has caused some Formula One visitors to boil over.
Las Vegas resident Stephanie Karpowicz was working in guest services in the track's Sphere zone on Thursday night when her shift ended just after 9 p.m., but was frustrated by the lack of clarity in how to navigate out the resort corridor to return to her car, she said.
Her working location near the Sphere was too difficult to get back to the nearest Las Vegas Monorail station – how her race employers told workers to get in and out of their work zone – , so she had to take an egress that put her in a nearby neighborhood without good access to sidewalk, she said. The situation made her feel unsafe enough to quit the rest of her race shifts, she said.
"There was like, thousands of people all over the place and nobody knew where to go," Karpowicz said. "It was just so chaotic and I've never been a part of anything like this before. It's really strange. I guess I just expected more from the organization."
— McKenna Ross
5:22 p.m. Weather outlook
Despite water drain issues on Thursday night, rain is not expected to be a problem the last two nights of Formula 1 racing action.
Clear skies should greet fans, racers and crews both for tonight's practice/qualifying as well as the Saturday 10 p.m. Las Vegas Grand Prix.
Temperatures will be in the 50s both nights, said National Weather Service meteorologist Barry Pierce.
— Marvin Clemons
5:01 p.m. Traffic heading to Strip
Streets near Las Vegas Boulevard such as North Paradise Road and University Center Drive don't appear to be much more crowded than on a typical Friday night.
The Harry Reid International Airport tunnel didn't have any notable traffic jams either.
If someone was taking the streets adjacent to the Strip in the early evening, they may not know that part of the casino corridor was completely fenced off to host an international race, if not for the construction signs warning drivers to take alternative routes this weekend.
— Mark Credico
4:30 p.m. Betting on qualifying
Las Vegas sportsbooks disagree on who should be the favorite to take the top spot in qualifying early Saturday.
Red Bull's Max Verstappen is favored at Station Casinos (-125), Wynn Las Vegas (+100) and the Westgate SuperBook (+120), while Ferrari's Charles Leclerc is favored at BetMGM (+120) and Caesars Sportsbook (+140).
Leclerc turned the fastest time in both practice sessions Thursday and early Friday, though the first was cut short by a track issue.
Verstappen, who has won 17 of the 20 F1 races this season, is the heavy favorite to win Saturday's race, at prices ranging from -210 at Caesars to -400 at Station.
In betting terms, minus odds reflect the money bettors have to wager to win $100, while plus odds reflect how much bettors win for a $100 wager. In this case, bettors can wager $125 to win $100 on Verstappen to win the pole in qualifying at Station, or $100 to win $140 on Leclerc at Caesars.
— Here is the full list of qualifying odds at the SuperBook:
Verstappen (+120)
Leclerc (+140)
Carlos Sainz Jr. (8-1, equivalent of +800)
Lando Norris (14-1)
Fernando Alonso (25-1)
Lewis Hamilton (25-1)
Sergio Perez (25-1)
Oscar Piastri (40-1)
George Russell (40-1)
Alex Albon (80-1)
Nico Hulkenberg (200-1)
Valtteri Bottas (300-1)
Kevin Magnussen (300-1)
Lance Stroll (300-1)
Pierre Gasly (500-1)
Esteban Ocon (500-1)
Daniel Ricciardo (500-1)
Logan Sargeant (500-1)
Yuki Tsunoda (500-1)
Zhou Guanyu (500-1)
Related links:
–Las Vegas Grand Prix track info