F1 Las Vegas Grand Prix circuit work heads down final stretch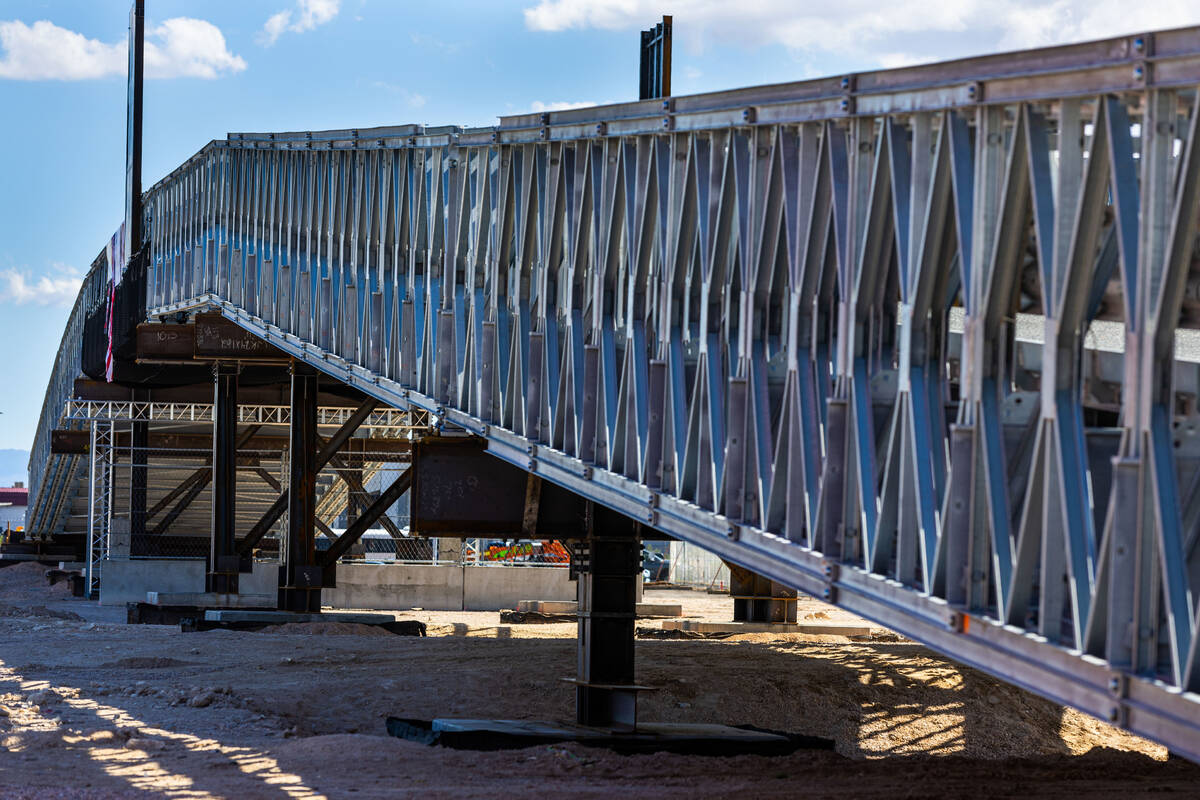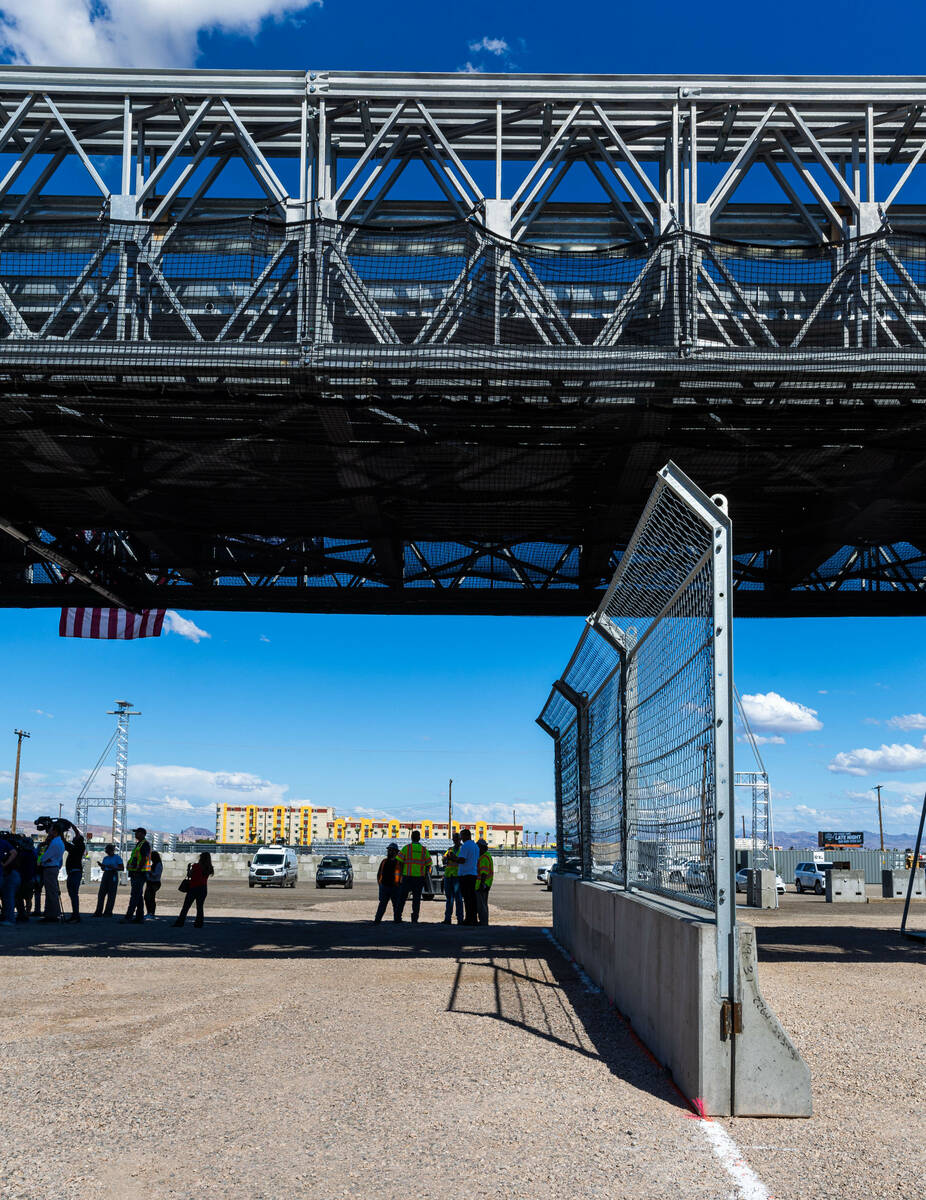 Prep work for the inaugural Las Vegas Grand Prix in November will kick into high gear in the coming weeks. Wrapping up track paving and installing safety barriers and lighting will be done through early November.
With just 75 days left until race weekend, planned for Nov. 16-18, the 3.8-mile circuit will start to come into form as the final track work is carried out.
Installation of lighting structures that will illuminate the track began this week. Crews started adding the temporary lighting on Harmon Avenue, which will wrap up on Saturday.
Installation on the Strip will begin on Sept. 12 and run through Sept. 15 between Spring Mountain Road to near the Bellagio. A third phase of lighting installation on Las Vegas Boulevard will take place on Oct. 6 from near the Bellagio to Harmon.
Sands Avenue lighting installation is planned for Oct. 2-5, with Koval Lane lighting work scheduled to be done on Sept. 11 and then Oct. 9-13. Sphere area lighting work will occur between Sept. 25-29 and Nov. 6-14.
After months of work and traffic disruptions, final track operations are nearly complete, with the area around Koval including on the Formula One paddock building and Sphere sites left to be done.
Paving around the paddock building is underway and will continue through Sept. 25, while the Sphere paving is scheduled to go until Sept. 13. Koval will see the final portion of paving for the circuit between Oct. 2 and Oct. 6.
"I'm happy to state that we're almost finished with our paving," Terry Miller, of Miller Project Management, who serves as the lead on race-related infrastructure work, said Tuesday in a presentation to the Board of Clark County Commissioners. "At the end of the first week of October, we should be completed with that paving schedule."
Track barrier and safety fence installation will begin in early October and run through mid November.
Sands will see the first barriers that will line the track installed between Oct. 2-6, with Koval scheduled for installation Oct. 9-12. Sphere is scheduled for barrier installation between Oct. 17 and Oct. 19 and then from Nov. 6-14. Harmon barrier installation is planned for between Oct. 23 and Oct. 26.
Barrier installation along the Strip between Spring Mountain and Koval will occur Nov. 5-10.
The installation of barriers will take place during each phase between 9 p.m. and 6 a.m. to minimize traffic implications, Miller said.
"We only do lane closures when we're doing this," Miller said. "We're not closing down any roads."
Temporary vehicle and pedestrian bridges that will be vital for transportation into-and-out -of the track will begin to be erected in October.
Vehicle bridges will be installed on Audrie Lane over Harmon Sept. 22-Oct.5. A bridge running over Harmon from Top Golf to west of the Formula One pit and garage building will be installed in two phases, one Sept. 18-Sept. 21 and then Oct. 26 through Nov. 3.
The largest vehicle bridge, planned to run on Flamingo over Koval will be installed between Oct. 15 and Oct. 25. The Flamingo bridge will span 760 feet and feature four lanes, two in each direction, over the intersection.
"The Flamingo bridge is by far the most disruptive of the bridges, but it is the most significant of the bridges for our ability to move customers, employees, emergency services in-and-out of the circuit," Miller said. "When we do the race, the entire circuit closes off. That entire island of 23,000-plus rooms is inside that circuit."
Pedestrian bridges will be installed between Sept. 11 and Sept. 27 on Rochelle Avenue over Koval; between Oct. 2 and Oct. 25 on Flamingo over Koval; and at the Sphere site Nov. 6-14.
"The Las Vegas Grand Prix is a walking race and we are encouraging spectators to stay at the nearby hotels in the resort corridor," Lauren DelFrago, senior director of event operations for Las Vegas Grand Prix said. "In addition to wayfinding signage that will guide attendees to their zones, we will also be investing in a wayfinding app. Fans will be able to use a QR code to get directions in real time for the fastest walking paths to their zones."
The sidewalks and existing pedestrian bridges will be open during the race, but fans will not be able to view the racing action. The barrier fences and bridge windows will have privacy screens on them across the entire circuit where spectators zones aren't located.
"Working with LVMPD we are managing how those sidewalks are going to be controlled so we continue the flow through," Miller said.
Contact Mick Akers at makers@reviewjournal.com or 702-387-2920. Follow @mickakers on X.