F1 Las Vegas Grand Prix hit with class action lawsuit
Updated November 18, 2023 - 6:25 pm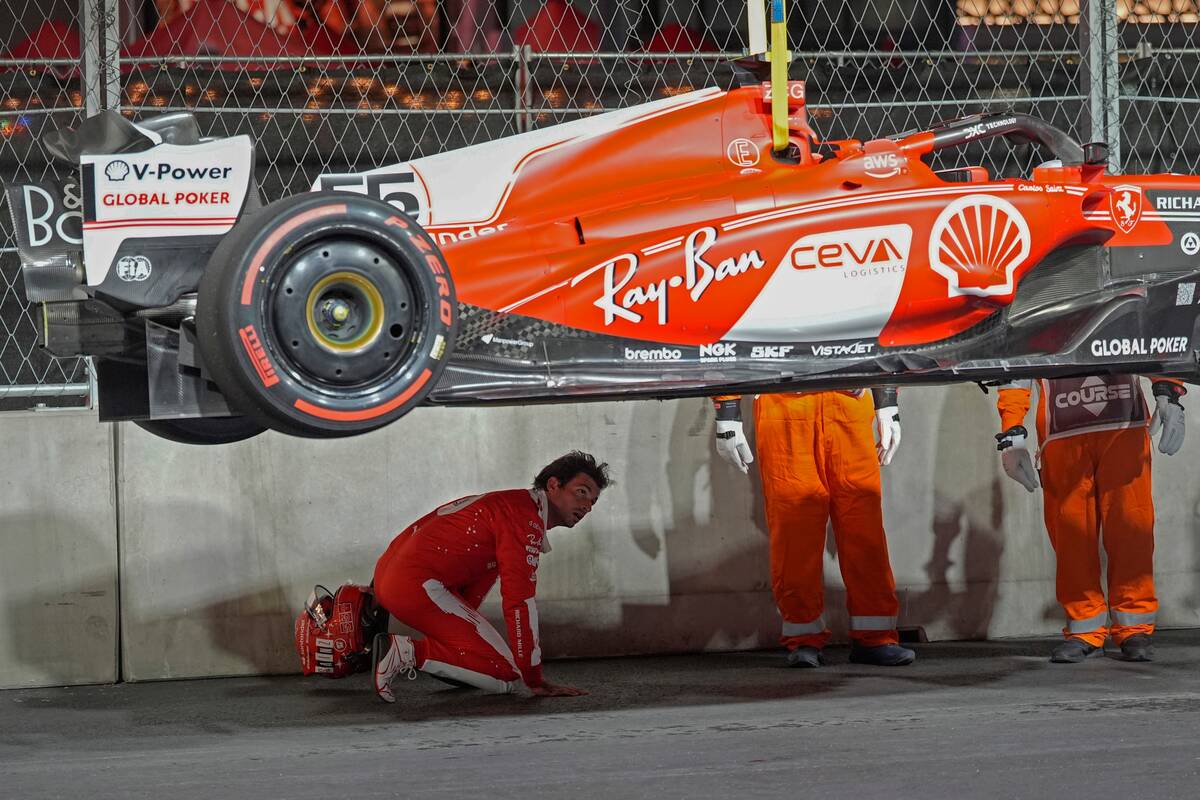 A class action lawsuit has been filed against the Formula One Las Vegas Grand Prix after fans were forced to leave Thursday's practice session following an hourslong delay.
Dimopoulos Law Firm and co-counsel JK Legal & Consulting filed the suit Friday in Nevada District Court on behalf of 35,000 fans who purchased tickets to Thursday's practice run, the legal firms announced Saturday. Five individuals were named as plaintiffs in the suit, which is seeking over $15,000 in compensatory and general damages.
Just nine minutes after Thursday's practice session began, a water valve cover came loose and damaged multiple F1 drivers' vehicles. That led to a 2½-hour delay, with a 90-minute second practice session beginning at 2:30 a.m. Friday.
Fans were forced by police and security officers to leave at 1:30 a.m. Friday and weren't able to watch the session.
The defendants named in the lawsuit are Liberty Media Corporation, doing business as Formula One Heineken Silver Las Vegas Grand Prix, and TAB Contractors Inc. The lawsuit alleges breach of contract, negligence and deceptive trade practices.
"We will vindicate the rights of the fans that traveled great distances and paid small fortunes to attend, but were deprived of the experience," Dimopoulos Law Firm owner and lead attorney Steve Dimopoulos said in a statement.
The lawsuit also highlights the race's ticket policy, which notes that if the race is canceled for any reason, a refund of up to the face value of the ticket is possible. None of the fans named in the suit were offered refunds, the suit claims.
Ticket holders Matt Raddue, Carlos Mauricio Gil, Jory Levy and James Dayap, all of Clark County, and Jack Diep of Mohave County, Arizona, are asking not only for a refund in what they paid for tickets, but also for a reimbursement of travel costs, meals, lodging and other expenses.
A race spokesperson said Saturday they could not comment on the litigation and that "our focus is on ensuring that our fans have an entertaining experience in a safe and secure environment which is always our top priority."
Race officials released a joint statement Thursday in response to the practice incident, citing safety, security and staffing elements that led to the decision to hold the delayed practice session without fans. In an attempt to make amends, they offered some ticket holders $200 vouchers to the official F1 merchandise store.
"We have all been to events, like concerts, games and even other Formula 1 races, that have been cancelled because of factors like weather or technical issues. It happens, and we hope people will understand," the joint statement from F1 CEO Stefano Domenicali and Las Vegas Grand Prix CEO Renee Wilm said.
Contact Mick Akers at makers@reviewjournal.com or 702-387-2920. Follow @mickakers on X. Review-Journal staff writer Jeff Burbank contributed to this report.