Last chance: Sale date set for final round of F1 tickets
Updated May 25, 2023 - 11:32 am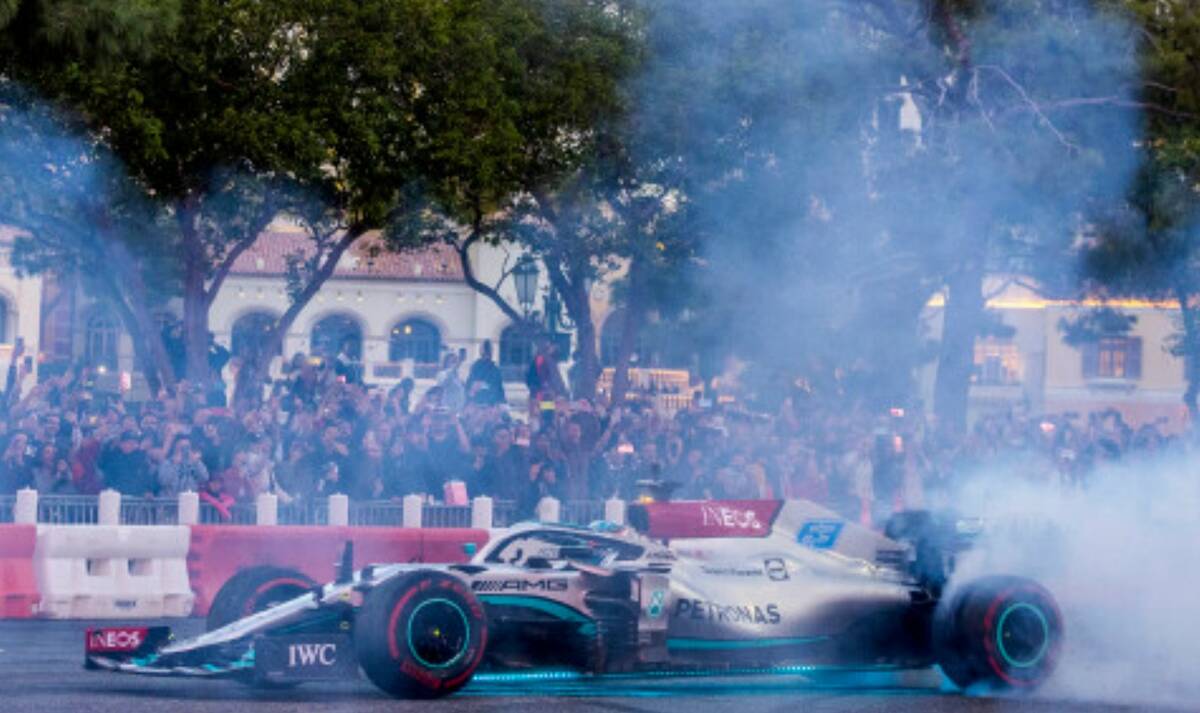 The final round of Formula One Las Vegas Grand Prix tickets is set to go on sale next month.
Along with the last of the grandstand seating option, to be located in the East Harmon Zone, West Harmon Zone, the MSG Sphere Zone and the Mirage Zone, three new hospitality areas will be available at 10 a.m. June 9. American Express card holders will receive early access to the tickets beginning at 10 a.m. June 7.
The inaugural Las Vegas Grand Prix weekend is set to take place Nov. 16-18. The race itself will begin at 10 p.m. Nov. 18, on the 3.8-mile circuit that includes portions of Las Vegas Boulevard, Koval Lane and Harmon and Sands avenues.
The three new hospitality experiences will include the Heineken House, Club Paris and Club SI.
"This will be our final official ticket sale," said Las Vegas Grand Prix CEO Renee Wilm.
"We're very excited about these three new and interesting venues that we are making available to our fan base," she said. "We will have additional grandstand capacity that we did hold back in the earlier on-sales, largely to make sure that we're very comfortable that these are seats that are going to be available and there are no concerns with fire and safety."
The Heineken House
Named after the title sponsor of the race the three-level structure will be located in the South Koval Zone, offering terrace views of the Koval straightaway. The price of a three-day pass will cost a fan $8,000 plus taxes and fees.
"Really just the pinnacle of hospitality," Wilm said. "It will have incredible views of the race when it goes down Koval."
Adding a Las Vegas nightlife element trackside, the three-day ticket includes access to the space that will feature DJs and live entertainment.
Fans will receive all-inclusive food and beverage options including Heineken products, premium cocktails and interactive premium food stations.
Club Paris
This space will be located in Alexxa's, Beer Park and Chateau Nightclub & Gardens areas of the Paris Las Vegas. A three-day pass to Club Paris will cost $5,500 plus taxes and fees. Fans who purchase this pass will have access to all three of the noted areas in Club Paris.
The space will provide racegoers center-Strip views of the race, looking toward the Bellagio, via Beer Park's 9,000-square-foot terrace.
"Just incredible views from that very well-placed terrace," Wilm said.
Those in Club Paris will have access to all-inclusive food and beverage offerings, including Alexxa's high-end food options. At Beer Park, fans can enjoy American cuisine offerings, beer and specialty cocktails. A bespoke lounge will also be located at Chateau, complete with a DJ, live entertainment and small bites.
Club SI
Being advertised as an immersive three-day experience on the track, Club SI will cost racegoers $7,000 plus taxes and fees. The area offers views of the racing action on Las Vegas Boulevard and is set to feature celebrity appearances, notable DJ performances and guest panels.
The space will feature two VIP areas, passed hors d'oeuvres, food stations and top-shelf cocktails.
In all, F1 has about 105,o00 tickets under their control and they expect a full sellout for the race, Wilm said.
"We have already sold a predominately large portion of the 105,000, so this is really those remaining precious tickets that we will be making available," Wilm said.
Contact Mick Akers at makers@reviewjournal.com or 702-387-2920. Follow @mickakers on Twitter.