Gaughan able to step back, enjoy race life
September 28, 2013 - 9:32 am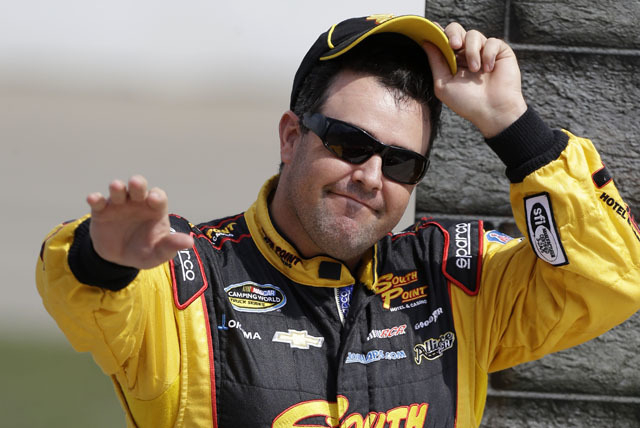 Brendan Gaughan has never felt more at home than the past week in Las Vegas.
The longtime valley resident has been in town preparing for today's NASCAR Camping World Truck Series Smith's 350 at Las Vegas Motor Speedway. And the 38-year-old veteran driver said he never has been more comfortable behind the wheel.
"I'm at the point in my career where I don't know if I've ever had better equipment, or if I've ever had more peace with where I'm at," said Gaughan, a Bishop Gorman High School graduate.
Where he's at is 10th in the series standings, 126 points behind leader Matt Crafton.
But his improved outlook is not just about this year. Though he's out of the hunt for the championship, Gaughan said this season's switch to Richard Childress Racing has rejuvenated his long-term aspirations while helping him forget about a lackluster decade of racing.
"The last 10 years have been pretty dry," he said. "I don't want to just drive around in circles. I want to win. As long as I'm winning is as long as I want to keep driving."
His new team has provided that opportunity.
"It's so much fun to be at RCR," said Gaughan, who drives the No. 62 South Point Hotel &Casino Chevrolet. "We all get along great, and I don't have to fake anything."
But Gaughan's newfound success is about much more that his performance on the track. Though he does not view himself as a father figure, many drivers in the series see him as a mentor and role model.
"Brendan can say whatever he wants, but he's done a lot for my career," said 21-year-old teammate Ty Dillon, driver of the No. 3 Bass Pro Shops Chevy. "He's not just a great driver but a great person. He's always willing to go over and talk to these (young) guys."
That sentiment is consistent throughout the series, as Gaughan long has been viewed as one of the sport's most positive ambassadors.
Chris Powell, LVMS president and general manager, has known Gaughan almost since he began driving trucks in 1997.
"Brendan is such a breath of fresh air," Powell said. "He's always got a great attitude, and he's such a genuine guy. I'd love to see something good happen to him this weekend because he's so deserving."
Gaughan, who has one win (2003), two top-five and four top-10 finishes at LVMS in 12 starts, said he might have a slight edge in today's race.
"At the old Las Vegas Speedway, I'd say I'd have had an advantage," said Gaughan, who claimed 2002 Rookie of the Year honors in his first full season in the series. "Now the only advantage is that this race means so much. I'm racing at home, and you can just feel the energy difference."
But with guys such as Crafton and second-place driver James Buescher ahead of him, Gaughan knows he'll be granted no freebies.
In fact, Gaughan has struggled in recent weeks.
"I've had the craziest stuff happen," said Gaughan, who will tie the track record with his 16th LVMS start today. "It's really been unreal."
Though he sees better fortune ahead, Gaughan said he's prepared for the possibility that he might never win a series championship.
"This is a very difficult sport," said Gaughan, who continues to moonlight as a part-timer in the NASCAR Sprint Cup and Nationwide series. "It's a brutal sport, more than football, basketball or baseball. But I own businesses in town, and I have plenty of other things to do when this is over. If it all ends tomorrow, I'll be fine with that."
Qualifying for today's race will begin at 3:15 p.m., with the race scheduled for 5:30.