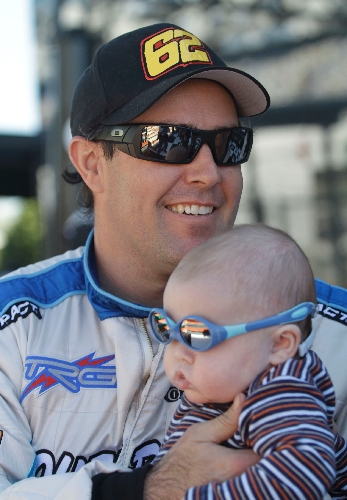 Brendan Gaughan would like nothing more than to start 2011 by winning two straight races.
He cleared the first hurdle Sunday as a member of the five-driver team that captured the GT class in the prestigious Rolex 24 Hours at Daytona, a 721-lap, 2,566-mile sports car race on the road course at Daytona International Speedway.
"What a start to the 2011 season," Gaughan said. "The last time I won was 2003 in Texas. I forgot what it felt like."
That was the year Gaughan drove for his family-owned, Las Vegas-based team in the NASCAR truck series and won six times.
Gaughan, 35, has returned to the NASCAR Camping World Truck Series and will debut with Germain Racing in the Feb. 18 opener at Daytona.
"I moved to the Germain truck team to have the chance to win races," he said. "I came to Daytona and won. I was able to hold my son in Victory Lane at Daytona. I have a brand new Rolex watch from the Rolex 24 — I have to quit while I'm ahead."
■ LVMS SHORT TRACKS BOSS — Tim Richter has been named to the newly created position of racing operations manager for Las Vegas Motor Speedway's short tracks.
Richter will be responsible for running events at the speedway's three-eighths-mile Bullring, half-mile dirt track and off-road and go-kart facilities.
The NASCAR All-American Series season at the Bullring opens March 19.
■ ROAD TRIPS — Alex Haase was the most successful local racer last weekend in the All-Star Showdown at Toyota Speedway in Irwindale, Calif.
The Las Vegan finished second to Ryan Partridge of Rancho Cucamonga, Calif., in the 75-lap Super Late Models race. Fellow Southern Nevadans Bear Rzesnowiecky (19th place) and Dustin Ash (20th) were unable to finish because of mechanical problems.
In the featured 225-lap NASCAR K&N Pro Series West race, Spencer Gallagher placed 33rd as the only Nevadan to qualify for the nationally televised event won by Jason Bowles of Ontario, Calif. …
Ryan Cotrell, an Eldorado High School graduate, won IMCA Modifieds races Saturday and Sunday in Victorville, Calif. The 27-year-old has won three of four races at the dirt track and placed third in the other.