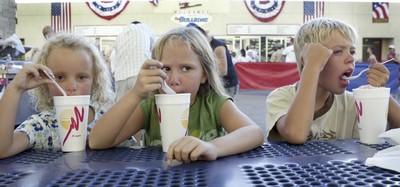 It was a cool night Tuesday at the Bullring despite the thermometer reading 108 when the main event began at 7 o'clock.
A record, standing-room crowd of nearly 7,000 attended Las Vegas Motor Speedway's Night of Fire — appropriately named for the weather, as well as the post-race holiday fireworks.
Kids were scattered about with more than racing to entertain them. Bounce houses, face-painting, car displays and cooling misters kept them busy. Kids love misters.
It was kids' night on the track, too.
Bear Rzesnowiecky, 15, won the Legends Cars race, and Dustin Ash, 19, won the Super Late Models main event.
The night's biggest star, though, first became a regular Bullring visitor when he tagged along with his dad and older brother as a youngster.
Kyle Busch is 22 years old and seems like a NASCAR veteran, though he's been a full-time professional for just six years. The Nextel Cup driver has won four times since joining that series full time with Hendrick Motorsports in 2005, and he posted five victories in the Busch Series the year before.
Busch's ability to build a race car is why he's the youngest to win both a Cup pole and a Cup race. He finds no shame in a little grease under his cuticles and showed during his two-day visit to the Bullring that asphalt can't be too hot if you need to crawl under a race car to make an adjustment.
He was the quickest in qualifying Tuesday night, but a broken camshaft ended his night 35 laps into the 75-lap main event while he was, predictably, in the lead.
However, he kept any disappointment hidden while signing autographs for more than an hour after the race.
Few — if any — major league racers would have done what Busch did this week. Certainly none would have paid to do it.
Busch had only four days between finishing 11th in Sunday's New Hampshire Cup race and getting to Daytona Beach, Fla., to begin practice Thursday for Saturday's Cup race.
But he opted for a 4,400-mile round-trip detour to race at the Bullring for the first time in three years.
No one paid Busch to race Tuesday. It cost him money. A driver of his caliber and status could demand up to $20,000 to do what he did at the Bullring.
Instead, he asked for nothing. When Busch needed racing tires at the track, he went to buy them, but the speedway stepped in and picked up the tab. He paid a few thousand bucks to transport his race car and a few crew members from Charlotte, N.C., to Las Vegas and back.
No telling how much his longtime girlfriend, Erica Dewey, spent shopping while Busch was at the track.
Even the engine failure didn't seem to keep Busch from enjoying his visit. He probably never had as much fun racing regularly on the local short track.
Many of the top young drivers at the Bullring were racing kid-size Bandoleros when Busch was a winning teenager there before moving to NASCAR's top series. He and brother Kurt proved a young Bullring racer could be discovered by a major team and then be put on the path to stardom.
The brothers' success is a tasty carrot to dangle in front of a young racer, but the odds of the Bullring producing another Kyle or Kurt is a long shot.
No major American sport has a more elite lineup of pro athletes than Nextel Cup.
Around 1,600 players will be on NFL rosters this year, 750 are in Major League Baseball and about 450 are in the NBA.
Forty-five full-time driving jobs might be available in the Cup series and another 60 combined in the Busch and Craftsman Truck series.
Granted, more kids play ball sports than compete in racing, but the point is clear that a select few make racing's big time.
Several talented young drivers, however, have the dream. It's a fair one to have, but it shouldn't be the reason to race.
The Bullring's top division is too serious. Drivers are likely to find more success if fun plays a bigger role.
Young racers shouldn't envision a Cup team planting a secret shopper in the Bullring grandstands to judge each lap as though a million-dollar contract hinged on the outcome.
The Bullring will be on hiatus until Aug. 8, and when drivers return, more success might materialize if they try to have more fun.
Kyle Busch probably wishes he had more enjoyable nights like Tuesday at the Bullring when he was growing up.
It has helped that he's matured since and came back a millionaire.
Jeff Wolf's motor sports column is published Friday. He can be reached at 383-0247 or jwolf@reviewjournal.com.
JEFF WOLFMORE COLUMNS