Hamlin driver to beat at Darlington
September 3, 2016 - 2:48 pm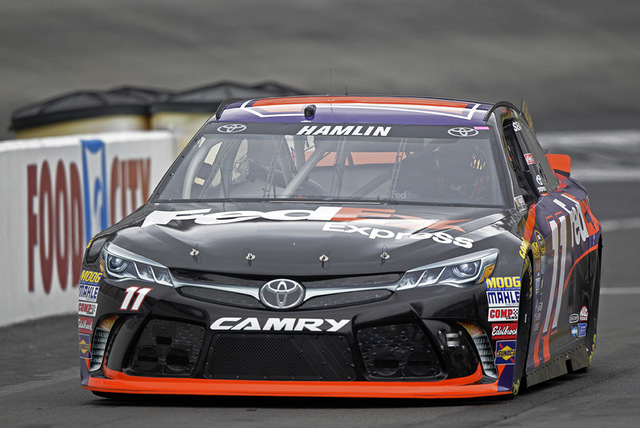 After a series of simulated race runs in the Saturday's final 80-minute practice session at Darlington Raceway, Denny Hamlin felt his car was so perfectly set-up for Sunday's Bojangles Southern 500 that he parked it for the final 30-minutes. Between that type of confidence, current form and his stellar past history on the 1.366-mile egged shape oval, he's the driver to beat.
All he's done at Darlington is average a Sprint Cup Series-best a 6.5 finish over his 10 starts, including a 2010 win. He's also captured four Xfinity Series wins and averaged a 2.9 finish. It's been his best statistical track in both series during his career. And they call Darlington "The Track Too Tough to Tame."
Equally impressive right now for his No. 11 Joe Gibbs Racing team is his current form right that has seen him finish in the top-10 over the last six races, including a Watkins Glen win last month for his first road course win. Seven straight would be a career-best and allow his team to head into the Chase in two weeks beaming with confidence. It would also be a nice bargaining chip for Hamlin who still isn't signed for 2017.
All four of the Gibbs drivers have won a race at Darlington, including two of the past three years which also bodes well for Hamlin by association. Carl Edwards won last season with Hamlin finishing third and the downforce package used then on a trial basis is the one that has been used in 18 of the 24 races this season, 10 of which have been won by a Gibbs set-up. It will also be used Sunday and 10 of the final 11 races this season.
Yes, there's a lot to like about Hamlin this week at 7-to-1 odds, and maybe even beyond when the playoffs start. He's 12-to-1 to win the Sprint Cup Championship.
FASTEST IN PRACTICE
Three-time Darlington winner Jimmie Johnson (12/1) laid down the fastest lap (176.025 mph)during Saturday's early 85-minute practice session while also claiming the fastest 10-consecutive lap average. Hamlin was second in both categories. Brad Keselowski (7/1), who finished a carerer-best second at Darlington last year, had the fastest lap (174.649 mph) in the afternoon session
START POSITION IMPORTANT
In 112 races held at Darlington Raceway since 1950, 96 of the winners started from within a top-10 position. That's a remarkable 85.7 percent clip over time and something to seriously consider before wagering. In modern times, nine of the past 12 races have been from a top-10 start position. The top-10 starters this week arrived from owners points due to qualifying being rained out, so technically they didn't earn the spots on speed. However, the top-10 was set by driver points which essentially says they've been the fastest and best of the bunch all season.
DARLINGTON MAKES GREAT DRIVERS WAIT
Edwards won at Darlington for the first time ever last season in his 12th start. In 2014, Kevin Harvick won there for the first time in 18 starts and the year before Kenseth finally won in his 19th start. Tony Stewart has gone 23 starts without ever winning.
BACK-TO-BACK?
The Gibbs dominance with this package makes Edwards a nice candidate to become the 14th driver to win back-to-back Darlington races. It's been 10 years since Greg Biffle did it. Since then there have been nine different winners.
BONUS FAREWELL
Fans get to wish one of the Darlington greats, Jeff Gordon, another farewell as he'll remain un-retired to pilot Dale Earnhardt Jr's No. 88 again this week. Gordon has won seven times at Darlington and is the only driver to win four consecutive Southern 500's (1995-98). He has 19 top-five finishes in 35 starts and has led 1,744 laps. Although he's looked sluggish at times while filling in for Junior, no one driving this week has more experience on the track and 30-to-1 odds to win could be tempting. He was 14th fastest in both practice sessions.
LONG SHOT POSSIBILITIES?
Regan Smith's 2011 Darlington win paid out at 500-to-1 odds, the largest NASCAR underdog cashing in Las Vegas history. Can lightning strike twice at Darlington? Rain would be a huge consideration to any possibility, but Hurricane Hermine already passed by the area and race day is expected to be sunny. The most legitimate longshot to win probably rests with two-time Southern 500 winner Greg Biffle at 200-to-1. Biffle had the sixth fastest lap during the final practice session and fastest 10-consecutive lap average,