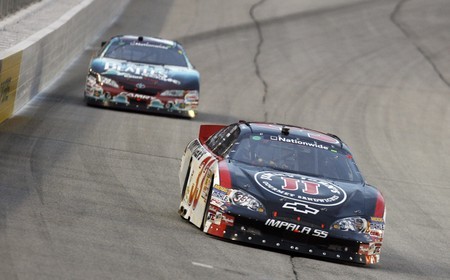 HAMPTON, Ga. — Dale Earnhardt Jr. won a late gamble on gas, but that wasn't enough to overcome Kevin Harvick's dominance.
Harvick led most of the race and then passed Earnhardt with two laps left to regain the lead and win the Degree V12 300 Nationwide Series race on Saturday night at Atlanta Motor Speedway.
Harvick and Kyle Busch each went into the pits for gas and four tires with 14 laps remaining. Earnhardt and Brad Keselowski stayed on the track, gambling they had enough gas to finish the race.
Earnhardt and Keselowski had enough gas, but were still passed by Harvick and Busch, who finished second. Earnhardt was third, followed by Keselowski and Jeff Burton.
"I would have been glad to steal a win," said Earnhardt, who said the decision to remain on the track when the leaders stopped for gas was his only chance to beat Harvick.
"We had a pretty good chance of making it, and that was our only real shot of getting a win. It didn't work out in our favor, but that was the best call to make for us."
Harvick led 131 of the 195 laps. He led Busch by about seven seconds and Earnhardt by about 15 seconds when Harvick and Busch made the late pit stops.
Busch's pit stop was faster than Harvick's, but Harvick had the advantage of the big lead before the stop.
Harvick's advantages of fresh tires and the faster car enabled him to pass Keselowski with six laps left before catching Earnhardt with two laps left.
"I cut it a little bit closer than I would like to at the end," Harvick said.
It didn't look so close to Busch.
"Harvick was gone," Busch said. "What a nonrace that was, but hopefully it was a show at the end. … Man that 33 was great. Flawless."
Harvick claimed his second Nationwide Series win of the season with the race team he built with his wife, Delana. He also won in Bristol, Tenn., in March.
Carl Edwards, racing for the first time since breaking his right foot playing Frisbee with friends Wednesday, finished seventh.
Busch, Edwards and Keselowski have combined for 12 Nationwide Series wins this season, including six by Busch.
"It's tough when those guys are winning so many races," Harvick said. "We felt like we had been able to run with them a couple of times but hadn't been able to close the deal. Tonight we were able to close the deal."
Busch recorded his 22nd top-10 finish of the year. He is 221 points ahead of Edwards in the standings. Harvick is 15th in the points standings.
Harvick qualified 18th on Saturday for tonight's Pep Boys Auto 500 and is 24th in the Sprint Cup standings.
• CAMPING WORLD TRUCKS — At Newton, Iowa, Mike Skinner pulled away after a late restart to win the first Camping World Trucks Series race at Iowa Speedway.
Skinner, a two-time winner this year, was running away from the field when the yellow flag came out because of debris with seven laps to go. They restarted with four laps remaining and Skinner pulled away in his Toyota to win by 1.370 seconds.
Aric Almirola was second in a Toyota and Colin Braun finished third in a Ford. Series leader Ron Hornaday Jr. was fourth after starting 15th.
• NHRA — At Clermont, Ind., Andrew Hines won the Ringers Gloves Pro Bike Battle for the fourth time in his career, beating Hector Arana in the final at the Mac Tools U.S. Nationals — the NHRA's most prestigious event.
Hines edged Arana, the Pro Stock Motorcycle qualifying leader, to take the $25,000 top prize in the all-star event for the top eight teams from the last year. After beating Steve Johnson and teammate Eddie Krawiec in the first two rounds, Hines won the final on his Harley-Davidson when Arana fouled at the start.
Larry Dixon (Top Fuel), Robert Hight (Funny Car) and Mike Edwards (Pro Stock) joined Arana in maintaining their No. 1 qualifying positions at the NHRA Full Throttle Drag Racing Series event.