High winds take air out of LVMS air race
October 17, 2016 - 9:10 am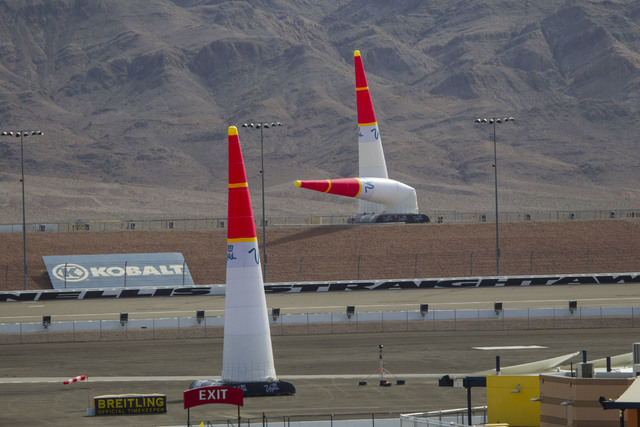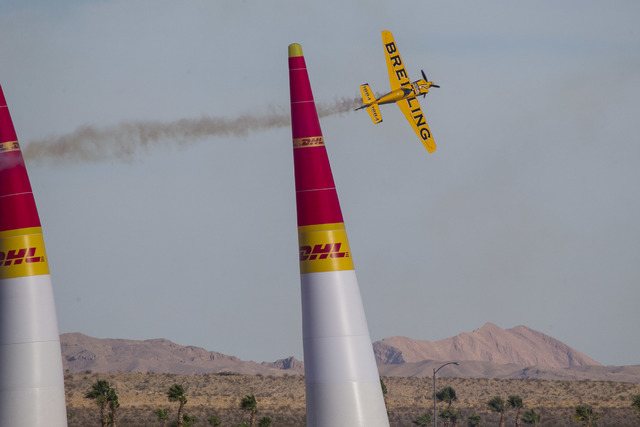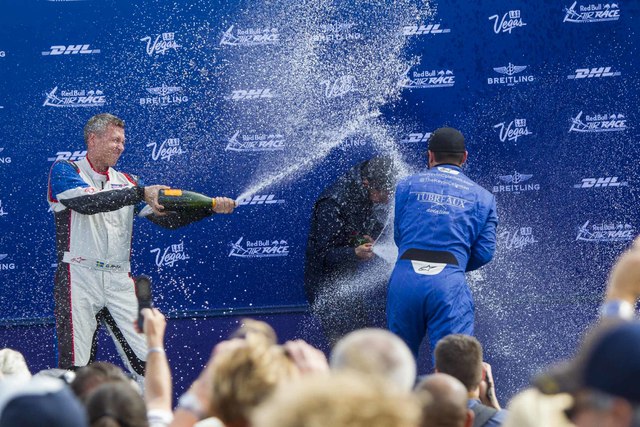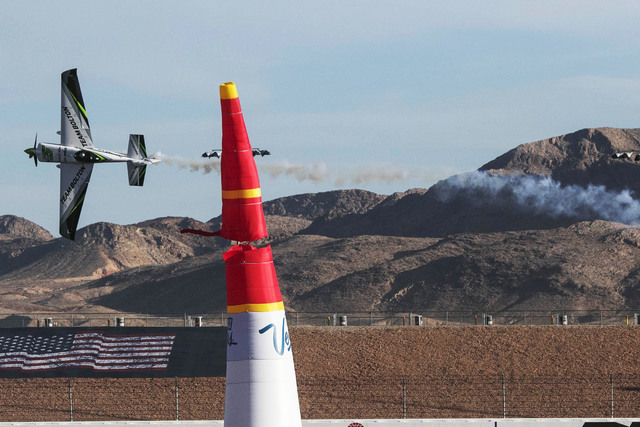 Air racing fans of a certain age may remember a hit song called "Windy" by the melodic pop group The Association.
It said Windy has stormy eyes that flash at the sound of lies. It also said Windy has wings to fly above the clouds. The part about the wings and flying above the clouds was repeated for effect.
In regard to the final round of the 2016 Red Bull Air Race Championship at Las Vegas Motor Speedway, The Association was full of hot air.
Windy had wings aplenty. But there was very little flying above the clouds, or below them.
After many hours of delays, the racing planes finally got airborne at 4 p.m. Sunday. Only a smattering of spectators remained in the sprawling grandstands.
But with dusk approaching and the gusts not abating, the race was called before the first of three rounds of flying against the clock could be completed.
"Our winds today were in excess of what we could safely handle," race director Jim DiMatteo said in making the cancellation announcement.
High winds also wiped out Saturday's qualifying and Sunday's Challenger Cup, which is to the Air Race Championship what the Xfinity Series is to Sprint Cup in NASCAR.
On Sunday, just after noon, the bluster subsided long enough for a couple of pilots to test the currents. The wind then picked up in earnest, blowing over the starting gate and several of the 82-foot inflatable pylons that define the flying obstacle course.
"It's like riding a boat in a huge thunderstorm," said the French pilot Francois Le Vot after putting wheels down on the infield landing strip. "Very strong wind. I think the fall season deserves its name because I could see pylons falling down in a very sad way."
It was the second time in three years wind wreaked havoc with the LVMS air race.
In 2014, the head-to-head runs were halted before one round was complete, and young Canadian throttle man Pete McLeod was deemed the race winner based on qualifying time. That also was the year a refrigeration truck caught fire on the runway, spewing flames and a thick plume of black smoke into the windswept LVMS airspace.
At least the weather did not effect the championship — German pilot Matthias Dolderer already had clinched the 2016 title, in the penultimate race of the season at hallowed Indianapolis Motor Speedway.
"You're out in the middle of the high desert in October — you're going to get wind most days," said Australian pilot Matt Hall, the 2015 and '16 runner-up, before the nimble racing planes finally were grounded for good.
Ron Kantowski can be reached at rkantowski@reviewjournal.com or 702-383-0352. Follow him on Twitter: @ronkantowski