Hight, Force Hood paired in eliminations
November 1, 2009 - 10:00 pm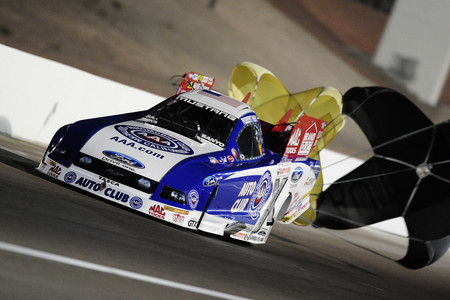 A first-round scenario in Funny Car eliminations today could not be a worse nightmare for John Force Racing.
The team's Robert Hight arrived at Las Vegas Motor Speedway for the Las Vegas NHRA Nationals as the points leader. Right on his heels was teammate and sister-in-law Ashley Force Hood.
Only 20 points will separate them when championship eliminations begin, but they are paired for the first round based on how they finished qualifying Saturday night: Hight was third and Force Hood 14th in the 16-car field.
"It's a bummer. That's a tough first-round race," said Hight, who has been the hottest Funny Car driver in the NHRA's six-event Countdown to 1 playoff format by winning two of the past four titles. "It's a shock. You expect to meet up in the semifinals or finals."
Force Hood, who has lost to Hight in the semis in two of the past four events, was relieved to qualify after she needed her last run Saturday to make today's show.
Then she learned she would facing Hight in the first round.
"We just want one of us to win the championship," she said. "Tomorrow will be nerve-racking. We'll just do our best."
The only smiles in the Funny Car pits might have been on the faces of Tony Pedregon and Ron Capps, third and fourth in the standings. Pedregon trails Hight by 52 points, and Capps is 68 behind the leader.
Top Fuel also won't be lacking drama.
Larry Dixon, second to five-time reigning champion Tony Schumacher, dominated qualifying to get enough bonus points to cut Schumacher's lead to 44 with one event left in the season.
The drama, however, is over in Pro Stock, where the only unknown factor in the championship race is when Mike Edwards will get to hoist the trophy.
Edwards won his 15th pole and second at Las Vegas this season and virtually has clinched the first season NHRA championship of his 12-year career. He needs to advance one round farther than Greg Anderson and Jason Line today to win the title.
"Hopefully we can fulfill a dream tomorrow," said Edwards, of Coweta, Okla. "It's been a long, precious season. It's been extraordinary for the team."
Sportsman categories will begin eliminations at 7:30 a.m., and the first round of professional eliminations will start at 11.
• SHIELDS THIRD — Duane Shields of Boulder City qualified third in Top Alcohol Dragster and has an outside chance of winning his first national season championship in two weeks at the finale in Pomona, Calif.
Contact reporter Jeff Wolf at jwolf@reviewjournal.com or 702-383-0247.