International roots dot Top Fuel field
November 1, 2009 - 10:00 pm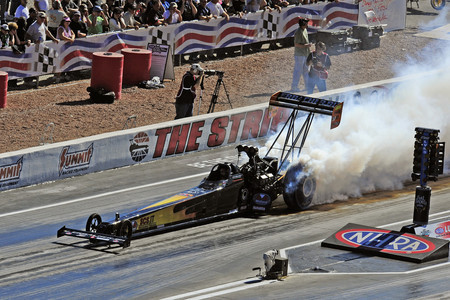 The Eiffel Tower in front of Paris Las Vegas is a knockoff.
And Caesars Palace is American made.
The most legitimate international flavor in Las Vegas today will be at a dragstrip.
The ninth annual Las Vegas NHRA Nationals has a European flair like drag racing has never experienced.
During today's championship eliminations, three of the 16 drivers in Top Fuel will represent Norway, Switzerland and Denmark.
That never has happened in the 58-year history of the National Hot Rod Association.
It could have been four, but Lex Joon of the Netherlands didn't make the cut.
And the co-owner of the Top Fueler driven by Larry Dixon is Sheikh Khalid Bin Hamad Al Thani, who also will be the richest man at Las Vegas Motor Speedway.
Today is truly international drag racing.
Sheikh Khalid, a member of the ruling family of Qatar, doesn't grant interviews, so we don't know his take on the foreign influence on the sport.
But Switzerland's Urs Erbacher, who qualified 13th in Top Fuel, has no reluctance to talk about what has lured him and the other Europeans to the United States for a taste of NHRA competition.
"Racing in events like this in the United States is every European drag racer's dream," said Erbacher, the European Top Fuel champion in 2007. "This is where drag racing started. But over here we need a lot of luck to win."
He said drag racing across the pond is about 20 years behind American drag racing because American tracks are better, race cars are faster and more sponsorship is available.
He'll get a big taste of American drag racing today when he faces five-time reigning Top Fuel champion Tony Schumacher in the first round.
But he's here for challenges just like that.
"I was very impressed to be able to race against the best in the sport," Erbacher said. "We are always learning, and it just makes you better."
Erbacher, 48, is one of Europe's top custom motorcycle builders, but not even that income makes it easy to fund racing here. He shipped the truck that transports his dragster, the race car and all parts and tools on a freighter for a two-week trip that cost about $20,000.
He hired Louisiana native Wayne Dupuy, a veteran crew chief, to tune the dragster and is spending about $10,000 on tires and $5,000 on nitromethane.
But it's worth it to him to chase a dream that started in the 1960s when he fell in love with the American sport.
And like countless American racers, funding his passion comes at a price.
"The next dream is to make money doing this," he said.
"I've never owned a home, but could have bought three of them with what I've spent on my racing. But it's a lot more fun to race than it is to cut the grass."
Contact reporter Jeff Wolf at jwolf@reviewjournal.com or 702-383-0247.