Joe Gibbs and his drivers appear to be favorites in New Hampshire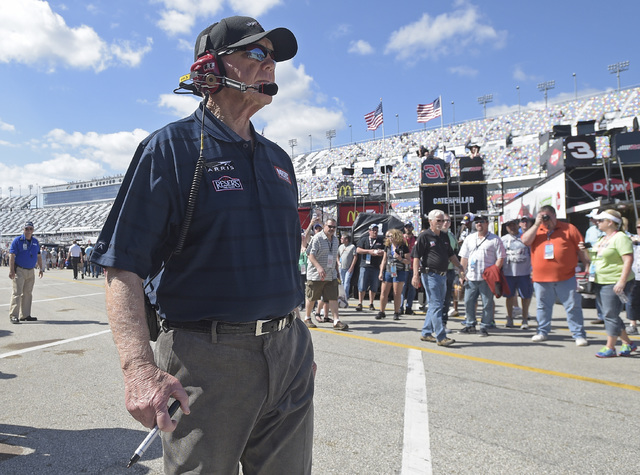 A Joe Gibbs Racing-powered Toyota hasn't won any of the past five NASCAR Sprint Cup races after winning eight of the first 13. But following Saturday's final practices at New Hampshire Motor Speedway, it's a good bet the minidrought will ends in Sunday's New Hampshire 301.
Take your pick of any JGR driver to win because they all look relatively the same and they all have great history on the flat one-mile layout as well as other tracks like it. Carl Edwards (8 to 1) has never won at NHMS in 23 career starts, but he was the fastest on the long runs during practice and dominated at Richmond in April, which is key because it required a similar setup to NHMS. He looks to have the best car of the bunch.
But Las Vegas' Kyle Busch (5-1) was almost as good and he has track history going for him with two wins, including this race last season. Since winning his third race of the season at Kansas, Busch has had only one top-five (Daytona) in the seven races since. Yes, he's due for a win. He's also one of three drivers to have top-five finishes on the similar tracks of Phoenix and Richmond this season.
If you don't like either Edwards or Busch, Matt Kenseth (8-1) is a nice choice considering he won for the second time at NHMS last fall. When things were going rough for him this season before winning at Dover in May, his best races were seventh-place finishes at Phoenix and Richmond.
And then there's Denny Hamlin (8-1), who races his best on any type of flat track. His 10.2 NHMS average finish is tops in the series with two wins and four second places. He hasn't won since the season opener at Daytona, but his car hasn't practiced as well prior to a race since then.
Martin Truex Jr. (15-1), who uses JGR equipment but isn't officially a teammate, has never won at NHMS but he let it be known during Friday's practice that the Gibbs stuff is dialed in this week by having the fastest lap (133.562 mph). Right behind him in the top five were Edwards, Busch and Hamlin. In Saturday's early session it was Edwards, Hamlin and Kenseth 1-2-3, and during happy hour it was Hamlin, Kenseth, Busch and Edwards within the top eight.
Gibbs swept the 2015 NHMS season and with one more win the team will tie Hendrick Motorsports for the most in track history with nine. Ironically, Kyle Busch's first NHMS win was in 2006 when he drove the No. 5 for Hendrick.
VALUE WITH FIELD?
Dale Earnhardt Jr. has never won at New Hampshire in 33 career starts and it won't happen Sunday because he'll be sidelined at least this week with concussion-like symptoms. In his place, Alex Bowman will take over the No. 88, which is one of the best 15 cars on the track. Because Bowman wasn't listed in opening odds, he'll be part of the 'Field' bet which was at 500-1. Earnhardt was listed at 20-1. After the announcement, the Westgate SuperBook dropped the 'Field' down to 50-1. A driver from the 'Field' hasn't won a Sprint Cup race since Trevor Bayne won the 2011 Daytona 500 (60-1), but it's rare such a good car is ever attached as part of it. If Junior can't go next week at The Brickyard, Jeff Gordon will come out of retirement as the replacement driver. Gordon is a five-time winner at Indy.
THREE STRAIGHT?
We saw Kyle Busch and Joey Logano both win three straight races last season and Brad Keselowski (6-1) will try to become the fourth driver do it since the Chase era began in 2004. Jimmie Johnson won four straight in 2007 on his way to a championship. Busch won the championship last season. Keselowski won at New Hampshire in 2014 and was runner-up last July. His 10.3 average finish in 13 starts is second-best behind Hamlin among active drivers.
'NEW' HAMPSHIRE WINNER?
The top 10-favored drivers this week have all won a race on the season and 11 different drivers have won through the first 18 races. It might seem improbable for a 12th different driver to win this week, such as Chase Elliott (20-1), Kyle Larson (30-1) or three-time NHMS winner Ryan Newman (60-1), but the flat one-mile layout has produced 14 different winners in its last 16 races dating back to 2008, showing a strong trend of parity.
CHEVROLET DROUGHT
Five manufacturers have won at NHMS during its 42 Cup races with Chevrolet leading the way with 18 wins. However, seven races have passed since Chevy last won — they were on a six race win streak there. Last fall Kevin Harvick was on his way to victory leading a race high 216 of 300 laps until he ran out of fuel with three laps to go. Harvick (5-1), who's only 2016 win came at Phoenix in March, is the top Chevy contender. He also finished fourth at Richmond. Johnson (8-1) starts from the pole and with another win he'll tie Jeff Burton for the track record with four wins. His last win there came in 2010. The last pole sitter to win was Ryan Newman driving a Chevy in 2011. Another Chevy contender is rookie Chase Elliott who had the fastest lap during happy hour.
Micah Roberts, a former Las Vegas sports book director, has been setting NASCAR odds since 1994. Follow @MicahRoberts7 on Twitter.
RELATED
Micah Roberts' Sprint Cup driver ratings