Jon Capps gets behind wheel for real this weekend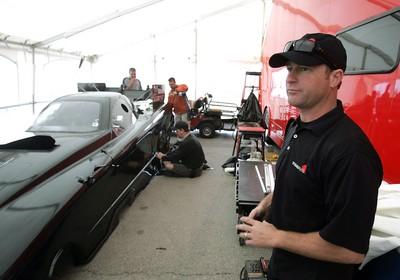 Jon Capps is the only driver in this weekend's SummitRacing.com NHRA Nationals who receives residual checks for contributions to a hit movie.
Capps, a Las Vegas resident for eight years, was one of the expert drivers in several scenes of "Talladega Nights: The Legend of Ricky Bobby." He also taught star Will Ferrell, who played Bobby, about racing, or at least how to act like a racer.
Today, Capps will drive without a script when he debuts in a 330 mph Nitro Funny Car at Las Vegas Motor Speedway.
There has been limited time for rehearsals. A good review will depend solely on how he does on the track.
Second takes don't exist in racing.
"It's been my lifelong dream to drive a Funny Car," he said. "My feet are finally starting to touch the ground again.
"Mentally, I'm as prepared as I can be."
If his name sounds familiar, it's because his older brother is Ron Capps, 41, the NHRA Funny Car points leader and winner of 24 national titles — including two at Las Vegas — in his 13-year career.
"I'm proud of what he's done," Jon said. "I'm not jealous. Envious is a better word.
"I've been a sponge when I've watched him and talked to him about driving a Funny Car."
Jon, 37, successfully raced go-karts growing up in San Luis Obispo, Calif. He joined the Navy out of high school, delaying his racing dreams for five years.
After his discharge, he began working on various drag racing teams, including some that his brother drove for. From there, he competed in a variety of USAC and open-wheel cars on oval tracks.
His versatility led to a stunt-driving career, which began with TV commercials and the Sylvester Stallone flop "Driven," which over-dramatized open-wheel racing.
"I'd race anything," said Jon, a part-time instructor for the American Racing Academy at the speedway.
The past three years he has driven a Top Alcohol Funny Car, which reached speeds higher than 260 mph. But his goal always was to compete in one of the NHRA's two professional categories.
Two weeks ago, he finalized a sponsorship program with Vegas Fuel, a new energy drink company in Southern Nevada. He will be its national account manager.
He has locked up funding for up to six NHRA races this year with help from local companies Palmer Electric and Ace Masonry.
Ron is proud of his brother's driving talent and the effort he made to find sponsors.
"He has worked his tail off to get the funding for this ride," Ron said. "But I was a nervous wreck when he was getting his license."
Jon earned his NHRA pro competition license four weeks ago in Gainesville, Fla., and has been going nonstop getting ready for this weekend.
"It's been all about marketing Vegas Fuel and getting ready for this race," Jon said.
"But when Friday morning gets here, I'll only be focused on driving," he said Thursday afternoon as finishing touches were being made, such as putting decals on his race car and lining up golf cart rentals for his sponsors.
Only 16 of the 22 Funny Cars entered will advance to Sunday's single-elimination rounds. Qualifying begins with two runs today, and two are scheduled for Saturday.
The weather forecast of wind and a slight chance of rain Saturday puts more pressure on making good runs today in order to advance.
Jon said he has a veteran team behind him and a proven race car under him.
"The only problem is we have a brand new driver," he said.
He's driving for the team owned by Paul Smith in a car that Smith tuned for Phil Burkhart four weeks ago, when he was runner-up at Gainesville. Burkhart lost to Jon's brother.
Winning an NHRA title is among Jon's racing goals, and he eagerly awaits the day he's paired against his brother for the first time.
It's not for the opportunity to beat him but to join him at the pinnacle of the sport after all those times as youngsters racing each other in anything with wheels.
Because today's opening round is his first NHRA run in a pro category, Jon will make a solo pass.
"If I run well enough, maybe I'll be paired against Ron in one of the other qualifying rounds," he said. "If that happens, it will be pretty eventful for me at the end of the track."
Auto Racing in Las VegasMore information
SUMMITRACING.COMNHRA NATIONALS What: Fifth stop of NHRA Powerade Drag Racing Series When: Today through Sunday Where: Las Vegas Motor Speedway dragstrip Information: 644-4444, LVMS.com, NHRA.com Schedule: Today — Sportsman 8 a.m.; Pro qualifying 3 p.m., 6 Saturday — Sportsman 8 a.m.; Pro qualifying noon, 3 p.m. Sunday — Eliminations, 11 a.m.