Kurt Busch stews; Keselowski upbeat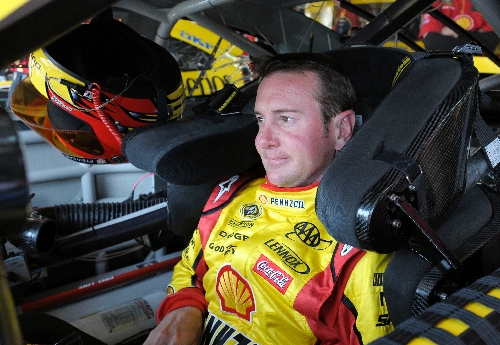 CONCORD, N.C. — To hear Kurt Busch talk, his race team is struggling mightily and maybe some behind-the-scenes changes will save the season.
Then there's Brad Keselowski, excited about three weeks of progress that have him enjoying his best stretch yet in NASCAR's elite Sprint Cup Series.
That's the enigma that is Penske Racing. Keselowski will start the Coca-Cola 600 from the pole, while defending race winner Busch will go off 26th in today's race.
Keselowski readily admits the NASCAR side of Penske's motor sports operation has areas that need improvement. But he does it thoughtfully and with an eagerness that good things are coming.
Busch is quite the opposite. He's beyond being hopeful, and his assessments and outlook seem dreary. He's also angry with the media for harping on his in-race radio communications, which have gone from maniacal rants to near despondency over the past month.
It's created the good cop/bad cop perception, even though both drivers want the same thing.
"He definitely has a different approach," Keselowski said. "To be honest, if he didn't have that approach, I probably would adopt it because you keep trying different things until you get what you want. I spent all last year being quiet and not saying, 'Hey, this car is really, really bad' to the media. But they were really, really bad.
"At the same time, Kurt was running well, and I didn't have a leg to stand on with that. This year, obviously my cars have gotten better. Kurt has had his struggles. But it's somewhat refreshing to have someone that can speak up, have a voice, have the credibility of being a past champion and past winner and those around him perhaps listen more intently."
Busch apparently does make things happen behind the scenes.
His radio tirade at Richmond this month was epic, and the fallout led to organizational meetings that Busch believed would spur changes. Less than two weeks later, technical director Tom German left the organization in what the team said was a long-planned opportunity to attend an elite graduate program at Massachusetts Institute of Technology.
"There were people that had good things to say about him and people that had bad things to say about him," Keselowski said of German. "Either way, the change there has opened doors that would have never opened before. The jury is still out whether that's good or bad."
Busch opened the season as the driver to beat at Daytona, winning two exhibition races leading into the season opener. Top-10 finishes in the first four races made him the points leader for two weeks, but he hasn't had a top-10 since and has fallen to eighth in the standings.
Keselowski, meanwhile, seems to be finding a groove. He placed third at Darlington and 13th at Dover, and then he raced his way into the All-Star Race last week by finishing second in the Sprint Showdown.