Kurt Busch subdued as 'Double' try nears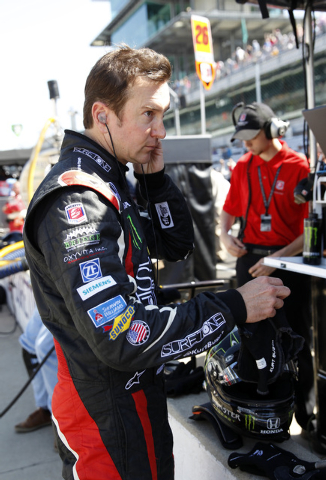 INDIANAPOLIS — Kurt Busch craned his neck toward a monitor and studied the Indianapolis 500 practice results. He didn't seem happy with his final practice speed, roughly 3 mph off the pace and not good enough in the Andretti Autosport backup he was forced into after wrecking his own, faster car this week.
Busch seemed subdued for the first time this month at Indianapolis Motor Speedway, and sounded Friday as if he was trying to lessen the hype that has surrounded his bid at the fabled Double, the Indy 500 followed by NASCAR's Coca-Cola 600 on Sunday night.
The harsh reality: Busch was 15th in his final practice on Indy's 2.5-mile oval, and talked not of winning or contending for a 500 victory, simply "about giving it my best."
"I give myself a B-minus right now," the Las Vegas native said. "I still have to work through traffic and to pass cars and let others feel confident around me. I need the first half of the race to do such. Can we win? We have to put ourselves in position to win. We can't ask for it."
Busch starts 12th Sunday and has posted the type of practice speeds that should at least have him in the mix for a top-10 run. He's certainly ready physically for the grueling affair. The 35-year-old Busch is in the best shape of his career, trying to steel his body for the cramps, knots, aches and fatigue that are sure to afflict him in his attempt to complete 1,100 miles in two of motor sports' most prestigious races.
For weeks, he has kicked, stretched and wormed his way through workouts more suited to basic training. Busch rattled off heart rate numbers and sleep scores like a physician. And his race weekend meals are meticulously planned down to each beet root smoothie and beef jerky snack.
He is as much a fitness freak these days as he is a driver, prepping for his attempt at The Double with the zeal of a marathon runner, staying true to strict training regimens and diets he believed will boost his stamina and focus.
"This can hit me hard," Busch said. "I can't let being mentally or physically weak be the reason I don't finish."
His sleep scores, steps, heart rate and perspiration levels are among the details logged on the Basis health tracker on his wrist. Busch worked several weeks with a martial arts guru, pumping up his upper-body strength, and toughening the rest of his 5-foot-11-inch, 150-pound frame to withstand the physical rigors of the racing doubleheader.
He'll need all the help he can get.
Busch will be the fourth driver to attempt The Double and the first since Robby Gordon in 2004. Only Tony Stewart has completed both races, in 2001.
Stewart's first attempt in 1999 wrecked him physically as he gutted his way to a ninth-place finish at Indy and fourth in the 600. He fought sickness for the last hour of the race. His legs gave out as he climbed out of his Pontiac and he sank to the ground. He sat next to his car for several minutes with a wet towel wrapped around his head, occasionally drinking fluid.
He was given oxygen, and then put on a stretcher and taken to the track hospital. He refused intravenous fluids, drinking water and Gatorade instead.
"I was so worried about being dehydrated, I just drank and drank and drank," Stewart said. "I didn't have the urge of hunger. My stomach was full of water the whole day. I didn't have the nutrients I needed to do what I needed to do."
Gordon, who made five attempts at The Double, said it was natural to feel worn down toward the end of the 600.
"I hope he's prepared for the internal muscles that it's going to take," Gordon said of Busch. "Those stomach muscles, I'm telling you, I had some of the gnarliest cramps in my stomach. I know Tony had them in his legs. He's got to hydrate himself."
Jim Leo, founder of PitFit Training in Indianapolis, has worked with scores of drivers for more than two decades. Leo said it was safer for Busch to attempt the 500-mile race first, before the bumping and grinding that come with a NASCAR race.
"He has to drive in an open-wheel car when he's fresh, when the speeds are higher and the stress on the body is greater," Leo said.