Kyle Busch revs motor for cherished Coke 600 win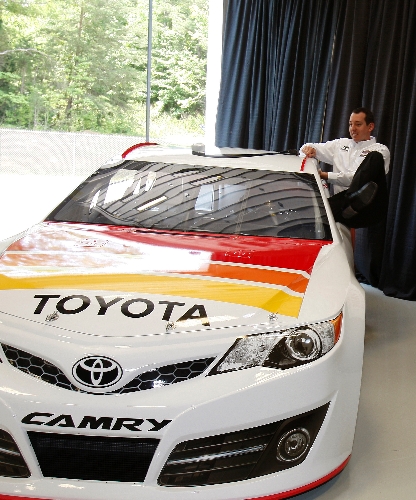 The Indianapolis 500 takes the motor sports spotlight this weekend, but an important NASCAR Sprint Cup Series race takes place Sunday at Concord, N.C.
Las Vegan Kyle Busch loves the Coca-Cola 600, and he's coming off a weekend in which he won the pole for a nonpoints race at the track and then finished fourth in the 90-lap event.
But he still hasn't won a Sprint Cup race at Charlotte Motor Speedway, and Busch would love to end that drought.
"The Coke 600 is one of the ones on my bucket list," he said.
But Busch is excited not only about this race. He also is high on the 2013 Toyota Camry that was unveiled Tuesday, and Busch drove the car at the announcement in North Carolina.
He also earlier tested the car at Homestead, Fla., and came away impressed with the Camry, which was designed to more closely resemble one that could be driven by everyday motorists.
Toyota is the third manufacturer to unveil its 2013 car. The Ford Fusion and Dodge Charger were the other two, and the Charger came in early March during NASCAR weekend at Las Vegas Motor Speedway.
Only Chevrolet hasn't taken the wraps off its new model.
Busch said he already learned some things about the new Camry, but needs more testing before he and his team are clear on how to set it up for races.
"I think it's a really cool-looking car," Busch said. "We've got to get it out of the showroom and race it. It has a sexiness to it. It has a young look that accentuates the features of a Camry."
■ BULLRING RACING – It will be a busy Memorial Day weekend at the LVMS Bullring, with competition in the NASCAR Whelen All-American Series on Saturday and U.S. Legend Cars International tonight through Sunday.
The United States Auto Club Midgets, ASA Truck Series and a demolition derby also highlight the festivities.
■ STRIP RACING – The Rockabilly Rod Reunion & NHRA Hot Rod Heritage Series takes center stage at The Strip at LVMS on Saturday and Sunday.
Contact reporter Mark Anderson at manderson@reviewjournal.com or 702-387-2914. Follow him on Twitter: @markanderson65.