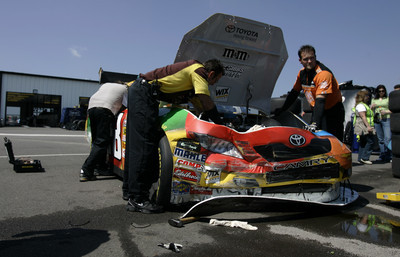 LONG POND, Pa. — NASCAR points leader Kyle Busch wrecked his car during practice Saturday at Pocono Raceway and had to go to a backup.
The Las Vegas native lost control of his Toyota as he apparently headed toward pit road with about two minutes left in the first practice session. The car spun down the service road and tagged the inside retaining wall.
The crumpled car puttered back to the garage, where his Joe Gibbs Racing crew already was on top of the team transporter pulling out a backup. Busch, who qualified 10th and posted the third-fastest speed of the practice session, briskly headed inside the truck and stayed inside while his crew prepared the new car.
Because he's switching to a backup car, he must drop to the rear of the field at the start of today's race.
"It's just part of racing," crew chief Steve Addington said. "The car got a little bit loose off, and then he tried to just turn down pit road and spun out and tore the front end up on the car. It's no big deal. These guys will dig in, and we'll have a good car for the race."
Once the backup was race-ready, Busch took it out on the track and posted the 16th fastest speed of the final practice session. His new Toyota is a brand new car that was the backup in Richmond, Va., and ran a portion of the test at Pocono two weeks ago.
Busch is trying to become the first driver in NASCAR history to race in all three national series at three tracks on the same weekend. He practiced and qualified the Cup car at Pocono on Friday, then flew to Texas Motor Speedway, where he finished second in the Truck Series race.
He was back at Pocono on Saturday for two practice sessions, then planned to head to Nashville, Tenn., for the Nationwide Series event. He'll be back in Pocono today, when he'll race for his fifth Cup win of the year.
Spanning all three series, Busch has collected 10 victories this year.
Addington said Busch's hectic weekend did not contribute to the accident. "It wasn't nothing that has anything to do with his racing in Texas, Pocono and Nashville," he said. "I talked to him this morning, and he was fine. He got plenty of rest last night."
Busch wasn't the only one to lose control Saturday. Clint Bowyer spun in the opening minutes of the second practice session, and Sam Hornish Jr. lost control of his car when it dipped into the grass. Both cars were damaged, but only Hornish needed a backup.
"We weren't good in practice all day," Hornish said. "We were trying a lot of different things to make it better. I just got loose going into Turn 1 and lost it. We tore up the front end a bit."
POCONO 500 LINEUP
At Pocono International Raceway, Long Pond, Pa.
Lap length: 2.5 miles
(Car number in parentheses)
1. (9) Kasey Kahne, Dodge, 170.219 mph
2. (48) Jimmie Johnson, Chevrolet, 169.856
3. (8) Mark Martin, Chevrolet, 168.897
4. (01) Regan Smith, Chevrolet, 168.745
5. (78) Joe Nemechek, Chevrolet, 168.723
6. (99) Carl Edwards, Ford, 168.517
7. (88) Dale Earnhardt Jr., Chevrolet, 168.505
8. (84) AJ Allmendinger, Toyota, 168.479
9. (66) Scott Riggs, Chevrolet, 168.391
10. (18) Kyle Busch, Toyota, 168.139*
11. (2) Kurt Busch, Dodge, 168.124
12. (20) Tony Stewart, Toyota, 168.055
13. (17) Matt Kenseth, Ford, 167.970
14. (40) Dario Franchitti, Dodge, 167.939
15. (83) Brian Vickers, Toyota, 167.904
16. (11) Denny Hamlin, Toyota, 167.895
17. (15) Paul Menard, Chevrolet, 167.838
18. (19) Elliott Sadler, Dodge, 167.785
19. (55) Michael Waltrip, Toyota, 167.738
20. (31) Jeff Burton, Chevrolet, 167.735
21. (42) Juan Pablo Montoya, Dodge, 167.467
22. (26) Jamie McMurray, Ford, 167.436
23. (28) Travis Kvapil, Ford, 167.367
24. (10) Patrick Carpentier, Dodge, 167.345
25. (1) Martin Truex Jr., Chevrolet, 167.327
26. (70) Jason Leffler, Chevrolet, 167.258
27. (12) Ryan Newman, Dodge, 167.255
28. (29) Kevin Harvick, Chevrolet, 167.029
29. (21) Bill Elliott, Ford, 166.759
30. (6) David Ragan, Ford, 166.710
31. (41) Reed Sorenson, Dodge, 166.688
32. (22) Dave Blaney, Toyota, 166.648
33. (16) Greg Biffle, Ford, 166.645
34. (5) Casey Mears, Chevrolet, 166.605
35. (07) Clint Bowyer, Chevrolet, 166.593
36. (44) David Reutimann, Toyota, 166.590
37. (43) Bobby Labonte, Dodge, 166.568
38. (24) Jeff Gordon, Chevrolet, 166.454
39. (00) Michael McDowell, Toyota, 166.276
40. (7) Robby Gordon, Dodge, 165.871
41. (77) Sam Hornish Jr., Dodge, owner points*
42. (38) David Gilliland, Ford, owner points
43. (45) Terry Labonte, Dodge, past champion
Failed to qualify
44. (96) JJ Yeley, Toyota, 166.349
* will start from back of field with backup cars