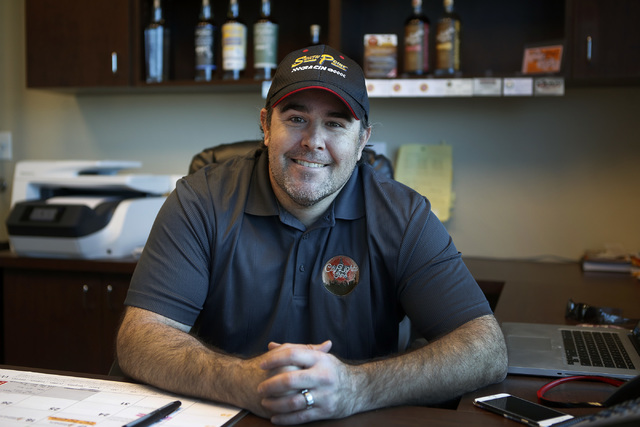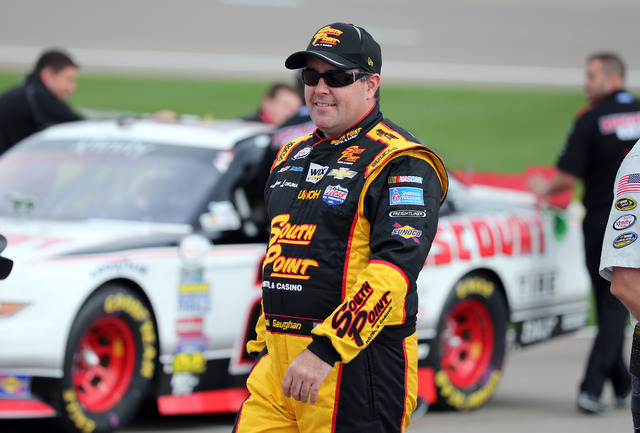 If upstarts Derrike Cope, Jamie McMurray and Trevor Bayne are capable of winning the Daytona 500, then why not Brendan Gaughan?
Why not, indeed, said the Las Vegas Xfinity Series veteran, who will attempt to qualify for the Great American Race in February.
Gaughan said he will drive the Chevrolet Michael McDowell wheeled to a 15th-place finish for Leavine Family Racing in last year's race. The car owner is Mark Beard of Mount Pleasant, Michigan, a former driver and team owner in the Midwest-based ARCA series who had a couple of Xfinity starts during the 1980s.
The unexpected opportunity came out of a midnight clear, said Gaughan, who will be competing for a spot in the Feb. 26 race.
"Jay Robinson, the man I drove for a couple of years ago at Premium Motorsports, called me in the middle of the Christmas break and said a friend of his was trying to do a deal and run the 500," said the 41-year-old Gaughan, who qualified for the inaugural Xfinity Series Chase in 2016 driving for Richard Childress.
"They bought the old Leavine car, they've hired ECR to do motors — real racing motors — and they asked if I would be interested. So it's got Richard Childress motors, and I'm going to have a Richard Childress pit crew — my guys — and so we're going to the Daytona 500 and see if we can qualify."
Beard doesn't possess a Cup Series charter, which would have guaranteed Gaughan a starting spot. So he will have to race his way in via qualifying speed and twin 150-mile races that set the 40-car field.
Gaughan said he may have to beat only one other noncharter team for a starting spot.
"We're an open team, but I feel very confident that with ECR motors we're going to be able to make the show," the former Truck Series Rookie of the Year said.
If he does, it will be the second time Gaughan has raced in NASCAR's marquee event. The son of South Point owner Michael Gaughan made his Daytona 500 debut in 2004 driving a Dodge for Roger Penske. He finished 19th after starting 17th.
He is thrilled about giving the Daytona 500 another whirl at this stage of his career. Brendan Gaughan said he contemplated retiring before putting together a solid 2016 season with four top 5s and 16 top 10s in the Xfinity Series.
"It's very cool; I'm real excited about it," the always effusive Gaughan said. "The best part about it is I'm with a stand-alone team, but technically I have teammates — I told (former Xfinity teammates) Ty and Austin (Dillon) they better help me make the damn show."
NASCAR
It's official: NASCAR champion Kurt Busch of Las Vegas and Ashley Van Metre are husband and wife.
Busch, the 2004 Cup Series champion, posted a photo on his Twitter account showing two hands and wedding rings. The hands and rings are assumed to be his and that of his new polo-playing bride.
Wrote @KurtBusch to Mrs. Busch: "My life completely changed when fate brought us together. So happy to call you my wife."
Also pictured in the show of hands were tropical ferns and a tropical body of water. The private ceremony was on the Caribbean island of Saint Barthelemy.
It was a big weekend for Las Vegas sports personalities tying knots, as National League MVP Kris Bryant of the Chicago Cubs repeated vows with longtime girlfriend Jessica Delp in Las Vegas.
My life completely changed when fate brought us together. So happy to call you my wife. pic.twitter.com/AtrmzAQSa9

— Kurt Busch (@KurtBusch) January 9, 2017
ELSEWHERE
Off-road racing pioneer Casey Folks died Thursday after suffering a massive stroke at Saturday's GMZ UTV Winternationals in Parker, Arizona.
Folks was founder and president of the Las Vegas-based Best in the Desert racing association. He addressed young riders and their parents on the day before he was stricken, telling the utility terrain competitors "You are the future of our sport."
Casey Folks won 16 off-road motorcycle racing championships, competed around the globe and was elected to the Off-Road Motorsports Hall of Fame in 2012. An obituary posted on the BITD website did not disclose his age.
Contact Ron Kantowski at rkantowski@reviewjournal.com or 702-383-0352. Follow @ronkantowski on Twitter.