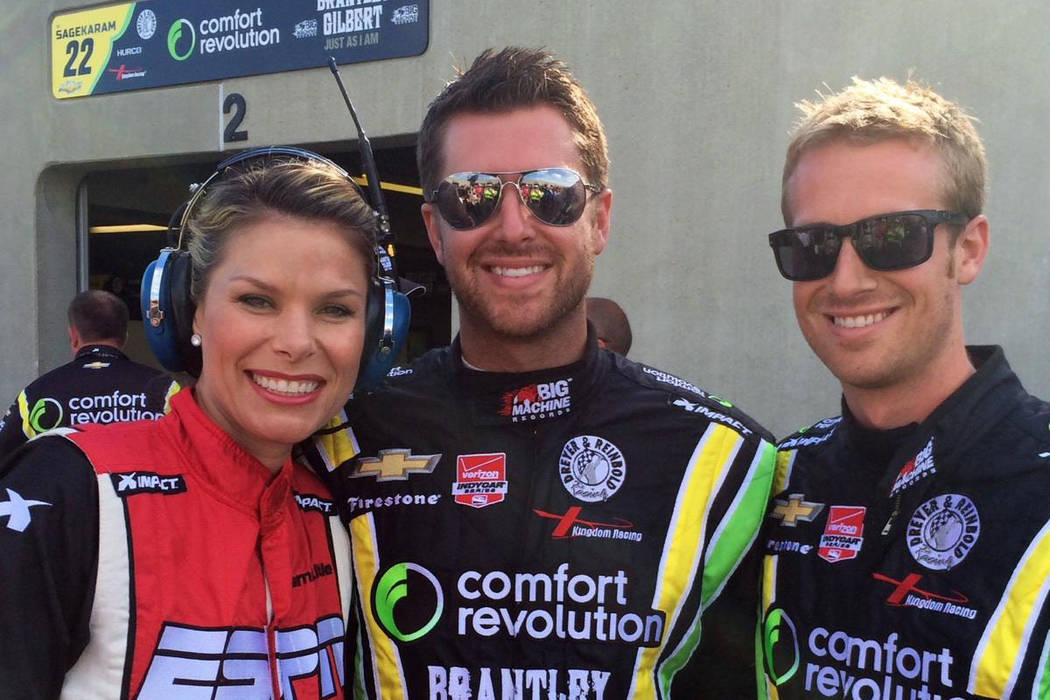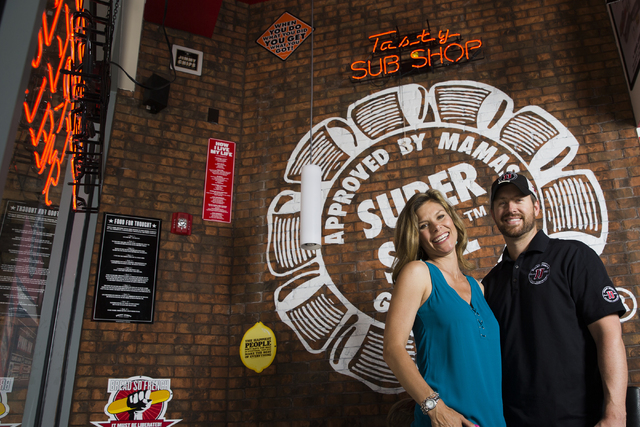 After speeding to the pole position for Sunday's 101st running of the Indianapolis 500, Scott Dixon and retired three-time Indy winner Dario Franchitti made a late-night food run to a Taco Bell near the Brickyard where they were robbed at gunpoint.
Rookie mistake, if you ask Las Vegan Cody Selman, an Indy 500 pit crew member. They should have gone to Jimmy John's instead.
Selman and his wife, NASCAR pit road reporter Jamie Little of Las Vegas, own and operate two Jimmy John's sandwich shops in the valley, one near Interstate 215 at Charleston Boulevard and the other at Tropicana Avenue and Fort Apache Road. Each Indy 500 weekend, he moonlights as a tire changer for the Dreyer & Reinbold race team.
The goal of the No. 24 crew is to have driver Sage Karam back on his way in under eight seconds during fuel stops — a lot faster than Selman can make a BLT with all the fixings.
"You have to have the right set (of tires), have the (air) gun ready, the hoses working, get everything ready to go, the whole checklist," Selman said before getting on an airplane for auto racing's holy grail on Tuesday.
Provided nobody drops a wheel nut, an Indianapolis 500 pit stop resembles synchronized ballet, only the performers have grease under their fingernails.
"When you are looking at him (Karam) coming out of turn 4, your heart really starts to beat," Selman said of the adrenaline rush and responsibility of changing tires — and not making a mistake — at Indianapolis. Last year, in the 100th running of the big race, rookie Alexander Rossi tumbled through the field due to mistake-filled pit stops but then wound up winning on a fuel-calculation run.
His race appeared lost in the pits before it was won in them.
Selman will change the left rear Firestone Firehawk on the No. 24 Mecom Auctions Chevrolet. Brother Chase will change the right rear — Cody says his sibling has one of the fastest air guns on the circuit. (Chase also is married to Danica Patrick's sister, Brooke.) Their father, Wayne, crewed on Al Unser Jr.'s Indy-winning car in 1992.
Selman thinks Karam could be a dark horse, youth notwithstanding. The 22-year-old charged from the back of the pack last year and was trying to pass two cars for fourth place midway through when he touched wheels with Townsend Bell and hit the wall in turn 1. He'll start midpack Sunday.
"He needs to be in a full-time ride," Selman said. "But we are fortunate to have him, and the car is just as good as it was last year."
It's hard to gauge how things will go after the drivers start their engines, but here's a prediction: If Cody Selman and the crew get hungry after the race, they'll probably bypass that Taco Bell close to the track.
At the Bullring
Taylor Miinch of Blossom Valley, California, passed Dylan Cappello on lap 66 to win the General Tire 75 Lucas Oil Modifieds main event on Saturday night. Derek Thorn of Bakersfield, California, continued his Bullring dominance by taking the checkered flag in a 121-lap SPEARS Southwest Tour race. Other winners included locals Darren Amidon (USLCI Legends) and Ron Reed (USLCI Thunder Car).
Next up is the Chris Trickle Classic on June 3.
White flag
I've said it before; I'll probably say it again: There are NFL games that wind up 49-7, and the Warriors often crush playoff opponents, and nobody complains too much about the lack of drama. But when an auto race is decided by more than a car length, cars don't flip upside down, or Kyle Busch doesn't punch somebody on pit road, people say how boring it was.
"Sigh," wrote NASCAR guru Jeff Gluck in his blog after the annual all-star race won by Kyle Busch. "So I'm sitting here in the Charlotte Motor Speedway press box, staring out at the track after a blahtacular all-star race and, well, it's sort of deflating. Whatever NASCAR and the track come up with for this race, it just doesn't seem to work …"
On the plus side, they don't call it Lowe's Motor Speedway anymore, and souvenir trailers are back.
ICYMI, the #NASCAR All-Star Race ended up pretty boring for all but Kyle Busch fans. Let's try making it less so: https://t.co/DR4fdXvLzI

— FanSided (@FanSided) May 21, 2017
Contact Ron Kantowski at rkantowski@reviewjournal.com or 702-383-0352. Follow @ronkantowski on Twitter.